Home

>
Letter to Quorum of the Twelve, 4 August 1835
Source Note

Council of presidencies and others (including JS), Letter, , Geauga Co., OH, to , [, York Co., ME], 4 Aug. 1835. Retained copy, [ca. 4 Aug. 1835], in

JS Letterbook 1, pp. 90–93

; handwriting of ; JS Collection, CHL. For more complete source information, see the source note for

JS Letterbook 1

.

Historical Introduction

On 4 August 1835, a council consisting of members of the , the presidency of the , "and others" composed a letter to the , who were holding in the eastern and . In the letter, the council chastised the Twelve for not discussing in their conferences the need for church members to donate funds for the construction of the in , Ohio; for the redemption of church members' lands in , Missouri; and for the printing of the

Doctrine and Covenants

. The council also reprimanded and for making disparaging remarks about the Kirtland school that was conducting and then reproved the Twelve for complaining about the conditions of their families and for allegedly setting themselves up in the conferences as "an independant counsel subject to no authority of the church."

By the time this letter was written, the Twelve, as they had planned in a March 1835

council

, had conducted conferences in six locations: , , Lyonstown, and Pillar Point, New York; West Loughborough, Upper Canada; and St. Johnsbury, Vermont. The Twelve's records of their conferences and other meetings shed little light on what they did to cause church leaders to issue such a strong reprimand. For instance, reports of four of their conferences were published in the May and July 1835 issues of the

Latter Day Saints' Messenger and Advocate,

but none of these provide information to suggest how the Twelve Apostles might have been acting as "an independant counsel." The

minutes

of the Twelve's meetings also provide little basis for ascertaining whether or to what extent they had acted improperly.

According to this 4 August letter, at least three letters from the eastern prompted the reprimand. In the first letter, , the presiding authority of the , New York, , told church leaders that the Twelve had not instructed church members at a conference in Freedom about the need to donate funds for the construction of the . Leaders were also upset by a letter wrote to his wife, Emeline Miller McLellin, which implied that he and had no confidence in the way was conducting a school in . This school, described by as "a Grammar school," opened in December 1834, with McLellin and as teachers. While he was teaching there, McLellin promoted the school as teaching "the sciences of penmanship, arithmetic, English grammar and geography" and as "a place where strict attention is paid to good morals as well as to the sciences." When McLellin left Kirtland with the Twelve, Rigdon apparently began teaching in his place. In June 1835, Hyde made a brief trip to Kirtland and then gave a disparaging report to McLellin about the school, prompting McLellin to comment about it in the letter to his wife. His comment caused the members of the council to withdraw their fellowship from McLellin and Hyde. Finally, , one of the Twelve Apostles, sent a letter that to church leaders gave undue credit to McLellin and for their "

able

preaching."

In late August 1835, the Twelve received this 4 August letter while conducting conferences in . The minutes for those meetings specify that the Twelve talked on "the redemption [of ], the Building of the in , and the printing of the word of God to the nations"—the three subjects that the 4 August letter chastised them for not discussing. In response to the letter, the Twelve agreed to finish their work in the eastern and meet in , New York, on 24 September 1835. From there, they planned to travel together to Kirtland. Immediately after reaching Kirtland on 26 September 1835, the Twelve met with JS, , , , , , and to discuss the charges in the letter. and "frankly confessed" their errors "and were forgiven," and the Twelve convinced JS and others that the complaints against them "originated in the minds of persons whose minds were dark[e]ned in consequence of covetousness or some other cause other than the spirit of truth."

The Twelve also "prefered a charge" against "for his unchristian conduct," presumably in making accusations against them. On 5 March 1836, Warren Cowdery "confessed his mistake" in a meeting with the Twelve, JS, , and and stated his willingness to publish a statement that the Twelve had "delivered those instructions which he supposed they had not." This statement appeared in the

Messenger and Advocate,

declaring that although Cowdery was "actuated by the purest motives at the time he wrote," he had since become convinced that the Twelve had delivered the necessary instructions.

The original version of this 4 August 1835 letter is not extant. served as clerk of the council and presumably served as scribe for the letter; JS signed it as moderator and also added a postscript to his brother . copied the letter into

JS's letterbook

, likely before the letter was sent.

Footnotes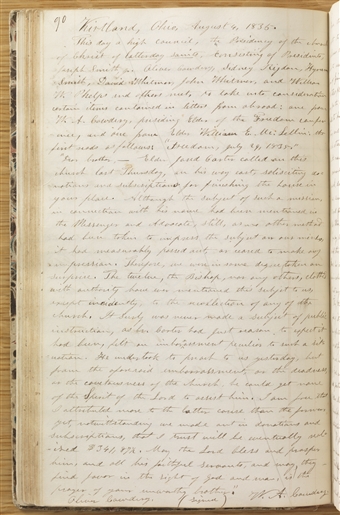 , Ohio, August 4, 1835.
This day a high , the of the , consisting of Presidents, Joseph Smith, Jr. , , , , , and and others met, to take into consideration certain items contained in letters from abroad: one from , presiding of the conference, and one from Elder : the first reads as follows:
", July 29, 1835."
"Dear ,— Elder called on this church last Thursday, on his way east, solisciting donations and subscriptions for finishing the in your place. Although the subject of such a mission, in connection with his name had been mentioned in the Messenger and Advocate, still, as no other method had been taken to impress the subject on our minds, it had measurably passed out, or ceased to make any impression. Therefore, we were in some degree taken on surprise. The , the , nor any others, clothed with authority have ever mentioned this subject to us, except incidently, to the recollection of any of
us.
the church. It sur[e]ly was never made a subject of public instruction, as had Just reason to expect it had been, felt an embarrassment peculiar to such a situation. He undertook to preach to us yesterday, but from the aforesaid embarrassment, or the deadness, or the covetousness of the church, he could get none of the Spirit of the Lord to assist him. I am free [to say] that I attributed more to the latter cause than the former, yet, notwithstanding, we made out in donations and subscriptions, that I trust will be eventually realised $341,87½. May the Lord bless and prosper him, and all his faithful servants, and may, they find favor in the sight of God and man, is the prayer of your unworthy brother."
. [p. 90]
, Ohio, August 4, 1835.
This day a high , the of the , consisting of Presidents, Joseph Smith, Jr. , , , , , and and others met, to take into consideration certain items contained in letters from abroad: one from , presiding of the conference, and one from Elder : the first reads as follows:
", July 29, 1835."
"Dear ,— Elder called on this church last Thursday, on his way east, solisciting donations and subscriptions for finishing the in your place. Although the subject of such a mission, in connection with his name had been mentioned in the Messenger and Advocate, still, as no other method had been taken to impress the subject on our minds, it had measurably passed out, or ceased to make any impression. Therefore, we were in some degree taken on surprise. The , the , nor any others, clothed with authority have ever mentioned this subject to us, except incidently, to the recollection of any of the church. It surely was never made a subject of public instruction, as had Just reason to expect it had been, felt an embarrassment peculiar to such a situation. He undertook to preach to us yesterday, but from the aforesaid embarrassment, or the deadness, or the covetousness of the church, he could get none of the Spirit of the Lord to assist him. I am free to say that I attributed more to the latter cause than the former, yet, notwithstanding, we made out in donations and subscriptions, that I trust will be eventually realised $341,87½. May the Lord bless and prosper him, and all his faithful servants, and may, they find favor in the sight of God and man, is the prayer of your unworthy brother."
. [p. 90]