Home

>
Minutes and Testimonies, 12–29 November 1838 [State of Missouri v. Gates et al. for Treason]
Source Note

Minutes and Testimonies, , Ray Co., MO, 12–29 Nov. 1838,

State of MO v. Gates et al. for Treason

(Fifth Judicial Circuit of MO 1838); unidentified handwriting; 126 pages; Eugene Morrow Violette Collection, State Historical Society of Missouri, Columbia.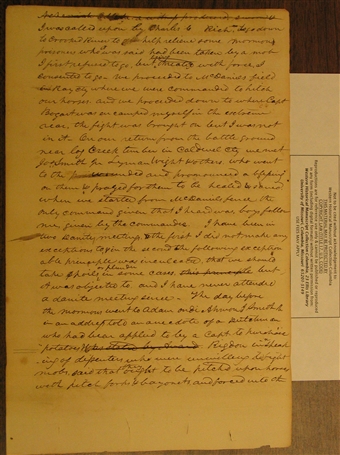 Nehemiah Odle a witness produced, sworn &
I was called upon by ,
"
to go down to to to help relieve some mormon
s
prisoners who <​it​> was said had been taken by a mob I first refused to go, but <​being​> threatend with force, I consented to go— we proceeded to M
c
Daniels field
at
in where we were commanded to hitch our horses. and we proceeded down to where was encamped myself in the extreme rear, the fight was brought on but I was not in it— On our return from the battle ground near log Creek timber in we met Jo
s.
Smith Jr Lyman & others who went to the
prisoners
<​wounded​> and pronounced a blessing on them & prayed for them to be healed & saved. when we started from M
c
Daniels fence the only command given that I heard was, boys follow me, given by the commander. I have been in two Danite meetings, & the first I did not make any exceptions to, & in the second
a
the following exceptionable principle was inculcated, that we should take spoils <​or plunder​> in some cases,
this principle
but it was objected to and I have never attended a danite meeting since— The day before the mormons went to J Smith jr in an address told an anecdote of a Dutchman who had been applied to by a Capt. to purchase potatoes
Was stated by .
in <​&​> speaking of dissenters who were unwilling to fight mobs, said that <​they​> ought to be pitched upon horses with pitch forks & bayonets, and forced into the [p. [28]]
I was called upon by , to go down to to to help relieve some mormon prisoners who it was said had been taken by a mob I first refused to go, but being threatend with force, I consented to go— we proceeded to Mc Daniels field in where we were commanded to hitch our horses. and we proceeded down to where was encamped myself in the extreme rear, the fight was brought on but I was not in it— On our return from the battle ground near log Creek timber in we met Jos. Smith Jr Lyman & others who went to the wounded and pronounced a blessing on them & prayed for them to be healed & saved. when we started from Mc Daniels fence the only command given that I heard was, boys follow me, given by the commander. I have been in two Danite meetings, & the first I did not make any exceptions to, & in the second the following exceptionable principle was inculcated, that we should take spoils or plunder in some cases, but it was objected to and I have never attended a danite meeting since— The day before the mormons went to J Smith jr in an address told an anecdote of a Dutchman who had been applied to by a Capt. to purchase potatoes in & speaking of dissenters who were unwilling to fight mobs, said that they ought to be pitched upon horses with pitch forks & bayonets, and forced into the [p. [28]]