Home

>
Nauvoo Registry of Deeds, Deed Record Book A, 1840–1843
Source Note

Nauvoo, Hancock Co., IL, Recorder, Deed Record, Book A, 18 Apr. 1842–2 Sept. 1843; handwriting of and ; 235 pages; CHL. Includes notations.

Commercially produced bound volume measuring 18¼ × 12 × 1½ inches (46 × 30 × 4 cm). The volume contains 246 pages, including pastedowns and flyleaves, each measuring 18⅛ × 11½ inches (46 × 29 cm). The endpaper, including three flyleaves and a pastedown in the front and one flyleaf and pastedown at the back of the volume, are not lined. The interior pages consist of ledger paper ruled horizontally with thirty-four preprinted blue lines and two red double lines, demarcating a row at the top of the page, and ruled vertically with two red double lines, demarcating a column to the right of each page, now faded. The volume is composed of fifteen gatherings, each of which contains eight leaves, except for the fourth gathering, which has ten leaves, and the last, which has six leaves. The recto of the final leaf of the last gathering was glued to the flyleaf. The boards are covered in marbled paper, now faded. The cover has a calfskin spine and corners. The spine bears two labels, the first of which reads: "DEED RECORD | NAUVOO | A". The title page of the volume has an inscription in graphite: "No 1 or Book of | Entry".

The first inscribed page was paginated with the numeral 3, and there is consistent pagination in the handwriting of or running to the last page, numbered 237, resulting in 235 inscribed pages. The top of the first inscribed deed was labeled with "No. 1", and each inscribed deed thereafter was assigned a number in like manner, except that there are two deeds labeled "190". The volume contains 216 items, mostly deeds, dating from 20 April 1840 to 28 August 1843, recorded between 18 April 1842 and 2 September 1843. Inserted into the book between pages 2 and 3 is a slip of paper inscribed with what looks like material for JS's multivolume manuscript history; this inserted slip is not included here. The title page and the flyleaves of the volume show significant discoloration and dirt buildup. The wear pattern indicates that a smaller booklet, an index for the volume, was stored in the book. The entire volume shows significant discoloration due to water damage and mold damage, the boards and cover are deteriorated, and several pages have a central vertical tear between 2 and 3 inches (5 to 8 cm) in length from the top of the page.

On 5 March 1842, the Nauvoo City Council appointed JS registrar for the city of , authorizing him to record and certify official deeds for land transactions. JS appointed as recorder for the Nauvoo registrar, and by mid-April 1842 Clayton began recording deeds into this record book. was doing general clerical work for the church beginning in April 1842 and was appointed a private secretary to JS on 11 June 1842. His handwriting also appears in this record book, though it is often difficult to distinguish which handwriting is Whitehead's and which is Clayton's. Along with other records, this record book was kept in JS's Nauvoo office and transported to Utah Territory, where it was kept in the Church Historian's Office. The spine bears a red-bordered label that reads "02473R | 9 Fo", likely placed on the record by Church Historian's Office (now CHL) staff in the 1950s or 1960s.

Footnotes

1

"Elder James Whitehead," Saints Herald, 3 Aug. 1898, 485.  

Saints' Herald. Independence, MO. 1860–.

2

Because Whitehead's handwriting is difficult to distinguish from Clayton's, no scribal handshifts are noted in the transcript below.  

3

"Inventory. Historian's Office. 4th April 1855," [2], Historian's Office, Catalogs and Inventories, 1846–1904, CHL.  

Historian's Office. Catalogs and Inventories, 1846–1904. CHL. CR 100 130.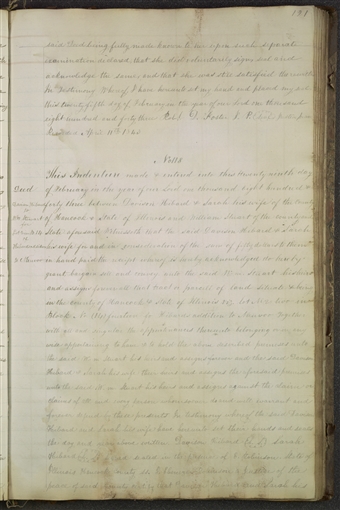 said Deed being fully made known to her upon such separate examination declared, that she did voluntarily sign, seal and acknowledge the same, and that she was still satisfied therewith. In Testimony Whereof, I have hereunto set my hand and placed my seal, this twenty fifth day of February in the year of our Lord one thousand eight hundred and forty three J. P. Seal Justice peace
Recorded April 11
th

.
1843
No 118
Deed
to W
m

.
Stewart for Lot 2 in B 14 of s addition to
This Indenture made & entered into this ttwenty ninth day of February in the year of our Lord one thousand Eight hundred & forty three between & Sarah [Tilton Hibbard] his wife of the County of & State of and William Stuart of the and aforesaid Witnesseth that the said & Sarah his wife for and in consideration of the sum of fifty dollars to them in hand paid the receipt whereof is hereby acknowledged do hereby grant, bargain, sell, and convey, unto the said W
m

.
Stuart his heirs and assigns forever all that tract or parcell of land Situate & being in the county of & State of viz. lot N
o
(2) two in Block N
o.
(14) fourteen fo s addition to . Together with all and singular the appurtenances thereunto belonging or in any wise appertaining to have & to hold the above described premises unto the said W. m Stuart his heirs and assigns forever and the said & Sarah his wife their heirs and assigns the aforesaid premises unto the said W.m. Stuart his heirs and assigns against the claim or claims of all and every person whomsoever do and will warrant and forever defend by these presents In testimony whereof the said and Sarah his wife have hereunto set their hands and seals the day and year above written. L. S. Sarah Hibard L. S. Signed sealed in the presence of . State of Illinois SS. I. a Justice of the peace of said certify that and Sarah his [p. 121]
said Deed being fully made known to her upon such separate examination declared, that she did voluntarily sign, seal and acknowledge the same, and that she was still satisfied therewith. In Testimony Whereof, I have hereunto set my hand and placed my seal, this twenty fifth day of February in the year of our Lord one thousand eight hundred and forty three J. P. Seal Justice peace
Recorded April 11
th
. 1843
No 118
Deed
to W
m
. Stewart for Lot 2 in B 14 of s addition to
This Indenture made & entered into this ttwenty ninth day of February in the year of our Lord one thousand Eight hundred & forty three between & Sarah [Tilton Hibbard] his wife of the County of & State of and William Stuart of the and aforesaid Witnesseth that the said & Sarah his wife for and in consideration of the sum of fifty dollars to them in hand paid the receipt whereof is hereby acknowledged do hereby grant, bargain, sell, and convey, unto the said W
m
. Stuart his heirs and assigns forever all that tract or parcell of land Situate & being in the county of & State of viz. lot N
o
(2) two in Block No. (14) fourteen fo s addition to . Together with all and singular the appurtenances thereunto belonging or in any wise appertaining to have & to hold the above described premises unto the said W. m Stuart his heirs and assigns forever and the said & Sarah his wife their heirs and assigns the aforesaid premises unto the said W.m. Stuart his heirs and assigns against the claim or claims of all and every person whomsoever do and will warrant and forever defend by these presents In testimony whereof the said and Sarah his wife have hereunto set their hands and seals the day and year above written. L. S. Sarah Hibard L. S. Signed sealed in the presence of . State of Illinois SS. I. a Justice of the peace of said certify that and Sarah his [p. 121]