Home

>
Nauvoo Relief Society Minute Book
Source Note

Nauvoo Relief Society, "A Book of Records, Containing the proceedings of The Female Relief Society of Nauvoo," Minute Book, 17 Mar. 1842–16 Mar. 1844; handwriting of , Phebe Bartholomew Wheeler, , and an unidentified scribe; 123 pages; CHL. Includes redactions, notations, and archival marking.

This record is a bound ledger book measuring 12⅜ × 8⅛ × 1 inches (31 × 21 × 3 cm). The book has a brown suede cover and the spine has a red leather label with "LEDGER" in gold lettering. The paper measures 12⅛ × 7¾ inches (31 × 20 cm). The book originally contained 120 leaves, a 12-leaf index at the front, and flyleaves in the front and back. The front flyleaves are now missing and three leaves after the index pages are now missing, two of which were apparently removed before the book was used. The leaf that would have been paginated 2 and 3 is also now missing. This leaf was presumably removed before the book was used as a minute book for the Relief Society, as page 1 shows ink transfer from the title page (numbered page 4).

The index pages are blank with the exception of the recto and verso of the "A–B" leaf and the recto of the "L–M" leaf. Following the index leaves, the Relief Society minutes fill 123 pages. Page 5 and pages [128] onward are blank. The verso of the last flyleaf in the back is inscribed.

The title page of the minute book indicates that presented this volume to the Relief Society on 17 March 1842, the date of the Relief Society's inaugural meeting, and the record commences with the minutes of that meeting. There are some copying errors, indicating that the minutes were probably taken on loose pages and later copied into this volume.

, who was appointed secretary of the Nauvoo Female Relief Society and became general president of the Relief Society in 1880 in Utah Territory, had custody of this record and read from it publicly on many occasions. At Snow's death the book passed to her successor as general president, . When Young died in 1901, the book passed to her successor, Bathsheba Bigler Smith, who died in 1910. A provenance note in the beginning of the Relief Society Minute Book indicates it was among Smith's effects at her death. Her daughter Bathsheba Merrill filed it in the Historian's Office (now CHL) on 3 July 1911.

Historical Introduction

On 17 March 1842, JS first formally organized Latter-day Saint women in a group with distinct responsibilities and authority. At JS's invitation, twenty women assembled in the large room above his dry goods store in , Illinois, to be organized, as one woman recalled his description, "under the priesthood after the pattern of the priesthood" (Sarah M. Kimball, "Auto-biography,"

Woman's Exponent,

1 Sept. 1883, 51). Priesthood quorums—units of men assembled according to priesthood office and usually headed by a president and two counselors—had been organized previously. The women assembled on 17 March elected JS's wife president, and she selected two counselors; a member of the Quorum of the Twelve Apostles ordained or set apart the three-member presidency to their new callings or offices. These were the first ecclesiastical positions in the church for women.

The name the women selected for their institution, the Female Relief Society of Nauvoo, paralleled that of contemporaneous women's benevolent societies in the . Two or three weeks prior to the 17 March meeting, a group of women had met to form a "ladies society" to sew shirts for temple workmen, an effort probably informed by the broader benevolent movement. When JS invited these women to be organized as part of the church structure, they abandoned their plans for an independent society with a constitution and bylaws. JS told them at the initial meeting, "The minutes of your meetings will be precedents for you to act upon—your Constitution and law" (Minutes, 17 Mar. 1842). This record of Relief Society "organization and proceedings" includes minutes for seventeen meetings in 1842, thirteen in 1843, and four in 1844. By the last recorded meeting in March 1844, a total of 1,331 women had enrolled as members, most of them joining the first year (Maureen C. Ward, "'This Institution Is a Good One': The Female Relief Society of Nauvoo, 17 March 1842 to 16 March 1844,"

Mormon Historical Studies

3 [Fall 2002]: 87–203).

JS attended nine Relief Society meetings in 1842 and addressed six of them. These minutes document his instructions regarding women's new responsibilities, authority, and forthcoming temple blessings—the only record of teachings JS directed specifically to women. The minutes detail donations for and visits with the poor, contributions for construction, and women's efforts at moral reform and civic activism. Discussions reported in this record refer explicitly or implicitly to tensions mounting in Nauvoo over JS's political influence and threatened extradition to , the defection of prominent church and civic leader , and the tumult surrounding the introduction of plural marriage. The record of the Female Relief Society of Nauvoo ends on 16 March 1844; a decade passed before Relief Society meetings resumed in the Salt Lake Valley.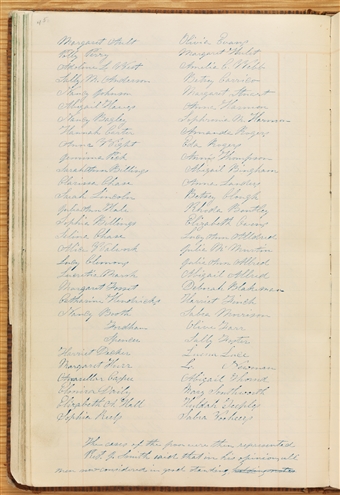 Margaret Ault
Olivia Evans
Polly Perry
Margaret Hulet
Adoline L West
Amelia C. [Caroline Amelia] Webb
Sally M. Anderson
Nancy Johnson
Margaret Stuart [Stewart]
Abigail Hawes
Anna Harmon
Nancy Bagley
Sophronia M. Harmon
Hannah Carter
Amanda Rogers
Anna Wight
Eda Rogers
Jemima Peck
Annis Thompson
Sarah Ann Billings
Abigail Bingham
Clarissa Chase
Anna Landers
Sarah Lincoln
Betsey Clough [Cluff]
Julia Ann Hale
Rhoda Bentley
Sophia Billings
Elizabeth Owens
Selina Chase
Lucy Ann Alldred [Allred]
Alice Wal[l]work
Julia M

c

Murtin [McMurdie]
Lucy Clemons [Clements]
Julia Ann Allred
Lucretia Marsh
Abigail Allred
Margaret Fosset [Fausett]
Deborah Blakeman [Blackman]
Catharine Hendricks
Harriet Finch
Nancy Booth
Sabra Morrison
[

blank

] Fordham
Olive Farr
[

blank

] Spencer
Sally Foster
Harriet Decker
Luena Luce
Margaret Hurr [Herr]
L. [

blank

] Newman
Amarellar [Avarillar] Casper
Abigail Thornd [Thorn]
Elmira Daily [Almira Daley]
Mary Southworth
Elizabeth A. Hall
Huldah Teeples
Sophia Reels [Reals]
Sabra Vooheers
The cases of the poor were then represented
Pres
t.
J. Smith said that in his opinion, all men now considered in good standing,
holding notes
[p. [45]]
Margaret Ault
Olivia Evans
Polly Perry
Margaret Hulet
Adoline L West
Amelia C. Caroline Amelia Webb
Sally M. Anderson
Nancy Johnson
Margaret Stuart [Stewart]
Abigail Hawes
Anna Harmon
Nancy Bagley
Sophronia M. Harmon
Hannah Carter
Amanda Rogers
Anna Wight
Eda Rogers
Jemima Peck
Annis Thompson
Sarah Ann Billings
Abigail Bingham
Clarissa Chase
Anna Landers
Sarah Lincoln
Betsey Clough [Cluff]
Julia Ann Hale
Rhoda Bentley
Sophia Billings
Elizabeth Owens
Selina Chase
Lucy Ann Alldred [Allred]
Alice Wallwork
Julia McMurtin [McMurdie]
Lucy Clemons [Clements]
Julia Ann Allred
Lucretia Marsh
Abigail Allred
Margaret Fosset [Fausett]
Deborah Blakeman [Blackman]
Catharine Hendricks
Harriet Finch
Nancy Booth
Sabra Morrison
[

blank

] Fordham
Olive Farr
[

blank

] Spencer
Sally Foster
Harriet Decker
Luena Luce
Margaret Hurr [Herr]
L. [

blank

] Newman
Amarellar Avarillar Casper
Abigail Thornd [Thorn]
Elmira Daily [Almira Daley]
Mary Southworth
Elizabeth A. Hall
Huldah Teeples
Sophia Reels [Reals]
Sabra Vooheers
The cases of the poor were then represented
Prest. J. Smith said that in his opinion, all men now considered in good standing, [p. [45]]