Home

>
Petition from Josiah Butterfield and Others, 1 May 1844
Source Note

and eighty-one others, Petition, , Hancock Co., IL, to Nauvoo City Council, 1 May 1844; handwriting of Rufus Beach; signatures of petitioners; endorsements in handwriting of ; two pages; Nauvoo, IL, Records, 1841–1845, CHL.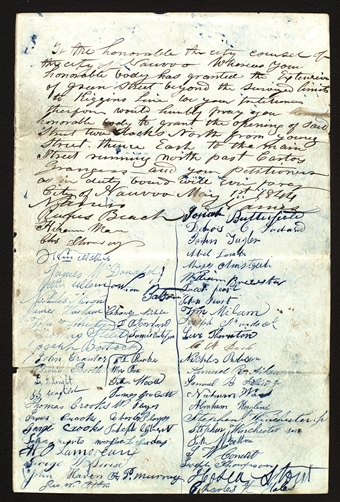 To the honorable the city counsel of the city of Whereas your honorable body has granted the Extension of green Street beyond the surveyed limits to Kiggins Line we your petitioners therfore would humbly pray you
honorab
honorable body to grant the opening of said Street two blocks North from young Street. thence East to the main street running north past s— and your petitioners as in duty bound will Ever pray City of May 1
st.
1844
Names
Names
Rufus Beach
Hiram Marr
Debois C Godard
J W

m

Mathes
Abel Lamb
James M

c

Donald)
Moses Olmstead
John Allan) W.m Batson
William Brewster
Jacob peart
Nicholas Nixon)
John Peart
James HaslamCharls Norhill
W

m.

Milam
John Johnston)D Batsonford
Joseph Murdock
Thomas Steed) Jamie Bootsford
Levi Thornton
Joseph Bostock)
C A Beck
John Tranter) J D Burkes
Nichlas Robson
Edwin Booth) Wm Box
Samuel R. Aiken
La, F, Knight) John Wood
Samuel R Aikenn Jr
G G Scofild James Grobott
Nahum Ward
Thomas Crooks W Player
Abraham Hoagland
James Crooks Charles Player
Stephen Winchester, Jr
George Crooks Joseph Egbert
Stephen Winchester sen
Jothon Everts Morgan L Gardner
John Wootton
H G Lamoreaux
S W Condit
George W Nurse
Joseph Thompson
John Haven A. P. Murray
Charles H Hales
[p. [1]]
To the honorable the city counsel of the city of Whereas your honorable body has granted the Extension of green Street beyond the surveyed limits to Kiggins Line we your petitioners therfore would humbly pray you honorable body to grant the opening of said Street two blocks North from young Street. thence East to the main street running north past s— and your petitioners as in duty bound will Ever pray City of May 1st. 1844
Names
Names
Rufus Beach
Hiram Marr
Debois C Godard
J W

m

Mathes
Abel Lamb
James McDonald)
Moses Olmstead
John Allan) W.m Batson
William Brewster
Jacob peart
Nicholas Nixon)
John Peart
James HaslamCharls Norhill
Wm. Milam
John Johnston)D Batsonford
Joseph Murdock
Thomas Steed) Jamie Bootsford
Levi Thornton
Joseph Bostock)
C A Beck
John Tranter) J D Burkes
Nichlas Robson
Edwin Booth) Wm Box
Samuel R. Aiken
La, F, Knight) John Wood
Samuel R Aikenn Jr
G G Scofild James Grobott
Nahum Ward
Thomas Crooks W Player
Abraham Hoagland
James Crooks Charles Player
Stephen Winchester, Jr
George Crooks Joseph Egbert
Stephen Winchester sen
Jothon Everts Morgan L Gardner
John Wootton
H G Lamoreaux
S W Condit
George W Nurse
Joseph Thompson
John Haven A. P. Murray
Charles H Hales
[p. [1]]