Home

>
Revelation, 2 December 1841
Source Note

Revelation, , IL, 2 Dec. 1841; in Book of the Law of the Lord, p. 66; handwriting of ; CHL.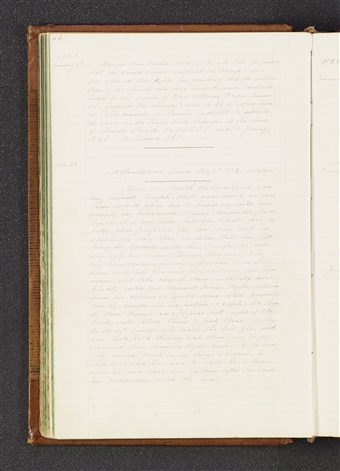 A. Revelation Given Dc
r

.
2
d

.
1842
1841.
Verily thus saith the Lord unto you my servant Joseph. that in as much as you have called upon me to know my will concerning my handmaid Behold it is my will that she should have a better place prepared for her than that in which she now lives, in order that her life may be spared unto her; Therefore go and say unto my servant . & To my handmaid his , Let them open their doors and take her and her children into their house. and take care of them faithfully and kindly until my Servant returns from his mission or until some other provision can be made for her welfare & safety: Let them do these things and spare not. and I the Lord will bless them & heal them. if they do it not grudgingly saith the Lord God. and she shall be a blessing unto them,— and let my handmaid hearken to the counsel of my servant Joseph in all things whatsoever he shall teach unto her, and it shall be a blessing upon her and upon her children after her. unto her Justification saith the Lord. [
6 lines blank
] [p. 66]
A. Revelation Given Dc
r
. 2
d
. 1841.
Verily thus saith the Lord unto you my servant Joseph. that in as much as you have called upon me to know my will concerning my handmaid Behold it is my will that she should have a better place prepared for her than that in which she now lives, in order that her life may be spared unto her; Therefore go and say unto my servant . & To my handmaid his , Let them open their doors and take her and her children into their house. and take care of them faithfully and kindly until my Servant returns from his mission or until some other provision can be made for her welfare & safety: Let them do these things and spare not. and I the Lord will bless them & heal them. if they do it not grudgingly saith the Lord God. and she shall be a blessing unto them,— and let my handmaid hearken to the counsel of my servant Joseph in all things whatsoever he shall teach unto her, and it shall be a blessing upon her and upon her children after her. unto her Justification saith the Lord. [
6 lines blank
] [p. 66]