Home

>
Revelation, 27 July 1842
Source Note

Revelation, [, Hancock Co., IL], 27 July 1842. Featured version copied [ca. 1 Apr. 1912]; typescript; two pages; Whitney Family Documents Collection, CHL.

Two leaves measuring 8½ × 11 inches (22 × 28 cm) on machine-cut paper, typed with blue-violet ink, with blank versos. A blue ink stamp on the upper left corner of the recto of the first leaf reads: "RECEIVED | APR–1 '12 |

President's Office

". The document was folded twice horizontally, likely for filing.

The original revelation was in the possession of the Whitney family and is apparently no longer extant. Years later, Orson F. Whitney received a copy of the revelation from his father, Horace Whitney, which Orson believed may have come from his grandfather . Orson F. Whitney made a typescript of the revelation at the request of church president Joseph F. Smith, probably in early 1912, and gave the typescript to Smith on 1 April 1912. At some point the letter was transferred to the possession of the —possibly in 1970, when Church Historian Joseph Fielding Smith became president of the church and took several documents with him from the Church Historian's Office to the Office of the First Presidency. In 2010, the document was transferred to the Church History Department (CHL).

Footnotes

1

See Source Note for Revelation Book 1; and Source Note for Journal, Dec. 1841–Dec. 1842.  

2

See the full bibliographic entry for Whitney Family Documents Collection, 1843–1912, in the CHL catalog.  

Historical Introduction

On 27 July 1842, JS dictated a revelation for in , Illinois, which provided instructions for Whitney to use in performing the of his daughter to JS that same day. Seventeen-year-old Sarah Ann was the eldest daughter of Newel and . Sarah Ann was born in , Ohio, and had moved to Nauvoo with her family in 1840. Her friend and sister-in-law, , later described Sarah as a popular young woman, one of the "guiding stars" in their group of friends in Nauvoo. Although some called her "proud and somewhat eccentric," Sarah Ann nevertheless had a magnetic personality, and Helen felt she was a "most pure-minded, conscientious and God-fearing girl."

's sealing to JS was arranged by her parents, and according to 's later account, Sarah freely entered into the marriage. No extant records convey how Sarah Ann learned about plural marriage, although it was likely from her parents. JS introduced to the principle of plural marriage, possibly in connection to his request to marry Sarah Ann, and Newel then introduced the principle to his wife. In her autobiography, related that after learning about the doctrine, she and her husband were both concerned and prayed for guidance. According to her account, they prayed that "the Lord would grant us some special manifestation concerning this new and strange doctrine," after which they were "seemingly wrapt in a heavenly vision, a halo of light encircled us, and we were convinced in our own minds that God heard and approved our prayers and intercedings before Him." Elizabeth Ann further noted that the vision comforted them and left them with such a testament of the practice that they were willing to have their daughter marry JS "in the holy order of plural marriage."

JS's 27 July revelation represents the only extant instructions from JS's lifetime for conducting a plural marriage ceremony. The sealing ceremony outlined by this revelation departed in many ways from traditional nineteenth-century marital vows and included matters of both temporal and eternal significance. The revelation emphasized that the sealing was a salvific rite that would be performed through 's authority. It promised immortality and eternal life to , and by extension her entire family, through her sealing to JS. By uniting the Whitney family with JS, the marriage created kinship ties that promised to seal the two families together eternally. The instruction in the ceremony for Sarah Ann to be JS's companion through life (and beyond the grave), preserve herself for him, and observe the rights of matrimony seem to suggest that all parties understood that the marriage could include sexual intimacy and the prospect of children. However, no documentation exists as to whether Sarah Ann and JS's relationship was sexual in nature. Newel K. Whitney used the revelation to perform the sealing on 27 July, with serving as a witness.

In 1869, signed two affidavits affirming her sealing to JS, but she left no documents offering her perspective on their relationship. The first affidavit attested to her sealing to JS, while the second verified an 18 August 1842

letter

written by JS. Although Sarah Ann was silent on the details of her marriage to JS, two women close to her offered differing perspectives in their reminiscences. Her mother, , referred with apparent pride to the marriage in her autobiography. She wrote that her daughter "was the first woman ever given in plural marriage by or with the consent of both parents." Elizabeth portrayed the marriage as evidence of the family's faithfulness to God, their belief in the revealed nature of plural marriage, and their loyalty to and support for JS and the practice of plural marriage. In contrast, the reminiscences of , who would be sealed to JS as a plural wife in May 1843, emphasized the sacrifice and secrecy inherent in Sarah Ann's marriage. Helen recounted how Sarah Ann worried that the marriage would socially isolate her from friends and that it required her to keep information from at least one of her brothers. Helen wrote that Sarah Ann's marriage was not motivated by any "earthly inducement," but rather by its spiritual significance. Perhaps reflecting her own experience, Helen noted that Sarah Ann and other women who were sealed to JS did so as a "life sacrifice for the sake of an everlasting glory and exaltation."

The original manuscript of the revelation featured here is apparently no longer extant. In 1912, Orson F. Whitney used a copy of the revelation in the possession of his father, Horace Whitney, to make a typescript. Orson Whitney believed that his father had received a copy of the revelation from his own father, . Orson Whitney gave the typescript to church president Joseph F. Smith on 1 April 1912, along with a cover letter. Two manuscript copies of the revelation in unidentified handwriting are also extant. They appear to have been created in the nineteenth century, prior to Orson Whitney producing the typescript copy. However, the provenance of these manuscript copies is unknown. They may have been passed down through the Whitney or Kimball families and were apparently donated to the Historian's Office in the 1920s. These copies of the revelation include an additional paragraph that is not part of the revelation text; this paragraph appears to be a journal entry from Newel K. Whitney describing the August 1842 rebaptism and blessing of both Whitney and his wife —possibly in connection with their daughter's sealing to JS. Because of its clearer provenance, the typescript made by Orson F. Whitney is the text featured here. Significant differences between the versions are noted.

Footnotes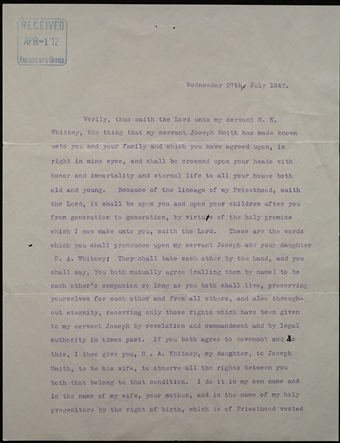 Wednesday 27th July 1842.
Verily, thus saith the Lord unto my servant , the thing that my servant Joseph Smith has made known unto you and your family and which you have agreed upon, is right in mine eyes, and shall be crowned upon your heads with honor and immortality and eternal life to all your house both old and young. Because of the lineage of my , saith the Lord, it shall be upon you and upon your children after you from generation to generation, by virtue of the holy promise which I now make unto you, saith the Lord. These are the words which you shall pronounce upon my servant Joseph and your daughter : They shall take each other by the hand, and you shall say, You both mutually agree (calling them by name) to be each other's companion so long as you both shall live, preserving yourselves for each other and from all others, and also throughout eternity, reserving only those rights which have been given to my servant Joseph by revelation and commandment and by legal authority in times past. If you both agree to covenant and
to
<​do​> this, I then give you, , my daughter, to Joseph Smith, to be his wife, to observe all the rights between you both that belong to that condition. I do it in my own name and in the name of my , your mother, and in the name of my holy progenitors by the right of birth, which is of Priesthood vested [p. [1]]
Wednesday 27th July 1842.
Verily, thus saith the Lord unto my servant , the thing that my servant Joseph Smith has made known unto you and your family and which you have agreed upon, is right in mine eyes, and shall be crowned upon your heads with honor and immortality and eternal life to all your house both old and young. Because of the lineage of my , saith the Lord, it shall be upon you and upon your children after you from generation to generation, by virtue of the holy promise which I now make unto you, saith the Lord. These are the words which you shall pronounce upon my servant Joseph and your daughter : They shall take each other by the hand, and you shall say, You both mutually agree (calling them by name) to be each other's companion so long as you both shall live, preserving yourselves for each other and from all others, and also throughout eternity, reserving only those rights which have been given to my servant Joseph by revelation and commandment and by legal authority in times past. If you both agree to covenant and do this, I then give you, , my daughter, to Joseph Smith, to be his wife, to observe all the rights between you both that belong to that condition. I do it in my own name and in the name of my , your mother, and in the name of my holy progenitors by the right of birth, which is of Priesthood vested [p. [1]]