Home

>
Sidney Rigdon, JS, et al., Petition Draft ("To the Publick"), circa 1838–1839
Source Note

, JS, et al., Petition Draft ("To the Publick"), ca. Sept. 1838–ca. Oct. 1839; handwriting of , , , , and two unidentified scribes; 112 inscribed pages with eight inserted slips of paper; JS Collection, CHL.

Historical Introduction

While incarcerated at , Missouri, in March 1839, JS addressed a letter to the church "at Illinois and scattered abroad and to in particular," instructing the Saints to gather up "a knoledge of all the facts and sufferings and abuses put upon them by the people of this state." Edward Partridge responded with an account that became the three opening installments of "

A History, of the Persecution, of the Church of Jesus Christ, of Latter Day Saints in Missouri

," an eleven-part series published in the church's newspaper,

Times and Seasons,

between December 1839 and October 1840. "A History, of the Persecution" receives comprehensive treatment in volume 2 of the Histories series of

The Joseph Smith Papers

and is available on this website.

may have intended to tell the entire story himself, but he fell ill shortly after publication of "A History, of the Persecution" began and died on 27 May 1840. Prompted by Partridge's illness and subsequent death, the editors of the

Times and Seasons,

and , sought elsewhere for source materials to continue the series. It is probable that they composed the fourth installment to provide a brief transition from Partridge's account, which ends in 1836, and the conflicts in and adjoining counties beginning in 1838. The fifth and seventh installments reprinted passages from 's

History of the Late Persecution Inflicted by the State of Missouri upon the Mormons

(Detroit: Dawson and Bates, 1839). In May 1840, the sixth installment drew upon 's eighty-four page pamphlet,

An Appeal to the American People: Being an Account of the Persecutions of the Church of Latter Day Saints; and the Barbarities Inflicted on Them by the Inhabitants of the State of Missouri

(Cincinnati: Glezan and Shepard, 1840), a draft of which is presented here. Though no author is named on the title page of the pamphlet, Rigdon was acknowledged as responsible for that publication when it was advertised in the

Times and Seasons

in 1840 and 1841. Also, much of this draft is in Rigdon's hand. More of Rigdon's work was reprinted in the eighth through tenth installments published from July to September 1840. The series concluded with an eleventh installment in the October 1840 issue, featuring General 's callous speech to the Saints after their surrender at , Missouri, in November 1838.

The manuscript version of 's

Appeal to the American People

presented here is referred to as the "petition draft" titled "To the Publick". On 1 November 1839, Rigdon's recently completed petition draft, endorsed by JS, Rigdon, and , was read to a conference of Saints in , Illinois, who then voted to approve its publication in the name of the church. and then collaborated to arrange for publication of the text in late 1839 and early 1840.

Although many of the events reported in 's draft and pamphlet can be corroborated from other sources, his chronology is often inaccurate. (Consult the annotation in

Histories,

Volume 2

for corrections to portions published as part of "A History, of the Persecutions.") However, his account contains the text of several significant documents. Among these are JS's 5 September 1838 affidavit concerning his 7 August 1838 visit to and those of and and regarding the massacre. Consequently, though in many respects Rigdon's document is more advocacy than history, it offers access to some material not readily found elsewhere.

Footnotes

1

Letter to the Church and Edward Partridge, 20 Mar. 1839 [D&C 123:1, 6].  

2

Crawley, Descriptive Bibliography, 103–104.  

Crawley, Peter. A Descriptive Bibliography of the Mormon Church. 3 vols. Provo, UT: Religious Studies Center, Brigham Young University, 1997–2012.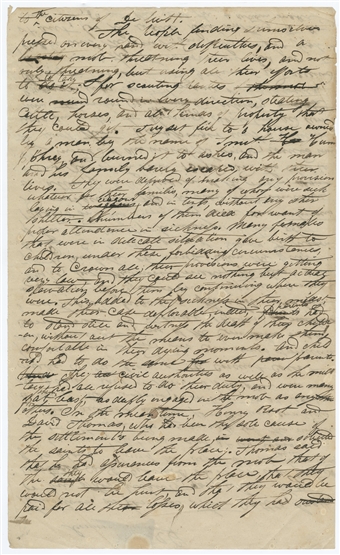 to <​the​> citizens of .
The people finding themselves pressed on every hand with diffculties, and a
beastly
mob, threatning their lives, and not only threatning, but using all their efforts to
do it
<​to take​>; for scouting parties
of the mob
were
round
round in every direction, stealing cattle, horses, and all kinds of property that they could git. They set fire to a house owned by a man, by the name of , and burned it to ashes, and the man and his family barely escaped with their lives. They were deprived of making any provision whatever for their families, many of whom were sick laying in
waggons
<​wagons​> and in tents, without any other shelter. Numbers of them died for want of proper attendance in sickness. Many females that were in delicate situation gave birth to children, under these forbidding circumstances, and to crown all; their provisions were getting very low, and they could see nothing but actual starvation before them by continuing where they were. This, added to the sickness in their midst, made thier case deplorable, indeed,
Parents
<​parents​> had to stand still and witness the death of their children, without out the means to even make them comfortable in their dying moments. And childred had to do the same
for
with parents.
these
They civil authorities as well as the military, had all refused to do their duty, and were many of <​them​> at least, has deeply engaged in the mob as any
others
others. In the mean time, and , who had been the sole cause of the settlements being made,
in
went and
solicited the saints to leave the place. said that he had assurances from the mob that if the
saints
they would leave the place, that they would not be hurt, and that they would be paid for all the
ir
losses, which they had
sustained
[p. [26[b]]]
to the citizens of .
The people finding themselves pressed on every hand with diffculties, and a mob, threatning their lives, and not only threatning, but using all their efforts to to take; for scouting parties were round in every direction, stealing cattle, horses, and all kinds of property that they could git. They set fire to a house owned by a man, by the name of , and burned it to ashes, and the man and his family barely escaped with their lives. They were deprived of making any provision whatever for their families, many of whom were sick laying in wagons and in tents, without any other shelter. Numbers of them died for want of proper attendance in sickness. Many females that were in delicate situation gave birth to children, under these forbidding circumstances, and to crown all; their provisions were getting very low, and they could see nothing but actual starvation before them by continuing where they were. This, added to the sickness in their midst, made thier case deplorable, indeed, parents had to stand still and witness the death of their children, without out the means to even make them comfortable in their dying moments. And childred had to do the same with parents. They civil authorities as well as the military, had all refused to do their duty, and were many of them at least, has deeply engaged in the mob as any others. In the mean time, and , who had been the sole cause of the settlements being made, solicited the saints to leave the place. said that he had assurances from the mob that if the they would leave the place, that they would not be hurt, and that they would be paid for all the losses, which they had [p. [26[b]]]