Home

>
Transcript of Proceedings, 6 January 1843 [Extradition of JS for Accessory to Assault]
Source Note

Transcript of Proceedings, , Sangamon Co., IL, 6 Jan. 1843,

Extradition of JS for Accessory to Assault

(United States Circuit Court for the District of IL 1843); handwriting of , , and ; certified by , 6 Jan. 1843; JS Collection, CHL. Includes attached slip.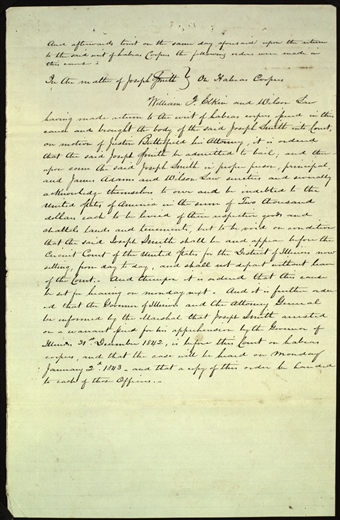 And afterward, to wit on the same day aforesaid upon the return to the said writ of the following orders were made in this cause:
| | |
| --- | --- |
| In the matter of Joseph Smith) | On Habeas Corpus |
and having made return to the writ of habeas corpus issued in this cause and brought the body of the said Joseph Smith into Court, on motion of his Attorney, it is ordered that the said Joseph Smith be admitted to bail; and thereupon come the said Joseph Smith in proper person, principal, and and sureties and severally acknowledge themselves to owe and be indebted to the in the sum of Two thousand dollars each to be levied of their respective goods and chattels lands and tenements, but to be void on condition that the said Joseph Smith shall be and appear before the Circuit Court of the for the District of now sitting, from day to day, and shall not depart without leave of the Court.— And thereupon it is ordered that this cause be set for hearing on monday next. And it is further ordered that the of and the be informed by the that Joseph Smith arrested on a warrant issued for his apprehension by the of 31
st.
December 1842, is before this Court on habeas corpus, and that the case will be heard on Monday January 2
d.
1843— and that a copy of this order be handed to each of those Officers.— [
10 lines blank
] [p. [13]]
And afterward, to wit on the same day aforesaid upon the return to the said writ of the following orders were made in this cause:
| | |
| --- | --- |
| In the matter of Joseph Smith) | On Habeas Corpus |
and having made return to the writ of habeas corpus issued in this cause and brought the body of the said Joseph Smith into Court, on motion of his Attorney, it is ordered that the said Joseph Smith be admitted to bail; and thereupon come the said Joseph Smith in proper person, principal, and and sureties and severally acknowledge themselves to owe and be indebted to the in the sum of Two thousand dollars each to be levied of their respective goods and chattels lands and tenements, but to be void on condition that the said Joseph Smith shall be and appear before the Circuit Court of the for the District of now sitting, from day to day, and shall not depart without leave of the Court.— And thereupon it is ordered that this cause be set for hearing on monday next. And it is further ordered that the of and the be informed by the that Joseph Smith arrested on a warrant issued for his apprehension by the of 31st. December 1842, is before this Court on habeas corpus, and that the case will be heard on Monday January 2d. 1843— and that a copy of this order be handed to each of those Officers.— [
10 lines blank
] [p. [13]]