Home

>
Transcript of Proceedings, 6 January 1843 [Extradition of JS for Accessory to Assault]
Source Note

Transcript of Proceedings, , Sangamon Co., IL, 6 Jan. 1843,

Extradition of JS for Accessory to Assault

(United States Circuit Court for the District of IL 1843); handwriting of , , and ; certified by , 6 Jan. 1843; JS Collection, CHL. Includes attached slip.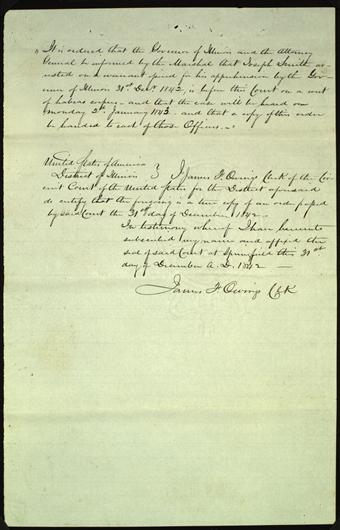 "It is ordered that the of and the be informed by the that Joseph Smith arrested on a warrant issued for his apprehension by the of 31
st.
Dec
r.
1842, is before this Court on a writ of — and that the case will be heard on Monday 2
d.
January
1842
<​1843​>— and that a copy of this order be handed to each of those Officers.—"
United States of America)
District of )
I Clerk of the Circuit Court of the for the District aforesaid do certify that the foregoing is a true copy of an order passed by said court the 31
st.
day of December 1842.—
In testimony whereof I have hereunto subscribed my name and affixed the seal of said Court at this 31
st.
day of December A. D. 1842—
Clk [
18 lines blank
] [p. [15]]
"It is ordered that the of and the be informed by the that Joseph Smith arrested on a warrant issued for his apprehension by the of 31st. Decr. 1842, is before this Court on a writ of — and that the case will be heard on Monday 2d. January 1843— and that a copy of this order be handed to each of those Officers.—"
United States of America)
District of )
I Clerk of the Circuit Court of the for the District aforesaid do certify that the foregoing is a true copy of an order passed by said court the 31st. day of December 1842.—
In testimony whereof I have hereunto subscribed my name and affixed the seal of said Court at this 31st. day of December A. D. 1842—
Clk [
18 lines blank
] [p. [15]]