Home

>
Transcript of Proceedings, 6 January 1843 [Extradition of JS for Accessory to Assault]
Source Note

Transcript of Proceedings, , Sangamon Co., IL, 6 Jan. 1843,

Extradition of JS for Accessory to Assault

(United States Circuit Court for the District of IL 1843); handwriting of , , and ; certified by , 6 Jan. 1843; JS Collection, CHL. Includes attached slip.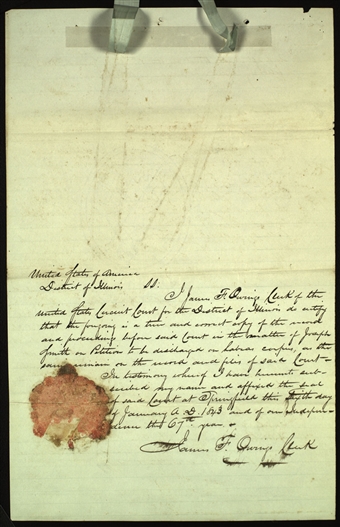 | | |
| --- | --- |
| United States of America | |
| District of | ss: [scilicet] |
I Clerk of the Circuit Court for the District of do certify that the foregoing is a true and correct copy of the record and proceedings before said Court in the matter of Joseph Smith on Petition to be discharged on , as the same remain on the record and files of said Court—
In testimony whereof I have hereunto subscribed my name and affixed the seal of said Court at this sixth day of January A. D. 1843 and of our Independence the 67
th.
year.—
Clerk [p. [32]]
| | |
| --- | --- |
| United States of America | |
| District of | ss: [scilicet] |
I Clerk of the Circuit Court for the District of do certify that the foregoing is a true and correct copy of the record and proceedings before said Court in the matter of Joseph Smith on Petition to be discharged on , as the same remain on the record and files of said Court—
In testimony whereof I have hereunto subscribed my name and affixed the seal of said Court at this sixth day of January A. D. 1843 and of our Independence the 67th. year.—
Clerk [p. [32]]