Home

>
Appendix 2: Council of Fifty, Minutes, 27 February 1845
Source Note

Council of Fifty, Minutes, , IL, 27 Feb. 1845; handwriting of ; six pages; Historian's Office, General Church Minutes, 1839–1877, CHL. Includes redactions. Three loose leaves, measuring 5⅞ × 8 inches (15 × 20 cm); 7¼ × 7¾ inches (18 × 20 cm); and 6½ × 8 inches (17 × 20 cm), respectively. Bullock's docket on page 6 reads: "Feb 27. 1845 | Meeting of the Twelve & others | in the Recorder's office".

Historical Introduction

On 27 February 1845 the council convened to discuss the group of Mormons that had followed west from and into . A member of Emmett's company, Moses Smith, had recently returned to Nauvoo bearing information about the company, and recorded that "the Twelve & others, mostly of the Council repaird to my office" with him. Since council clerk was ill, , a church clerk who was not a member of the council, recorded the minutes featured here. Because these minutes were kept separately, they were never copied into the Council of Fifty record books kept by Clayton, nor does it appear that Clayton used these minutes when providing a summary of the meeting in the record books. For the historical context in which these minutes were recorded, see the entry for

27 February 1845

in the main body of this volume.

Footnotes

1

Richards, Journal, 27 Feb. 1845. In his journal Heber C. Kimball erroneously dated this meeting to 28 February but recorded, "Held a council at Elder Richards on the case of Emit and Smith." (Kimball, Journal, 28 Feb. 1845.)  

Richards, Willard. Journals, 1836–1853. Willard Richards, Papers, 1821–1854. CHL. MS 1490, boxes 1–2.

Kimball, Heber C. Journals, 1837–1848. Heber C. Kimball, Papers, 1837–1866. CHL.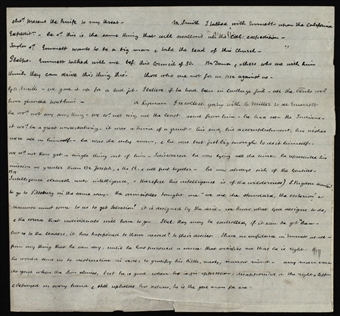 sho[ul]
d.
present the knife to my throat—
M[oses] Smith I talked with upon the Expedit
n.
— he s
d.
this is the same thing that will swallow up the expedition—
s
d
: wants to be a big man & take the lead of this Church—
— talked with me bef: [before] this Council of 50. & others who are with him think they can drive this thing thro'— those who are not for us are against us—
— we gave it up for a bad job— I believe if he had been in Jail— all the Gent[ile]s wo
d.
have glanced past him—
I recollect going with to see he wo
d.
not say any thing— we co[ul]
d.
not ring out the least sense from him—he had seen the Indians— it wo
d.
be a great undertaking— it was a kind of a grunt— his end, his accomplishment, his wishes were all in himself— he was the only man, & he was but just big enough to do it himself— we co
d.
not then get a single thing out of him— I discovered he was lying all the time— he represented his mission as greater than Br. Joseph, & the 12, & all put together— he was always sick of the Gentiles—
<​​> Intelligence cleaveth unto intelligence, & therefore his intelligence is of the wilderness) wanted to go to in the same way— the principles taught are "we are the standard, the criterion" & ["] must come to us to get Salvation" it is designed by the devil— we know what God designs to do, & the course that individuals will have to go— I bel[ieve] they may be controlled, if it can be got <​to​> them— but as to the leaders, it has happened to them accord
g.
to their desires— I have no confidence in at all— from any thing that he can say, until he has pursued a course that satisfies me that he is right—
this
he would send us to destruction in order to gratify his little, nasty, narrow mind— any man can do good when the Sun shines, but he is good when he is in oppression, disappointed on the right & left & betrayed on every hand & still upholds his actions, he is the good man for me— [p. [4]]
should. present the knife to my throat—
Moses Smith I talked with upon the Expeditn.— he sd. this is the same thing that will swallow up the expedition—
sd: wants to be a big man & take the lead of this Church—
— talked with me bef: [before] this Council of 50. & others who are with him think they can drive this thing thro'— those who are not for us are against us—
— we gave it up for a bad job— I believe if he had been in Jail— all the Gentiles wod. have glanced past him—
I recollect going with to see he wod. not say any thing— we could. not ring out the least sense from him—he had seen the Indians— it wod. be a great undertaking— it was a kind of a grunt— his end, his accomplishment, his wishes were all in himself— he was the only man, & he was but just big enough to do it himself— we cod. not then get a single thing out of him— I discovered he was lying all the time— he represented his mission as greater than Br. Joseph, & the 12, & all put together— he was always sick of the Gentiles—
Intelligence cleaveth unto intelligence, & therefore his intelligence is of the wilderness) wanted to go to in the same way— the principles taught are "we are the standard, the criterion" & " must come to us to get Salvation" it is designed by the devil— we know what God designs to do, & the course that individuals will have to go— I believe they may be controlled, if it can be got to them— but as to the leaders, it has happened to them accordg. to their desires— I have no confidence in at all— from any thing that he can say, until he has pursued a course that satisfies me that he is right— he would send us to destruction in order to gratify his little, nasty, narrow mind— any man can do good when the Sun shines, but he is good when he is in oppression, disappointed on the right & left & betrayed on every hand & still upholds his actions, he is the good man for me— [p. [4]]