Home

>
Discourse, 26 May 1844, as Compiled by Leo Hawkins
Source Note

JS, Discourse, , Hancock Co., IL, 26 May 1844; handwriting of with insertions by and Jonathan Grimshaw; dockets in handwriting of Robert L. Campbell and Jonathan Grimshaw; nine pages; JS Collection, CHL.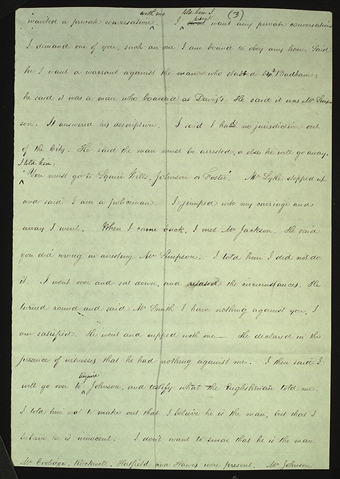 wanted a private conversation <​with me​>. I <​told him I​>
dont
<​did not​> want any private conversations I demand one of you, such an one I am bound to obey any how. Said he I want a warrant against the man who stabbed br
o
<​
r.
​> ; he said it was a man who boarded at 's. He said it was M
r
Simpson. It answered his description. I said I
have
had no jurisdiction out of the . He said the man must be arrested, or else he will go away. <​I told him:​> "You must go to Squire , or ." stepped up and said I am a policeman. I jumped into my carriage and away I went. When I came back, I met . He said you did wrong in arresting M
r
Simpson. I told him I did not do it. I went over and sat down, and
said
related the circumstances. He turned round and said M
r
Smith I have nothing against you, I am satisfied. He went and supped with me.— He declared in the presence of witnesses that he had nothing against me. I then said I will go over to <​​> , and testify what the Englishman told me. I told him not to make out that I believe he is the man, but that I believe he is innocent. I don't want to swear that he is the man M
r
, , Hatfield and were present. [p. [3]]
wanted a private conversation with me. I told him I did not want any private conversations I demand one of you, such an one I am bound to obey any how. Said he I want a warrant against the man who stabbed brr. ; he said it was a man who boarded at 's. He said it was Mr Simpson. It answered his description. I said I had no jurisdiction out of the . He said the man must be arrested, or else he will go away. I told him: "You must go to Squire , or ." stepped up and said I am a policeman. I jumped into my carriage and away I went. When I came back, I met . He said you did wrong in arresting Mr Simpson. I told him I did not do it. I went over and sat down, and related the circumstances. He turned round and said Mr Smith I have nothing against you, I am satisfied. He went and supped with me.— He declared in the presence of witnesses that he had nothing against me. I then said I will go over to , and testify what the Englishman told me. I told him not to make out that I believe he is the man, but that I believe he is innocent. I don't want to swear that he is the man Mr , , Hatfield and were present. [p. [3]]