Home

>
Hyrum Smith, Testimony, 1 July 1843 [Extradition of JS for Treason]
Source Note

, Testimony, , Hancock Co., IL, 1 July 1843,

Extradition of JS for Treason

(Nauvoo, IL, Municipal Court 1843). Copied [3–6 July 1843]; handwriting of and ; docket by , [6 July 1843, , Hancock Co., IL]; docket by , ca. [6] July 1843; notation by , ca. [6] July 1843; twenty-eight pages; Nauvoo, IL, Records, CHL.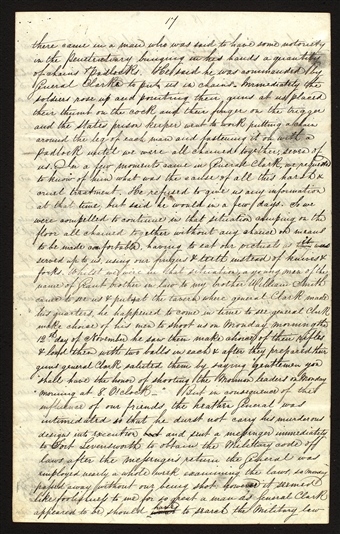 there came in a man who was said to have some notoriety in the penetentiary bringing in his hands a quantity of chains & padlocks. He said he was commanded by to put us in chains— Immediately the soldiers rose up and pointing their guns at us placed their thumb on the cock, and their finger on the trigger and the s prison keeper went to work putting a chain around the leg of each man and fastening it on with a padlock until we were all chained together, seven of us. In a few moments came in , we requested to know of him what was the cause of all this harsh & cruel treatment. He refused to give us any information at that time; but said he would in a few days. So we were compelled to continue in that situation camping on the floor all chained together without any chance or means to be made comfortable, having to eat our victuals as
they
<​it​>
were
<​was​> served up to us, using our fingers & teeth instead of knives & forks. Whilst we were in that situation, a young man of the name of , brother in law to my brother came to see us & put <​up​> at the tavern where made his quarters, he happened to come in time to see make choice of his men to shoot us on Monday morning the 12
th.
day of November he saw them make choice of their rifles & load them with two balls in each & after they prepared their guns saluted them by saying "gentlemen you shall have the honor of shooting the Mormon leaders on Monday morning at 8. O!clock—" But in consequence of the influence of our friends the heathen was intimidated so that he durst not carry his murderous designs into
but
and sent a messenger immediately to to obtain the Military code of laws, after the messenger's return the was employed nearly a whole week examining the laws, so Monday passed away without our being shot: however it seemed like foolishness to me for so great a man as appeared to be, should <​have​>
want
to search the military law [p. 17]
there came in a man who was said to have some notoriety in the penetentiary bringing in his hands a quantity of chains & padlocks. He said he was commanded by to put us in chains— Immediately the soldiers rose up and pointing their guns at us placed their thumb on the cock, and their finger on the trigger and the s prison keeper went to work putting a chain around the leg of each man and fastening it on with a padlock until we were all chained together, seven of us. In a few moments came in , we requested to know of him what was the cause of all this harsh & cruel treatment. He refused to give us any information at that time; but said he would in a few days. So we were compelled to continue in that situation camping on the floor all chained together without any chance or means to be made comfortable, having to eat our victuals as it was served up to us, using our fingers & teeth instead of knives & forks. Whilst we were in that situation, a young man of the name of , brother in law to my brother came to see us & put up at the tavern where made his quarters, he happened to come in time to see make choice of his men to shoot us on Monday morning the 12th. day of November he saw them make choice of their rifles & load them with two balls in each & after they prepared their guns saluted them by saying "gentlemen you shall have the honor of shooting the Mormon leaders on Monday morning at 8. O!clock—" But in consequence of the influence of our friends the heathen was intimidated so that he durst not carry his murderous designs into and sent a messenger immediately to to obtain the Military code of laws, after the messenger's return the was employed nearly a whole week examining the laws, so Monday passed away without our being shot: however it seemed like foolishness to me for so great a man as appeared to be, should have to search the military law [p. 17]