Journal, December 1842–June 1844; Book 1, 21 December 1842–10 March 1843
Source Note

JS, "President Joseph Smith's Journal," Journal, 4 vols., Dec. 1842–June 1844; handwriting and signatures of ; 1,045 pages; JS Collection, CHL. Includes shorthand and illustrations; also includes redactions, use marks, and archival stickers.

kept "President Joseph Smith's Journal" in four small memorandum books. The paper in book 1 is blue, while the paper in books 2–4 is white. In the first two books, the paper was printed with seventeen blue lines and extra space for page headers, whereas the paper for book 3 was printed with nineteen blue lines and no header space. The first eight gatherings of paper for book 4 were printed with sixteen blue lines and header space, while the last nine gatherings were printed with nineteen blue lines and no header space. The four volumes have 147, 160, 142, and 190 free leaves, respectively, and were sewn with all-along sewing. The leaves in books 1–3 were trimmed to measure 6 × 3¾ inches (15 × 10 cm), while the paper in book 4 measures 6¼ × 3¾ inches (16 × 10 cm). Books 2–4 have matching red-speckled stain on the page edges. All four books were bound with a tight-back case binding and have brown leather over pasteboards. Books 1–3 measure 6¼ × 4 × ¾ inches (16 × 10 × 2 cm); book 4 measures 6⅜ × 4 × ¾ inches (16 × 10 × 2 cm). The outside covers of book 1 feature an embossed pattern around the borders. The cover of book 4 is red and features a gold pattern around the borders on the front and the back.

inscribed most of the journal entries in these memorandum books with a quill pen in ink that is now brown, although he also used blue ink for several entries. The volumes also include inscriptions written in graphite, some of which are contemporaneous and some that are later redactions. Richards paginated the first 114 of the 285 inscribed pages in book 1—discounting the title page that precedes the pagination—and the first 20 of the 309 inscribed pages in book 2. There is no pagination in books 3–4. In book 2, pages 11, 17, and 20–21 feature illustrations of celestial observations.

The memorandum books include later inscriptions that are not transcribed in this edition. At the end of book 2, added a list of -era plural marriages. A few revisions, additions, or notes are penciled in throughout the volumes. There are also several use marks throughout the volumes—probably made when the journal entries were later revised for inclusion in the "History of Joseph Smith" published in Mormon newspapers in the mid-nineteenth century. The spines of the volumes are now labeled with blue-colored paper stickers that probably date from the early Utah period. Each of the four volumes also bears the mark of a square sticker removed from the upper right-hand corner of the outside front cover. Finally, a "Historian's Office Archives" self-adhesive paper sticker appears in the front inside cover or on the first flyleaf of each book.

identified himself as the scribe for the journal on the title pages of books 1 and 4. Because Richards kept the journals for JS and kept his own journal in the back of book 4 after JS's death, the books may have been among "Drs [Richards's] private books & Papers" listed in the 1846 inventory of church records made in , Illinois. The volumes are listed in inventories made in Salt Lake City, Utah, by the Church Historian's Office in 1855, 1858, and 1878, as well as in the 1973 register of the JS Collection. These archival records and the physical evidence of archival stickers indicate continuous institutional custody and authenticity.

Note:

The journal kept for JS is divided into four physical books. The transcript and annotation here are for book 1, covering 21 December 1842 through 10 March 1843. The transcript and annotation for the other three books are also available on this website;

book 2

covers 10 March through 14 July 1843,

book 3

covers 15 July 1843 through 29 February 1844, and

book 4

covers 1 March through 22 June 1844.

Footnotes

Historical Introduction

took over the responsibility of keeping JS's journal from on 21 December 1842, the same day JS "made a particular request" that Richards "act as his private se[c]retary & historian." This was the second time Richards kept JS's journal; he had also kept it between 13 December 1841 and 29 June 1842 before leaving for Richmond, Massachusetts, to bring his family to , Illinois. During Richards's absence, Clayton kept JS's journal, inscribing entries, as Richards had done, in the large Book of the Law of the Lord, which also contained records of donations for the . Clayton continued keeping the journal—JS's first Nauvoo journal—even after Richards returned to Nauvoo on 30 October 1842, probably because, as temple recorder, Clayton was the custodian of the Book of the Law of the Lord. When Richards resumed keeping JS's journal on 21 December 1842, he began using a much smaller memorandum book. This second Nauvoo journal was kept by Richards through 22 June 1844 and eventually comprised four such memorandum books.

Several pieces of evidence indicate that these four memorandum books were considered volumes of the same journal rather than separate journals themselves. For example, whereas JS's journals kept during the 1830s were recorded in bound books or notebooks labeled with different titles—such as "

Sketch Book

" or "

The Scriptory Book

"—the first and last of 's memorandum books bear virtually identical titles, with the fourth explicitly identified as "

vol 4

". Similarly, that books 2 and 3 lack titles suggests that each was simply a continuation of the previous book. This suggestion is made even stronger in book 2, in which the first entry commences at 4:00 p.m. on 10 March, with the events of the earlier part of the day recorded at the end of book 1. All four memorandum books are virtually the same size, and the bindings on the first three are similar.

As with nearly all the entries in JS's previous and journals, JS neither wrote nor dictated the text of the entries in the memorandum books; they are based on 's observations. For example, the entry for 22 September 1843 records only that Richards "saw Joseph pass in a waggon with Hiram." Despite the secondhand nature of the entries, however, Richards, a close associate and frequent companion of JS, was able to capture in detail JS's words and actions on many occasions.

The shift of 's office from temple recorder and scribe to JS's "private se[c]retary & historian," as well as the transfer of the journal out of the Book of the Law of the Lord, may have influenced what events Richards recorded in the memorandum books. At least some of the material Richards, as JS's private secretary, included in this journal—such as the detailed record of a medical malpractice suit over which JS presided—probably would have received much less emphasis had Richards, in the capacity of temple recorder and scribe, been keeping JS's journal in the book that also contained records of donations for the temple. Similarly, although the ledger-size Book of the Law of the Lord likely remained in the recorder's office and most journal entries were probably made there, each of the memorandum books was small enough that Richards could easily carry it with him, allowing him to record many of JS's activities closer to the actual event—both temporally and spatially—than was possible earlier.

's new title of historian was significant as well. On 1 December 1842, he began working on the "History of Joseph Smith" that was being serially published in the

Times and Seasons,

and by August 1843 he was drawing on JS's earlier journals for that history. Richards therefore likely expected that the contemporaneous journal entries he was keeping for JS would eventually be used as the basis for JS's history.

employed various techniques in keeping the journal. For a few entries, he made lightly penciled notes and returned later with a quill pen to expand the entry. In other entries, the morning or afternoon portion of an entry was written in one ink and the evening portion of the entry in a different ink that matches that of the following entry. These changes in writing media and in other aspects of the inscribed text indicate that many entries—or parts of entries—were made on the very day of the events they described. The textual evidence in other entries indicates that they were written several days after the date they bear. Still other entries are a hybrid. Richards's notes of sermons and legal proceedings, for example, bear evidence of both contemporaneous inscription and later revision. In some instances, Richards left blank spaces and even blank lines, apparently intending to add details later. Hurried note taking often resulted in missing words, informal abbreviations, inconsistent spelling, and poorly formed characters. Richards revisited some difficult passages to mend or rewrite characters, revise spelling and punctuation, and add interlineations. Some of the blanks were filled while others were left standing. Richards's notes include both immediate emendations, such as wipe-erasures made while his ink was still wet, as well as later revisions, such as knife-erasures of words written in ink that had dried. The various ways in which Richards wrote and revised entries resulted in the journal's uneven texture but also contribute to its wealth of immediately recorded information and clarifying additions.

Over time, settled somewhat into a pattern of generally recording the events of one day on one page—some pages largely empty and others filled with cramped writing—with weather reported at the bottom of the page. He made an entry for almost every day during the last year and a half of JS's life. The journal ended when JS left on 22 June 1844, five days before he was killed at the jailhouse at , Illinois. Richards accompanied JS to Carthage and, during the final days of JS's life, kept extensive notes of JS's activities in his personal journal.

Note:

The journal kept for JS is divided into four physical books. The transcript and annotation here are for book 1, covering 21 December 1842 through 10 March 1843. The transcript and annotation for the other three books are also available on this website;

book 2

covers 10 March through 14 July 1843,

book 3

covers 15 July 1843 through 29 February 1844, and

book 4

covers 1 March through 22 June 1844.

Footnotes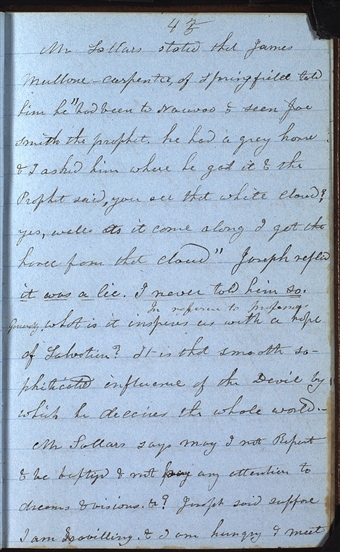 Mr Sollars stated that James Mullone— carpenter, of told him he "had been to & seen Joe Smith the prophet. he had a grey horse & I asked him where he got it & the Prophet said, you see that white cloud? yes, well
it
as it come along I got the horse from that cloud" Joseph replied
it
was
a
lie
.
I never told him so
.
<​In referen[ce] to professors Generally.​> what is it inspires us with a hope of Salvation? It is that smooth sophi[s]ticated influence of the Devil by which he deceives the whole world.—
Mr. Sollars says may I not Repent & be baptizd & not pay any attention to dreams & visions. &
c
? Joseph said suppose I am Travilling. & I am hungry I meet [p. 45]
Mr Sollars stated that James Mullone— carpenter, of told him he "had been to & seen Joe Smith the prophet. he had a grey horse & I asked him where he got it & the Prophet said, you see that white cloud? yes, well as it come along I got the horse from that cloud" Joseph replied
it
was
a
lie
.
I never told him so
.
In reference to professors Generally. what is it inspires us with a hope of Salvation? It is that smooth sophisticated influence of the Devil by which he deceives the whole world.—
Mr. Sollars says may I not Repent & be baptizd & not pay any attention to dreams & visions. &c? Joseph said suppose I am Travilling. & I am hungry I meet [p. 45]