Letter from John W. Latson, 7 January 1842
Source Note

, Letter, , NY, to JS, , IL, 7 Jan. 1842; three pages; JS Collection, CHL. Includes endorsements.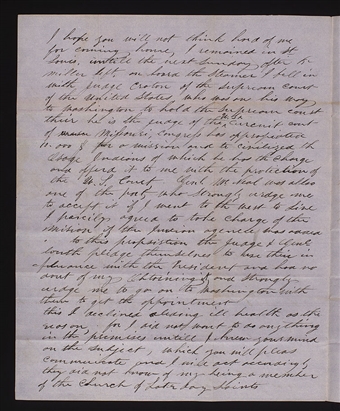 I hope you will not think hard of me for coming home, I remained in , untill the next Sunday after B
r
miller left, on board the Steamer I fell in with Judge Craton [John Catron] of the Supream Court of the , who was on his way to to hold the Supream court their he is the judge of the <​U. St​> curcuit cou[r]t of , Congress has approp[r]iated 10,000 $
to
for a mission and to civilized th[e] Osage Indians of which he has the charge and offerd it to me with the protiction of the U. S. Court. Gen
l.
M
c.
Neal was allso one of the party who strongly urdge me to accept it if I went to the west to Live I parcily agreed to take charge of the mision if the Indian agenece
s
was added
to this propsistion the Judge & Gen
l
bouth pledge themselves to use their influance with the President and had no dout of my Obtaining it, and Strongly urdge me to go on to with them to get the appointment
this I declined
a
leding [alleging] ill health as the reason, for I did not want to do anything in the primises untill I knew your mind on the subject, which you will pleas commu[n]icate and I will act accordingly they did not know of my being a member of the Church of Lat[t]er day Saints [p. [2]]
I hope you will not think hard of me for coming home, I remained in , untill the next Sunday after Br miller left, on board the Steamer I fell in with Judge Craton [John Catron] of the Supream Court of the , who was on his way to to hold the Supream court their he is the judge of the U. St curcuit court of , Congress has appropriated 10,000 $ for a mission and to civilized the Osage Indians of which he has the charge and offerd it to me with the protiction of the U. S. Court. Genl. Mc. Neal was allso one of the party who strongly urdge me to accept it if I went to the west to Live I parcily agreed to take charge of the mision if the Indian agenece was added
to this propsistion the Judge & Gen
l
bouth pledge themselves to use their influance with the President and had no dout of my Obtaining it, and Strongly urdge me to go on to with them to get the appointment
this I declined leding [alleging] ill health as the reason, for I did not want to do anything in the primises untill I knew your mind on the subject, which you will pleas communicate and I will act accordingly they did not know of my being a member of the Church of Latter day Saints [p. [2]]