Home

>
Letter from Nauvoo Temple Committee, 26 January 1843
Source Note

, , and , Letter, , Hancock Co., IL, to JS as trustee-in-trust for the Church of Jesus Christ of Latter-day Saints, , Hancock Co., IL, 26 Jan. 1843; handwriting of ; one page; JS Collection, CHL. Includes address and docket.

Bifolium measuring 10 × 7⅞ inches (25 × 20 cm) when folded. Each page is ruled with twenty-six horizontal lines printed in blue ink. The lines on the fourth page are faded. The upper left corner of the recto of the first leaf includes a circular embossment, now illegible. The document was trifolded twice in letter style and addressed. It was later refolded and docketed for filing.

JS presumably gave the document either to temple recorder or to another church clerk, who filed it among other church papers. It was docketed by , who served as JS's scribe from 1843 to 1844 and as clerk to the church historian and recorder from 1845 to 1865. The document was listed in an inventory that was produced by the Church Historian's Office (later Church Historical Department) circa 1904. By 1973 the document had been included in the JS Collection at the Church Historical Department (now CHL). The document's early docket as well as its inclusion in the circa 1904 inventory and in the JS Collection by 1973 indicate continuous institutional custody.

Footnotes

1

Jessee, "Writing of Joseph Smith's History," 456, 458; Woodruff, Journal, 22 Jan. 1865.  

Jessee, Dean C. "The Writing of Joseph Smith's History." BYU Studies 11 (Summer 1971): 439–473.

Woodruff, Wilford. Journals, 1833–1898. Wilford Woodruff, Journals and Papers, 1828–1898. CHL. MS 1352.

2

"Letters to and from the Prophet," ca. 1904, [2], Historian's Office, Catalogs and Inventories, 1846–1904, CHL.  

Historian's Office. Catalogs and Inventories, 1846–1904. CHL. CR 100 130.

3

See the full bibliographic entry for JS Collection, 1827–1844, in the CHL catalog.  

Historical Introduction

On 26 January 1843, in , Illinois, the members of the Nauvoo —, , and —wrote to JS regarding an unspecified proposal. The letter referenced a conversation from earlier that morning between JS and Cutler about an unnamed parcel of land and an expenditure of funds that had presumably been donated for the construction. JS apparently wanted to use the funds differently than the members of the temple committee had planned. Having been accused several times since October 1842 of wrongly appropriating donated temple funds and materials for their own purposes, Cutler, Cahoon, and Higbee were likely particularly mindful of such requests.

The text of the letter does not specify what resources JS and the temple committee members were discussing. Because JS was involved with several land transactions during this period, the resources may have been used for several real estate transactions, including the purchase of the temple block from and on 4 February 1843. It is possible that JS asked the temple committee to contribute a portion of its donated funds to the purchase of this lot from the Wells family.

The lack of postal markings on the letter suggests that it was hand delivered to JS in on or shortly after 26 January. There is no known reply from JS.

Footnotes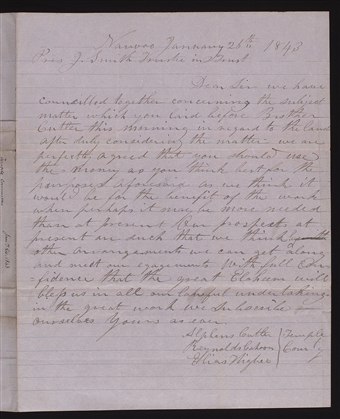 J. Smith Trustee in Trust
Dear Sir we have councilled together concerning the subject matter which you laid before this morning in regard to the land after duly considering the matter we are perfectly agreed that you should use the money as you think best for the purposes aforesaid as we think it would be for the benefit of the work when perhaps it may be more needed than at present Our prospects at present are such that we think <​by​>
with
other arrangements we can get along and meet our e[n]gagements. With full confidence that the great Eloheem will bless us in all our lawful undertaking. in the great work we Subscribe
our
ourselves Yours as ever.
[p. [1]]
J. Smith Trustee in Trust
Dear Sir we have councilled together concerning the subject matter which you laid before this morning in regard to the land after duly considering the matter we are perfectly agreed that you should use the money as you think best for the purposes aforesaid as we think it would be for the benefit of the work when perhaps it may be more needed than at present Our prospects at present are such that we think by other arrangements we can get along and meet our engagements. With full confidence that the great Eloheem will bless us in all our lawful undertaking. in the great work we Subscribe ourselves Yours as ever.
[p. [1]]