Letter from Reuben Hedlock, 10–21 January 1844
Source Note

, , England, to JS and Quorum of the Twelve, [, Hancock Co., IL.], 10–21 Jan. 1844; handwriting of ; docket in handwriting of ; twenty-four pages; JS Collection, CHL.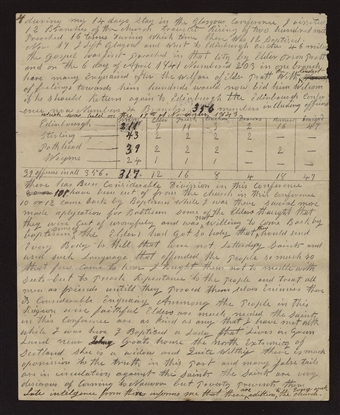 during my 14 days stay in the Glasgow Conference I vissited 12 Branches of the church traveled Rising of two hundred mil[es] Preached 16 times During which time there was 12 Baptised. Nov 17 I left Glasgow and went to Edinburgh Distance 46 miles the Gospel was first preached in that City by Elder and on the 6 day of April 1841 Numbered 203 in one branch here many Enquaired after the Welfare of with <​the kindest​>
Warm
of feelings towards him hundreds would now bid him Welcom if he should Return again to Edinburgh the Edinbourgh Conference <​which was held on the 19
th

.
of November 1843​> now Numbers 4 Branches
<​356​>
356 members including officers
mem
Elder
Priests
teachers
Deacons
Remove
Emigr[ate]d
Edinbourgh

——

211
7
11
3
2
16
47
Stirling

——

43
2
2
2
2
—
—
Pathhead

——

39
2
2
2
—
2
—
Weyms

——

24
1
1
1
—
—
—
39 officers in all 356 "
317
12
16
8
4
18
47
there has Been Considerable Divission in this Conference
80 or

◊◊◊
101 have been cut of[f] from the church in this conference 10 or 12 came back by Baptisem while I was there several more made aplycation for Babtisem some of the Elders thaught that they were cut of wrongfuly and was <​not​> willing to come Back by baptisem <​some of​> the Elders had got so holy that <​they​> would send Every Body to Hell that were not Latter day Saints and used such Language that offended the people so much so that few came to hear I tought them not to medle with Sects— but to preach Repentance to the people and treat all men as friends untill they proved them selves Enimies there is Considerable Enquairy Ammong the People in this Reigeon wise faithful Elders are much needed the Saints in this Conference are as kind as any that I have met with while I was here I Baptised a Lady that Lives in Green Land near Johny Grouts house the north Extrimity of Scotland shie is a widow and Quite Welthy there is much opossission to the truth in this part and many false tails are in circulation against the Saints the Saints are very desierous of Comming to but poverty prevents them Late intilgence from
their
there informs me that there <​are​> adittions <​to​> the church <​Every week​> [p. 4]
during my 14 days stay in the Glasgow Conference I vissited 12 Branches of the church traveled Rising of two hundred miles Preached 16 times During which time there was 12 Baptised. Nov 17 I left Glasgow and went to Edinburgh Distance 46 miles the Gospel was first preached in that City by Elder and on the 6 day of April 1841 Numbered 203 in one branch here many Enquaired after the Welfare of with the kindest of feelings towards him hundreds would now bid him Welcom if he should Return again to Edinburgh the Edinbourgh Conference which was held on the 19
th
. of November 1843 now Numbers 4 Branches 356 members including officers
mem
Elder
Priests
teachers
Deacons
Remove
Emigrated
Edinbourgh

——

211
7
11
3
2
16
47
Stirling

——

43
2
2
2
2
—
—
Pathhead

——

39
2
2
2
—
2
—
Weyms

——

24
1
1
1
—
—
—
39 officers in all 356 "
317
12
16
8
4
18
47
there has Been Considerable Divission in this Conference 101 have been cut off from the church in this conference 10 or 12 came back by Baptisem while I was there several more made aplycation for Babtisem some of the Elders thaught that they were cut of wrongfuly and was not willing to come Back by baptisem some of the Elders had got so holy that they would send Every Body to Hell that were not Latter day Saints and used such Language that offended the people so much so that few came to hear I tought them not to medle with Sects— but to preach Repentance to the people and treat all men as friends untill they proved them selves Enimies there is Considerable Enquairy Ammong the People in this Reigeon wise faithful Elders are much needed the Saints in this Conference are as kind as any that I have met with while I was here I Baptised a Lady that Lives in Green Land near Johny Grouts house the north Extrimity of Scotland shie is a widow and Quite Welthy there is much opossission to the truth in this part and many false tails are in circulation against the Saints the Saints are very desierous of Comming to but poverty prevents them Late intilgence from there informs me that there are adittions to the church Every week [p. 4]