Letter from Thomas Rawcliff, 24 May 1843
Source Note

Thomas Rawcliff, Letter, , Hancock Co., IL, to JS, , Hancock Co., IL, 24 May 1843; handwriting probably of Thomas Rawcliff; docket in handwriting of ; six pages; JS Collection, CHL.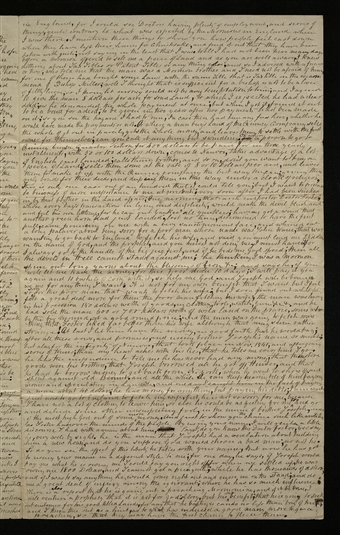 in , for I could see Doctors having plenty of employment, and scores of things, quites contrary to what was expected by the Mormons in when I was there. I mention these things to show you how people feel cast down when they have left their homes for Christ<​'s​> sake, and find it out that they have been taken with guile; not saying in the least that I was. Well I had not been here many days before a Mormon offered to sell me a peice of Land and as you are well aware, I knew nothing about Tax Titles or Patent Titles or any thing else; and so I advised with a friend or two, who told me that the man was a Mormon brother and I need not be afraid of him, for one of them had bought some Land with the same Title that is Tax title on the recommend of ; well I thought that is sufficient for a bishop is not to be a lover of filthy lucre, so I thought money could not be any temptation to him; and I agreed to give the man 8 dollars per acre for some Land, to which I expected he had a clear deed; as he demanded the whole payment at once; but when I got it, found it out to be a bond for a deed; to be given in two years after two payments had been made on it; so you see the hazard I had to run, In case there had been any fuss here, whether he would have made the payments or not. Or where a man buys Land of the Quincy Company sells the whole of it out in parcels, gets the whole money, and leaves them to settle with the first owner for themselves; can you call it any thing but swindling.
for
<​Or when​> a person to go to buys a Quarter Section for 400 dollars to be paid for in three yearly instalments, with 50 or 100 dollars down, comes to , takes advantage of a lot of English just landed; calls them brother, and so on, don't you want to buy a peice of Land? sells them some at the rate of 8 or 10 Dollars per acre, and leaves them to make it up with the Quincy company the best way they can; giving them only bonds for their deeds, and duping them in this way under a cloak of religion, This is only one case out of an hundred that I could tell you; but I want to proceed to buisness of more importance to me at prestent; very soon after I had been sucked in by that brother in the Land affair; One morning, that arch imposter ; whose every Day's transactions in lying and duplicity; would make the devil blush and and feel his own littleness, for he can out Yankee" all yankees; having got a wind that another green horn had just landed; lost no time, determined to have the first pull, came pouncing on me with a very sanctimonious face, and whined out a long palaver about being sorry for a poor man whose name was John Warre, that was wanting to go back to to fetch his wife, and said you must lend me 25 dollar[s] in the name of God, and the prophet, and you must not deny me, I must have <​it​> for I always go to the handle of the big jug first, and if he bids me God speed; then all the devils in Hell cannot stand against me; he thinking I was a Mormon spun out long yarns about the blessings of &c; and says he, if you will let me have the money, for this poor man 10 days; I will pay it you again and 10 bushels of corn with it, so help me God. and Joseph will be bound wi[th] me for any thing I want. It is not for my own benefit that I want but I feel so <​sorry​> for this poor man that wants to fetch his wife; but I soon found out what he felt a great deal more for them the poor man fetching his wife; the man was leavi[n]g in his possession 150 dollars worth of goods, in clothing, tools, watch, guns, &c &c. and he had sold the man 600 or 700 dollars worth of wild land on the prarie, some
were
wher by the big mound, at a good round price; and the man was going to fetch something that liked far better than his wife although that may seem rather strange! At last I let him have the money, in good faith that he would pay; after all these vows, and promises, and useing brother Joseph's name so much; but alas, for the integrity of , that took place in Nov. 1841, and after going scores of times; than my heart aches with his lies, that he tells me every time I go. he has the impudence to tell me he has never had any money, that
the
those store goods were his brothers, that Joseph borrowed all he got off , and that he had to borrow money to get back from , when he went to show off. and spout against old . and all the while He can keep hearing tell of him paying monies and speculating in Land &c, and one day I caught him in the fact of paying a man about 40 dollars; he has money for anything, but paying his debts; I am waiti[ng] just now to go to to fetch my wife, but he is not so sorry for me, because I have not a lot of clothing to leave him, or else he could be as feeling for me <​too​> and go and delude some other unsuspecting fool, in the name of brother Joseph, and of the most high God out of some <​more​> money. And just to show you <​the​> chains such like wretches as
have
has over the minds of the people by using your name, I will recite a little discourse I had with a man about him, Says I, do you know this , yes say he, very well by sight. he is the man that Joseph's had a revelation about building him a new house, and do you suppose God would choose a bad man; no not he. So do you see the effect of this liberty he takes with your name, But now he has got to using your name in a different style to me; for one day, he says, if Joseph would pay me what he is owing me I could pay you right off, for when we settled up, he was owing me 1800 Dollars, and I cannot get a picayune; while he has thousands of dollars, and if I was to say anything he would come right out and curse me on the stand; and do me a great deal of injury among the ignorant; where he has so much influence; There is <​also​> a report that he is going out a preaching Mormonism, and if it be true, I will venture a prophesy that it is not for god's Glory, but his <​own​> benefit; that he is going to seek out customers for his good titled Lands, for any that he baptizes can do no less than buy of him, and I throw this out as a hint, as to what has induced a good many more to go a preaching, so that they may have the first chance to fleece them. [p. [2]]
in , for I could see Doctors having plenty of employment, and scores of things, quites contrary to what was expected by the Mormons in when I was there. I mention these things to show you how people feel cast down when they have left their homes for Christ's sake, and find it out that they have been taken with guile; not saying in the least that I was. Well I had not been here many days before a Mormon offered to sell me a peice of Land and as you are well aware, I knew nothing about Tax Titles or Patent Titles or any thing else; and so I advised with a friend or two, who told me that the man was a Mormon brother and I need not be afraid of him, for one of them had bought some Land with the same Title that is Tax title on the recommend of ; well I thought that is sufficient for a bishop is not to be a lover of filthy lucre, so I thought money could not be any temptation to him; and I agreed to give the man 8 dollars per acre for some Land, to which I expected he had a clear deed; as he demanded the whole payment at once; but when I got it, found it out to be a bond for a deed; to be given in two years after two payments had been made on it; so you see the hazard I had to run, In case there had been any fuss here, whether he would have made the payments or not. Or where a man buys Land of the Quincy Company sells the whole of it out in parcels, gets the whole money, and leaves them to settle with the first owner for themselves; can you call it any thing but swindling. Or when a person to go to buys a Quarter Section for 400 dollars to be paid for in three yearly instalments, with 50 or 100 dollars down, comes to , takes advantage of a lot of English just landed; calls them brother, and so on, don't you want to buy a peice of Land? sells them some at the rate of 8 or 10 Dollars per acre, and leaves them to make it up with the Quincy company the best way they can; giving them only bonds for their deeds, and duping them in this way under a cloak of religion, This is only one case out of an hundred that I could tell you; but I want to proceed to buisness of more importance to me at prestent; very soon after I had been sucked in by that brother in the Land affair; One morning, that arch imposter ; whose every Day's transactions in lying and duplicity; would make the devil blush and and feel his own littleness, for he can out Yankee" all yankees; having got a wind that another green horn had just landed; lost no time, determined to have the first pull, came pouncing on me with a very sanctimonious face, and whined out a long palaver about being sorry for a poor man whose name was John Warre, that was wanting to go back to to fetch his wife, and said you must lend me 25 dollars in the name of God, and the prophet, and you must not deny me, I must have it for I always go to the handle of the big jug first, and if he bids me God speed; then all the devils in Hell cannot stand against me; he thinking I was a Mormon spun out long yarns about the blessings of &c; and says he, if you will let me have the money, for this poor man 10 days; I will pay it you again and 10 bushels of corn with it, so help me God. and Joseph will be bound with me for any thing I want. It is not for my own benefit that I want but I feel so sorry for this poor man that wants to fetch his wife; but I soon found out what he felt a great deal more for them the poor man fetching his wife; the man was leaving in his possession 150 dollars worth of goods, in clothing, tools, watch, guns, &c &c. and he had sold the man 600 or 700 dollars worth of wild land on the prarie, some wher by the big mound, at a good round price; and the man was going to fetch something that liked far better than his wife although that may seem rather strange! At last I let him have the money, in good faith that he would pay; after all these vows, and promises, and useing brother Joseph's name so much; but alas, for the integrity of , that took place in Nov. 1841, and after going scores of times; than my heart aches with his lies, that he tells me every time I go. he has the impudence to tell me he has never had any money, that those store goods were his brothers, that Joseph borrowed all he got off , and that he had to borrow money to get back from , when he went to show off. and spout against old . and all the while He can keep hearing tell of him paying monies and speculating in Land &c, and one day I caught him in the fact of paying a man about 40 dollars; he has money for anything, but paying his debts; I am waiting just now to go to to fetch my wife, but he is not so sorry for me, because I have not a lot of clothing to leave him, or else he could be as feeling for me too and go and delude some other unsuspecting fool, in the name of brother Joseph, and of the most high God out of some more money. And just to show you the chains such like wretches as has over the minds of the people by using your name, I will recite a little discourse I had with a man about him, Says I, do you know this , yes say he, very well by sight. he is the man that Joseph's had a revelation about building him a new house, and do you suppose God would choose a bad man; no not he. So do you see the effect of this liberty he takes with your name, But now he has got to using your name in a different style to me; for one day, he says, if Joseph would pay me what he is owing me I could pay you right off, for when we settled up, he was owing me 1800 Dollars, and I cannot get a picayune; while he has thousands of dollars, and if I was to say anything he would come right out and curse me on the stand; and do me a great deal of injury among the ignorant; where he has so much influence; There is also a report that he is going out a preaching Mormonism, and if it be true, I will venture a prophesy that it is not for god's Glory, but his own benefit; that he is going to seek out customers for his good titled Lands, for any that he baptizes can do no less than buy of him, and I throw this out as a hint, as to what has induced a good many more to go a preaching, so that they may have the first chance to fleece them. [p. [2]]