Home

>
Letter from Thomas Rawcliff, 24 May 1843
Source Note

Thomas Rawcliff, Letter, , Hancock Co., IL, to JS, , Hancock Co., IL, 24 May 1843; handwriting probably of Thomas Rawcliff; docket in handwriting of ; six pages; JS Collection, CHL.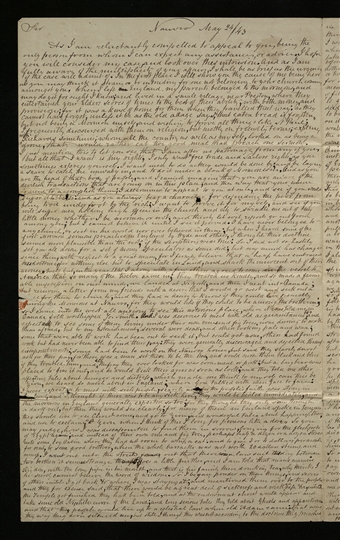 May 24/43
Sir
As I am reluctantly compelled to appeal to you, being the only person from whom I can expect any assistance, or advice. I hope you will consider my case, and look over this intrusion. And as I am fully aware of the multiplicity of your affairs, I shall be as brief as the urgency of the case will admit of. In the first place I will show you the cause of me being here as you may think it strange or intruding for one not belonging to your church coming amongst you. When I left
in
. my parents belonged to the mormons, and may do yet for ought I know; and lived in a small village near , where they entertained your Elders Scores of times to the best of their ability; with both money, and provisions; for it was a kind of home for them when they travelled that way: as they cannot have forgot, unless it be as the old adage says, "that eaten bread is forgotten" but not being a Mormon myself, and wishing to prove all things like St Paul; I frequently discoursed with them on religion, but mostly on friendly terms; ex[ce]pting <​with​> sometimes; whom all the country as well as my self, looked on as being a "drone, that would rather eat two good meal than preach one Sermon. I just mention this to let you see that I am after no patronage from any of you, but all that I want is my rights; I only want "free trade and Sailors rights" as you sometimes express yourself. I want men to do as they would be done by; and <​not​> be laying a snare to catch the unwary in, and to do it under a cloak of Mormonism, And as you are the head of that body of people, and I cannot imagine that you are aware of the devilish transactions that are going on in this place, and the way that your name is used to accomplish them; I determined to appeal to you at once, and see if you would suffer it to be so: and as you always bear a character for defending the poor from being trod under foot by the rich; I want to prove it for myself, and see if you will suffer men holding high offices in the church and city to swindle me out of my little money whether I be mormon or not, and thereby let evil reports go out from among you; but I cannot beleive it until I see it proved. I have never belonged to any church, or sect in the world nor ever beleived in them; but when I heard some of the first Mormon sermons preached in by and others, I thought their doctrine seemed more plausible than the rest; if the scriptures were true: So I did not so hastily set you all down for a set of money speculators as some did; but my mind has changed since then, with respect to a great many, for I firmly beleive that a heap have embraced
the
this doctrine, for nothing else but to speculate in Land, and shark the innocent out of their money. Well but, in the year 1841 I along with a few others agreed to come
along
in the vessel to that so many of the twelve came in; they treated us kindly, and so made a favourable impression on our minds, we landed at , and then I went into ; but receiving a letter from my friends with a desire that I would go west and seek out a [pla]ce for them to come to, and they had a desire to Know if they could live peacably among the Mormons at , for they would like if they could to be among the brethren; so I came into the west all anxious to see this notorious place, where it was told me in folk worshipped Jo. Smith.
but
And I was desirous to meet with old acquaintances <​too​> and
expecting
expected to see some of them living under their own vines and fig trees, none daring to make them afraid, but to my astonishment, several were dead, and others looking pale and wan; some that were able to work had been out to seek it; but could get none, others had found work but had never been able to find their pay: they were generally discouraged and dejected through dissapointments; some had been to work on the , but said they scarcly durst ask for their pay, for there was a man set there to be the Bos, and would curse them black and blue if they troubled him, and <​all​> the pay they ever looked for was corn. meal or pork; but a bugbear was placed to give it out, and he would kick their arses as soon as look; and they told me other affecting tales about hunger and distress, which made me think to my self can this be , we heard so much about in ; where God talked with men face to face: I never expected to meet with sick people, scarcly any for the people's faith was strong in , and I thought if there was to be any sick here, they would be healed immediately, and the mormons in generally expected so too; for they thought they only saw through a dark veil, but then they would see clearly; for many of them in spoke in tongues they should live to see Christ come, and go to , and wonderful tales about happiness there, and use to exclaim, "O when I think of thee I long for pinions like a dove" So you may judge, how I was dissapointed to find them in sorrow, longing for the fleshpots of Egypt again; and instead of their own vine and fig tree, perhaps half a dozen or a dozen stoved into some log Cabin where they had not room to whip a cat: and to give 3 or 4 dollars per month for rent, to some good brother, when the whole barracks was not worth 20 dollars stump and rump. I went out into the streets found
s
out that there
is
was a law suit
to
that day between two brothers it
seems
seemed strange thought I, Goes a little further, and I am told that man's name is , with the long pipe in his mouth, and that is his family there drinking tea, why thinks I he surely cannot beleive the . So I began ponder on these things, and scores of others until I got back to where I was staying at; and mentioned them over to the people and they for excuse said, that there would be a great deal of sickness and wickedness &c, untill the got finished they had been told, and at the endowment christ would appear and take some old Nephites curse of[f] the Land; and long serious tales they told about Ghosts and apparitions. and that the
y
people would live up to a celestial law when old Adam came: that was they way they soon silenced me, but still I thoug[h]t this was not according to the doctrine they preached [p. [1]]
May 24/43
Sir
As I am reluctantly compelled to appeal to you, being the only person from whom I can expect any assistance, or advice. I hope you will consider my case, and look over this intrusion. And as I am fully aware of the multiplicity of your affairs, I shall be as brief as the urgency of the case will admit of. In the first place I will show you the cause of me being here as you may think it strange or intruding for one not belonging to your church coming amongst you. When I left . my parents belonged to the mormons, and may do yet for ought I know; and lived in a small village near , where they entertained your Elders Scores of times to the best of their ability; with both money, and provisions; for it was a kind of home for them when they travelled that way: as they cannot have forgot, unless it be as the old adage says, "that eaten bread is forgotten" but not being a Mormon myself, and wishing to prove all things like St Paul; I frequently discoursed with them on religion, but mostly on friendly terms; excepting with sometimes; whom all the country as well as my self, looked on as being a "drone, that would rather eat two good meal than preach one Sermon. I just mention this to let you see that I am after no patronage from any of you, but all that I want is my rights; I only want "free trade and Sailors rights" as you sometimes express yourself. I want men to do as they would be done by; and not be laying a snare to catch the unwary in, and to do it under a cloak of Mormonism, And as you are the head of that body of people, and I cannot imagine that you are aware of the devilish transactions that are going on in this place, and the way that your name is used to accomplish them; I determined to appeal to you at once, and see if you would suffer it to be so: and as you always bear a character for defending the poor from being trod under foot by the rich; I want to prove it for myself, and see if you will suffer men holding high offices in the church and city to swindle me out of my little money whether I be mormon or not, and thereby let evil reports go out from among you; but I cannot beleive it until I see it proved. I have never belonged to any church, or sect in the world nor ever beleived in them; but when I heard some of the first Mormon sermons preached in by and others, I thought their doctrine seemed more plausible than the rest; if the scriptures were true: So I did not so hastily set you all down for a set of money speculators as some did; but my mind has changed since then, with respect to a great many, for I firmly beleive that a heap have embraced this doctrine, for nothing else but to speculate in Land, and shark the innocent out of their money. Well but, in the year 1841 I along with a few others agreed to come in the vessel to that so many of the twelve came in; they treated us kindly, and so made a favourable impression on our minds, we landed at , and then I went into ; but receiving a letter from my friends with a desire that I would go west and seek out a place for them to come to, and they had a desire to Know if they could live peacably among the Mormons at , for they would like if they could to be among the brethren; so I came into the west all anxious to see this notorious place, where it was told me in folk worshipped Jo. Smith. And I was desirous to meet with old acquaintances too and expected to see some of them living under their own vines and fig trees, none daring to make them afraid, but to my astonishment, several were dead, and others looking pale and wan; some that were able to work had been out to seek it; but could get none, others had found work but had never been able to find their pay: they were generally discouraged and dejected through dissapointments; some had been to work on the , but said they scarcly durst ask for their pay, for there was a man set there to be the Bos, and would curse them black and blue if they troubled him, and all the pay they ever looked for was corn. meal or pork; but a bugbear was placed to give it out, and he would kick their arses as soon as look; and they told me other affecting tales about hunger and distress, which made me think to my self can this be , we heard so much about in ; where God talked with men face to face: I never expected to meet with sick people, scarcly any for the people's faith was strong in , and I thought if there was to be any sick here, they would be healed immediately, and the mormons in generally expected so too; for they thought they only saw through a dark veil, but then they would see clearly; for many of them in spoke in tongues they should live to see Christ come, and go to , and wonderful tales about happiness there, and use to exclaim, "O when I think of thee I long for pinions like a dove" So you may judge, how I was dissapointed to find them in sorrow, longing for the fleshpots of Egypt again; and instead of their own vine and fig tree, perhaps half a dozen or a dozen stoved into some log Cabin where they had not room to whip a cat: and to give 3 or 4 dollars per month for rent, to some good brother, when the whole barracks was not worth 20 dollars stump and rump. I went out into the streets found out that there was a law suit that day between two brothers it seemed strange thought I, Goes a little further, and I am told that man's name is , with the long pipe in his mouth, and that is his family there drinking tea, why thinks I he surely cannot beleive the . So I began ponder on these things, and scores of others until I got back to where I was staying at; and mentioned them over to the people and they for excuse said, that there would be a great deal of sickness and wickedness &c, untill the got finished they had been told, and at the endowment christ would appear and take some old Nephites curse off the Land; and long serious tales they told about Ghosts and apparitions. and that the people would live up to a celestial law when old Adam came: that was they way they soon silenced me, but still I thought this was not according to the doctrine they preached [p. [1]]