Home

>
Letter from Thomas Rawcliff, 24 May 1843
Source Note

Thomas Rawcliff, Letter, , Hancock Co., IL, to JS, , Hancock Co., IL, 24 May 1843; handwriting probably of Thomas Rawcliff; docket in handwriting of ; six pages; JS Collection, CHL.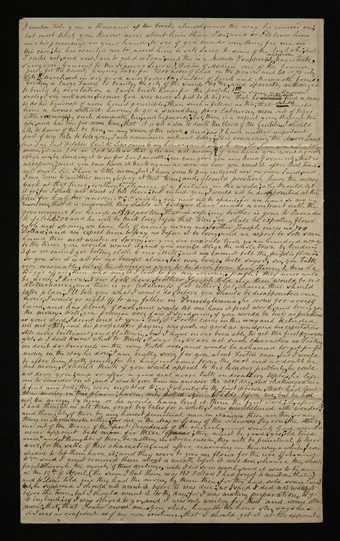 I could tell you a thousand of His tricks almost, and the way he carries on; but most likely you know more about him than I do; and so I'll leave him and his proceedings in your hands, to see if you can do any thing for me in this case; he has wanted me to assist him to sell Land to some of the English; but I could not, and now I am to get it as I can; and this is a Mormon I suppose, A <​mormon​> Magistrate, Surgeon General to the ! Doctor of Medicin one of the Grand jury for the county paying Taxes for 1300 acres of Land on the prarie and 60 or 70 city Lots!! Merchant in dry good and Groceries, builder of brick and Mammoth bones; erecting a large tavern to beautify the city of the saints &c &c, and specially authorized to build by revelation a large brick house for the prophet!!! on some unknown scale, I say unknown, because God was never so put to it before that he
cannot
<​could not​> find a man to do his buisness of more honest principles, than such a fellow as this, that
can
could build him a house without having to go a swindling poor labouring men out of their little earning<​s,​> by such damnable lies, and hypocrisy; but, there is a report going through this ; and has been for some time, that it is not a sin to suck the blood of the . I should like to know if this be true, in any sense of the word. And, as I have another important part of my tale to tell you, I will commence without delay; It is concerning the Messrs Laws One Day last October Gen: came to my house, and says to me, Sir, have you not a little money, some 200 or 300 Dollars that you are not useing? if you have you would greatly oblige us, by lending it to us for 2 or 3 months; we can give you any kind of security, that is necessary; and you can have it back again as soon as ever you want it after that time. well says I, Sir, I have a little money, but I have some to pay in April next on some Land, and I owe some to another man, to pay at that time; and, if I could positively have the money back at that time, without <​any​> chance of a failure in the world; why I could let it go; for I shall not want it till then; but mind you, I would not be disappointed at the time for half the amount; O says he, you need not be afraid, for we have so many resources, that it is impossible they should all fail, we have made a contract with the government for hemp at $180 per ton, that is safe; my is gone to to fetch £200 and he will be back long before that time. we shall be exporting flour early next spring, we have lots of money owing us; brother Joseph owes us 700 Dollars; and we expect him to pay us before it be long, and we expect to sell some land this next winter or Spring: so you see we could turn us an hundred ways by the time you would want it, and you would oblige the whole by lending it, for we cannot get bolting cloth to our Mill; and we cannot bolt the people's flour: so you see it is not for our benefit alone, but every body's. Well says I, sir, you talk very reasonable, but, if the Mormons were to be drove from here through this old affair, then who might I look to for my money. pugh! they never will be drove I know. Now look here, brother Joseph told me there would be no disturbance, and there is no likeliness of it either; but, chance that should take place; I'll tell you what I would do, before you should be disappointed one hour, I would go right off to my father in , he owns 900 acres of land, and has plenty of cash, and would let me have it first word, and bring you the money. Well, you promise very fair I said, and, if you would be half as punctual as your word, I durst lend it you. but, came in this way and deluded me out of $25, and his prospect
s
for paying was quite as good as yours, and his expectations still more brilliant, and flattering. but I have never been able to get the first picayune yet, so I don't know what to think. O says he, we are not such characters as , we don't do buisness in the way does, and would be ashamed to get people money in the way he does; I am really sorry for you about 's case, but I would be after him pretty quick, for he has just come from the east and no doubt he has money, I should think if you would appeal to his honour publicly, he could not deny you; and so after a good deal more talk on desultory topics, he left me to consider on it, and I was to give him an answer the next day, and challenged me to find any body they were indebted to; as I should be the first person, that had lent them money in this place; having only asked before me, but he had not the money by him or he would have lent it them the first word: So, after I had thoughts on all these great big tales for a while, I was overwhelmed with wonder! and thoughts, if there be any honest punctual men in these are they; or any thing in Mormonism either; for one is the Major Gen. of the , the other, one out of the three of the first Presidency of the church, and surely God would never appoint bad men for these offices; they must be good, yes, "old tried ones," and, I thought if there be nothing in Mormonism, they will be punctual to their word, for the sake of their characters; and after reasoning in this way awhile, I concluded to let them have it; and they were to give me flour for the use of it. and [Law] said I must remind them about a month before it was due, chance they should forget <​it​> through the variety of their dealings, well I did so in march, and it was to be due on the 19
th.
of April, (the sum I lent them was 150 Dollars I had forgot to mention that—) and told me they had the money by them their, for they had sold some Land but, he supposed I should not want it before it was due; no I said I did not want it before the time. but I should want it to the day; for I was making preparations to go to ; as I was obliged to go, and I was only waiting for that and some other money, that, that owed me. You shall have it to the hour Sir, says he. For I was as confident as of my own existence, that I should get it at the appointed [p. [3]]
I could tell you a thousand of His tricks almost, and the way he carries on; but most likely you know more about him than I do; and so I'll leave him and his proceedings in your hands, to see if you can do any thing for me in this case; he has wanted me to assist him to sell Land to some of the English; but I could not, and now I am to get it as I can; and this is a Mormon I suppose, A mormon Magistrate, Surgeon General to the ! Doctor of Medicin one of the Grand jury for the county paying Taxes for 1300 acres of Land on the prarie and 60 or 70 city Lots!! Merchant in dry good and Groceries, builder of brick and Mammoth bones; erecting a large tavern to beautify the city of the saints &c &c, and specially authorized to build by revelation a large brick house for the prophet!!! on some unknown scale, I say unknown, because God was never so put to it before that he could not find a man to do his buisness of more honest principles, than such a fellow as this, that could build him a house without having to go a swindling poor labouring men out of their little earnings, by such damnable lies, and hypocrisy; but, there is a report going through this ; and has been for some time, that it is not a sin to suck the blood of the . I should like to know if this be true, in any sense of the word. And, as I have another important part of my tale to tell you, I will commence without delay; It is concerning the Messrs Laws One Day last October Gen: came to my house, and says to me, Sir, have you not a little money, some 200 or 300 Dollars that you are not useing? if you have you would greatly oblige us, by lending it to us for 2 or 3 months; we can give you any kind of security, that is necessary; and you can have it back again as soon as ever you want it after that time. well says I, Sir, I have a little money, but I have some to pay in April next on some Land, and I owe some to another man, to pay at that time; and, if I could positively have the money back at that time, without any chance of a failure in the world; why I could let it go; for I shall not want it till then; but mind you, I would not be disappointed at the time for half the amount; O says he, you need not be afraid, for we have so many resources, that it is impossible they should all fail, we have made a contract with the government for hemp at $180 per ton, that is safe; my is gone to to fetch £200 and he will be back long before that time. we shall be exporting flour early next spring, we have lots of money owing us; brother Joseph owes us 700 Dollars; and we expect him to pay us before it be long, and we expect to sell some land this next winter or Spring: so you see we could turn us an hundred ways by the time you would want it, and you would oblige the whole by lending it, for we cannot get bolting cloth to our Mill; and we cannot bolt the people's flour: so you see it is not for our benefit alone, but every body's. Well says I, sir, you talk very reasonable, but, if the Mormons were to be drove from here through this old affair, then who might I look to for my money. pugh! they never will be drove I know. Now look here, brother Joseph told me there would be no disturbance, and there is no likeliness of it either; but, chance that should take place; I'll tell you what I would do, before you should be disappointed one hour, I would go right off to my father in , he owns 900 acres of land, and has plenty of cash, and would let me have it first word, and bring you the money. Well, you promise very fair I said, and, if you would be half as punctual as your word, I durst lend it you. but, came in this way and deluded me out of $25, and his prospect for paying was quite as good as yours, and his expectations still more brilliant, and flattering. but I have never been able to get the first picayune yet, so I don't know what to think. O says he, we are not such characters as , we don't do buisness in the way does, and would be ashamed to get people money in the way he does; I am really sorry for you about 's case, but I would be after him pretty quick, for he has just come from the east and no doubt he has money, I should think if you would appeal to his honour publicly, he could not deny you; and so after a good deal more talk on desultory topics, he left me to consider on it, and I was to give him an answer the next day, and challenged me to find any body they were indebted to; as I should be the first person, that had lent them money in this place; having only asked before me, but he had not the money by him or he would have lent it them the first word: So, after I had thoughts on all these great big tales for a while, I was overwhelmed with wonder! and thoughts, if there be any honest punctual men in these are they; or any thing in Mormonism either; for one is the Major Gen. of the , the other, one out of the three of the first Presidency of the church, and surely God would never appoint bad men for these offices; they must be good, yes, "old tried ones," and, I thought if there be nothing in Mormonism, they will be punctual to their word, for the sake of their characters; and after reasoning in this way awhile, I concluded to let them have it; and they were to give me flour for the use of it. and Law said I must remind them about a month before it was due, chance they should forget it through the variety of their dealings, well I did so in march, and it was to be due on the 19th. of April, (the sum I lent them was 150 Dollars I had forgot to mention that—) and told me they had the money by them their, for they had sold some Land but, he supposed I should not want it before it was due; no I said I did not want it before the time. but I should want it to the day; for I was making preparations to go to ; as I was obliged to go, and I was only waiting for that and some other money, that, that owed me. You shall have it to the hour Sir, says he. For I was as confident as of my own existence, that I should get it at the appointed [p. [3]]