Home

>
Letter of Introduction from Sidney Rigdon, 9 November 1839
Source Note

, Letter of Introduction, , Sangamon Co., IL, to , , for JS and , 9 Nov. 1839; handwriting of ; one page; Martin Van Buren, Papers, Library of Congress, Washington DC. Includes address, notation, and archival stamping.

Bifolium with thirty-four printed lines and measuring 12½ × 7⅞ inches (32 × 20 cm) when folded. The document was trifolded in letter style and addressed. Later, the folded document was trifolded again, presumably for storage. The upper right-hand corner of the verso of the first leaf contains a round, red-ink stamp of a bald eagle carrying a shield and clutching arrows and an olive branch; the eagle is circumscribed by the words "THE LIBRARY OF CONGRESS".

retained possession of the letter after his 29 November 1839 meeting with JS and . The letter was included in the collection of papers Van Buren's descendants donated to the Library of Congress in 1904 and 1905.

Footnotes

1

West, Papers of Martin Van Buren: Guide and Index, 15–18; West, Calendar of the Papers of Martin Van Buren, 382.  

West, Lucy Fisher, ed. The Papers of Martin Van Buren: Guide and Index to General Correspon- dence and Miscellaneous Documents. Alexandria, VA: Chadwyck-Healey, 1989.

West, Elizabeth Howard. Calendar of the Papers of Martin Van Buren. Washington DC: Government Printing Office, 1910.

Historical Introduction

On 9 November 1839, wrote a letter introducing JS and to president . Rigdon, JS, Higbee, and others had departed , Illinois, for on 29 October 1839 to appeal to the federal government for restoration of the 's and church members' property in . Rigdon was sick with malaria when the delegation departed Commerce, and on 4 November 1839, his sickness forced the group to stop in , Illinois, so he could rest for a few days. Rather than improving, Rigdon's condition worsened, causing the delegation to consider leaving him in Springfield to recover under the care of , a doctor and member of the traveling group. In response to this change in plans, Rigdon, whom church members had appointed sole to the federal government seven months earlier, signed over to JS all the letters of introduction Rigdon had gathered to present to federal officials. Some of these letters were from prominent public figures in and . To certify the deputation of the letters to JS, Rigdon wrote this 9 November letter addressed to Van Buren and unspecified government leaders. The letter also vouched for the characters of JS and Higbee.

Footnotes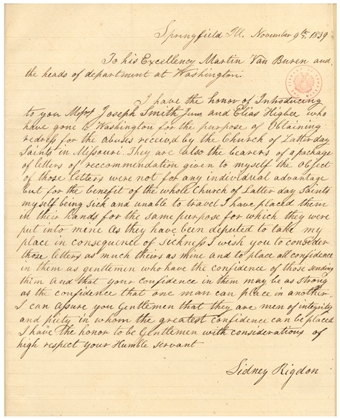 To his Excellency and, the heads of department at .
I have the honor of Introducing to you Messrs Joseph Smith Jun
r

.
and who have gone to for the purpose of Obtaining redress for the abuses receiv'd by the in . They are also the bearers of a package of letters of reccommendation given to myself the object of those letters were not for any individual advantage but for the benefit of the whole Church of Latter day Saints myself being sick and unable to travel I have placed them in their hands for the same purpose for which they were put into mine As they have been deputed to take my place in consequence of sickness I wish you to consider those letters as much theirs as mine and to place all confidence in them as gentlemen who have the confidence of those sending them and that your confidence in them may be as strong as the confidence that one man can place in another. I can assure you Gentlemen that they are men of integrity and piety in whom the greatest confidence can be placed I have the honor to be Gentlemen with considerations of high respect your Humble servant
[p. [1]]
To his Excellency and, the heads of department at .
I have the honor of Introducing to you Messrs Joseph Smith Jun
r
. and who have gone to for the purpose of Obtaining redress for the abuses receiv'd by the in . They are also the bearers of a package of letters of reccommendation given to myself the object of those letters were not for any individual advantage but for the benefit of the whole Church of Latter day Saints myself being sick and unable to travel I have placed them in their hands for the same purpose for which they were put into mine As they have been deputed to take my place in consequence of sickness I wish you to consider those letters as much theirs as mine and to place all confidence in them as gentlemen who have the confidence of those sending them and that your confidence in them may be as strong as the confidence that one man can place in another. I can assure you Gentlemen that they are men of integrity and piety in whom the greatest confidence can be placed I have the honor to be Gentlemen with considerations of high respect your Humble servant
[p. [1]]