Letter to Isaac Galland, 22 March 1839
Source Note

JS, Letter, , MO, to , 22 Mar. 1839;

Times and Seasons,

Feb. 1840, pp. 51–56.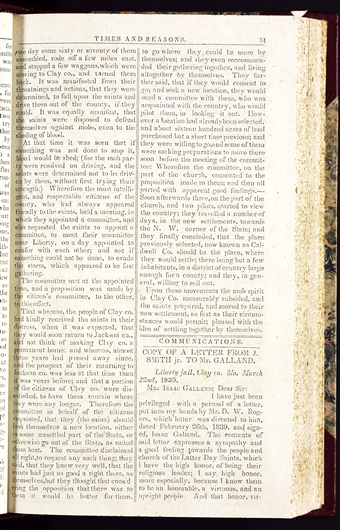 , Clay co. Mo.
March
22
nd
, 1839.
I have just been privileged with a perusal of a letter, put into my hands by Mr. , which letter was directed to him, dated February 26th, 1839. and signed, . The contents of said letter expresses a sympathy and a good feeling towards the people and , which I have the high honor, of being their religious leader; I say high honor, more especially, because I know them to be an honorable, a virtuous, and an upright people. And that honor, vir [p. 51]
, Clay co. Mo.
March
22
nd
, 1839.
I have just been privileged with a perusal of a letter, put into my hands by Mr. , which letter was directed to him, dated February 26th, 1839. and signed, . The contents of said letter expresses a sympathy and a good feeling towards the people and , which I have the high honor, of being their religious leader; I say high honor, more especially, because I know them to be an honorable, a virtuous, and an upright people. And that honor, vir [p. 51]