Home

>
Letter to Stephen Post, 17 September 1838
Source Note

JS and , Letter, , Caldwell Co., MO, to , Bloomfield Township, Crawford Co., PA, 17 Sept. 1838; handwriting of ; three pages; Stephen Post, Papers, CHL. Includes address, postal stamp, and wafer seal.

Bifolium measuring 12⅝ × 7⅞ inches (32 × 20 cm). The letter was trifolded and gatefolded before being sealed with a red wafer and addressed for mailing. A hole along one of the folds, apparently caused by rodents, obscures text on both sides of the first leaf. The letter was retained by 's family until his grandson Edward O. Post donated the letter and other correspondence to the LDS church in July 1971.

Footnotes

1

Evans, Register of the Stephen Post Papers, 3.  

Evans, Max J. Register of the Stephen Post Papers in the Church Archives, The Church of Jesus Christ of Latter-day Saints. Salt Lake City: Historical Department of The Church of Jesus Christ of Latter-day Saints, 1975.

Historical Introduction

On 17 September 1838, JS and wrote to church member , answering several questions he posed in a letter that is apparently not extant. Post was baptized in 1835 and was to the office of and then in 1836. After a brief stay in , Ohio, during winter 1835–1836, Post returned to his home in Crawford County, Pennsylvania, which was relatively close to church headquarters in Kirtland, likely enabling him to regularly receive news about the church via traveling elders and the church's newspapers. In 1836–1838 he spent considerable time preaching in surrounding neighborhoods and towns. On 1 August 1838, after the vast majority of had moved to , Post wrote to JS, seemingly in preparation to move to Missouri. In his letter, Post apparently requested news about the church and clarification of some doctrines. Post's letter likely arrived in by late August, when a doctrinal treatise he wrote—and probably enclosed in his letter to JS—was published in the

Elders' Journal.

As JS explained in the reply to Post's letter, JS was too busy to respond immediately to Post's missive, possibly because of ongoing legal difficulties stemming from the 8 August confrontation with .

JS prepared his response to on 17 September, with acting as scribe. Although the entire letter is written in first-person singular, signed the document along with JS. The letter contains several copying errors, such as repeated and canceled words, suggesting that the version Robinson sent to Post is a copy of a draft that is no longer extant. Robinson added his name as scribe before folding and addressing the letter. The missive was not mailed until 3 October; Post presumably received it sometime in late October or early November.

Footnotes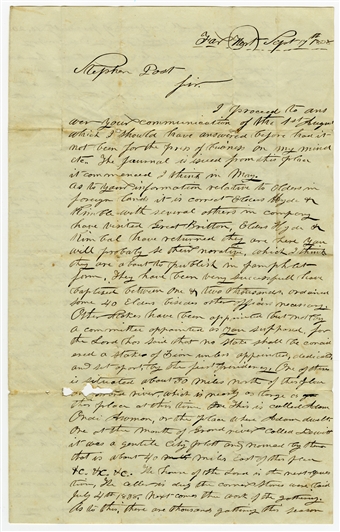 Sir.
I proceed to answer your communication of the 1
st
August which I should have answered before had it not been for the press of buisness on my mind etc. The Journal is isued from this place it commenced I think in May. As to your information relative to in foreign lands it is correct Elders & with several others in company have visited Great Britton, Elders & have returned they are here you will probaly se[e] their narative, which I think they are about to publish in pamphlet form. They have been very successfull have between one & two thousands, some 40 Elders besides other officers necessary. Other have been appointed but not by a committee appointed as you supposed, for the Lord has said that no stake shall be concidered a stake of unless appointed, dedicated, and set apart, by the , One of these is situated about 30 miles north of this place on , which is nearly as large as this place at this time
One
This is called , or the place where Adam dwelt. One at the mouth of called it was a gentile city plott and named by them that is about 40
miles
miles East of this place &c. &c. &c. The is the next question, The celler is dug the corner stones were laid July 4
th
1838. Next comes the work of the . As to this, there are thousands gathering this season [p. [1]]
Sir.
I proceed to answer your communication of the 1st August which I should have answered before had it not been for the press of buisness on my mind etc. The Journal is isued from this place it commenced I think in May. As to your information relative to in foreign lands it is correct Elders & with several others in company have visited Great Britton, Elders & have returned they are here you will probaly see their narative, which I think they are about to publish in pamphlet form. They have been very successfull have between one & two thousands, some 40 Elders besides other officers necessary. Other have been appointed but not by a committee appointed as you supposed, for the Lord has said that no stake shall be concidered a stake of unless appointed, dedicated, and set apart, by the , One of these is situated about 30 miles north of this place on , which is nearly as large as this place at this time This is called , or the place where Adam dwelt. One at the mouth of called it was a gentile city plott and named by them that is about 40 miles East of this place &c. &c. &c. The is the next question, The celler is dug the corner stones were laid July 4th 1838. Next comes the work of the . As to this, there are thousands gathering this season [p. [1]]