Home

>
Minutes, 10 January 1844
Source Note

Nauvoo City Council, Minutes, , Hancock Co., IL, 10 Jan. 1844; in

Nauvoo City Council Rough Minute Book, Nov. 1842–Jan. 1844, pp. 40–41

; handwriting of ; Nauvoo, IL, Records, 1841–1845, CHL.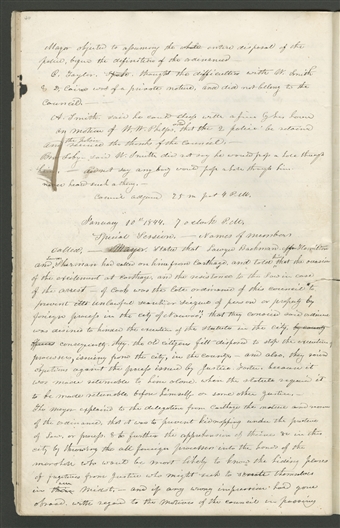 January 10
th
1844, 7 o clock P. M.
Special Session.— Names of members called,— Mayor stated that , and had called on him from , and told <​him​> that the occasion of the excitement at , and the resistance to the Law in case of the arrest— of Cook was the late ordinance of this council "to prevent
ille
unlawful search or seizure of person or property by foreign process in the City of "; that they consi[d]ered said ordinance was desined to hinder the of the statutes in the ,
by county officers
consequently, they. the old citizens felt disposed to stop the of processers, issuing from the , in the ,— and also, they raised objections against the process issued by Justice Foster, because it was made returnable to him alone. when the statute required it to be made returnable before himself or some other Justice.—
The mayor explained to the delegation from the nature and reason of the ordinance, that it was to prevent kidnapping under the pretence of law, or process, & to further the apprehension of theives &c in this by throwing
the
all foreign processers into the hands of the marshall who would be most likely to know the hiding places of fugitives from justice who might seek to secrete themselves in
their
<​our​> midst.— and if any wrong impression had gone abroad with regard to the motives of the council in passing [p. 40]
January 10
th
1844, 7 o clock P. M.
Special Session.— Names of members called,— Mayor stated that , and had called on him from , and told him that the occasion of the excitement at , and the resistance to the Law in case of the arrest— of Cook was the late ordinance of this council "to prevent unlawful search or seizure of person or property by foreign process in the City of "; that they considered said ordinance was desined to hinder the of the statutes in the , consequently, they. the old citizens felt disposed to stop the of processers, issuing from the , in the ,— and also, they raised objections against the process issued by Justice Foster, because it was made returnable to him alone. when the statute required it to be made returnable before himself or some other Justice.—
The mayor explained to the delegation from the nature and reason of the ordinance, that it was to prevent kidnapping under the pretence of law, or process, & to further the apprehension of theives &c in this by throwing all foreign processers into the hands of the marshall who would be most likely to know the hiding places of fugitives from justice who might seek to secrete themselves in our midst.— and if any wrong impression had gone abroad with regard to the motives of the council in passing [p. 40]