Home

>
Minutes, 8 March 1840
Source Note

high council, Minutes, [, Hancock Co., IL], 8 Mar. 1840. Featured version copied 7 Feb. 1842 in Nauvoo High Council Minutes, fair copy, pp. 49–50; handwriting of ; CHL. For more complete source information, see the source note for

Minutes, 27 Oct. 1839

.

Historical Introduction

JS and the met on 8 March 1840 at 's residence in , Illinois, to discuss various aspects of business. JS had only recently returned from , arriving in Commerce by 29 February 1840. On 6 March, he attended a high council meeting in , Iowa Territory. At that meeting, he emphasized to the high council that the attempt to gain redress for the Saints' expulsion from was "the only thing that ought to interest the saints at present." As these minutes of the 8 March high council meeting indicate, however, other business—especially related to land purchases—still needed consideration.

One item discussed in the meeting involved a financial dispute between and former church member . Whitmer claimed Partridge owed him money on an existing mortgage on land Partridge held in , Missouri. Because Whitmer continued to demand payment on the mortgage, which church leaders did not believe was legitimate, JS and Partridge brought the matter before the high council. The high council also considered items related to other land debts, including a $1,000 payment church leaders owed for approximately ninety acres of land in that they had purchased from him and in August 1839. In January 1840, stated that he did not believe church leaders would be able to raise the money by the time it was due, necessitating the high council's involvement. The high council additionally continued its efforts to establish a ferry across the and also considered the case of , who had published an unauthorized church hymnal in .

As clerk of the meeting, took the minutes, which he copied into the high council record book on 7 February 1842.

Footnotes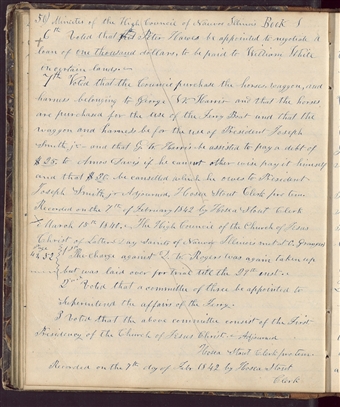 6
th
Voted that be appointed to negotiate a loan of
one thousand
dollars, to be paid to on certain lands.—
7
th
Voted that the purchase the horses, waggon, and harness belonging to — and that the horses are purchased for the use of the Ferry Boat and that the waggon and harness be for the use of Joseph Smith j
r
— and that be assisted to pay a debt of $
25
. to if he cannot other wise pay it himself and that $
30
. be canselled which he owes to President Joseph Smith j
r
Adjourned. Clerk pro tem.
Recorded on the 7
th
of February 1842 by Clerk [p. [50]]
6th Voted that be appointed to negotiate a loan of
one thousand
dollars, to be paid to on certain lands.—
7th Voted that the purchase the horses, waggon, and harness belonging to — and that the horses are purchased for the use of the Ferry Boat and that the waggon and harness be for the use of Joseph Smith j
r
— and that be assisted to pay a debt of $
25
. to if he cannot other wise pay it himself and that $
30
. be canselled which he owes to President Joseph Smith jr Adjourned. Clerk pro tem.
Recorded on the 7th of February 1842 by Clerk [p. [50]]