Home

>
Parley P. Pratt, Testimony, 1 July 1843 [Extradition of JS for Treason]
Source Note

, Testimony, , Hancock Co., IL, 1 July 1843,

Extradition of JS for Treason

(Nauvoo, IL, Municipal Court 1843). Copied [between 3 and 6 July 1843]; handwriting of ; signature of by ; docket by , [, Hancock Co., IL, 6] July 1843; notation by , ca. [6] July 1843; twelve pages; Nauvoo, IL, Records, CHL.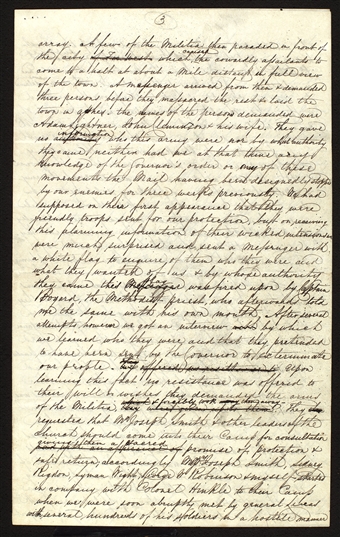 array. A few of the Militia then paraded in front of the city
of
which <​caused​> the cowardly assailants to come to a halt at about a mile distant in full view of the . A messenger arrived from them & demanded three persons before they massacred the rest & laid the in ashes. the names of the persons demanded were , & his wife. They gave no
authority
<​information​> who this army were nor by what authority they came neither had we at that time any knowledge of the 's order or any of these movements the Mail having been designedly stopped by our enemies for three weeks previously. We had supposed on their first appearance that they were friendly troops sent for our protection, but on receiving this alarming information of their wicked intensions we were much surprised and, sent a with a white flag to enquire of them who they were and what they wanted of us & by whose authority they came this <​flag​> was fired upon by , the Methodist priest, who afterwards told me the same with his own mouth. After several attempts however we got an interview
with
by which we learned who they were and that they pretended to have been sent by the to exterminate our people.
We
<​They​>
offered no resittance to
Upon learning this fact no resistance was offered to their will or wishes they demanded the arms of the Militia,
they
were given up to them.
<​
which
& forcibly took
away
them away—​> They
then
requested that M
r
Joseph Smith & other leaders of the church should come into their Camp for consultation
and with an assurance of
<​giving them a sacred​> promise of protection & safe return; accordingly Mess
rrs
: Joseph Smith, , , & myself started in company with to their Camp when we were soon abruptly met by with several hundreds of his soldiers, in a hostile manner [p. 3]
array. A few of the Militia then paraded in front of the city which caused the cowardly assailants to come to a halt at about a mile distant in full view of the . A messenger arrived from them & demanded three persons before they massacred the rest & laid the in ashes. the names of the persons demanded were , & his wife. They gave no information who this army were nor by what authority they came neither had we at that time any knowledge of the 's order or any of these movements the Mail having been designedly stopped by our enemies for three weeks previously. We had supposed on their first appearance that they were friendly troops sent for our protection, but on receiving this alarming information of their wicked intensions we were much surprised and, sent a with a white flag to enquire of them who they were and what they wanted of us & by whose authority they came this flag was fired upon by , the Methodist priest, who afterwards told me the same with his own mouth. After several attempts however we got an interview by which we learned who they were and that they pretended to have been sent by the to exterminate our people. Upon learning this fact no resistance was offered to their will or wishes they demanded the arms of the Militia, & forcibly took them away— They requested that Mr Joseph Smith & other leaders of the church should come into their Camp for consultation giving them a sacred promise of protection & safe return; accordingly Messrrs: Joseph Smith, , , & myself started in company with to their Camp when we were soon abruptly met by with several hundreds of his soldiers, in a hostile manner [p. 3]