Home

>
Transcript of Proceedings, 6 January 1843 [Extradition of JS for Accessory to Assault]
Source Note

Transcript of Proceedings, , Sangamon Co., IL, 6 Jan. 1843,

Extradition of JS for Accessory to Assault

(United States Circuit Court for the District of IL 1843); handwriting of , , and ; certified by , 6 Jan. 1843; JS Collection, CHL. Includes attached slip.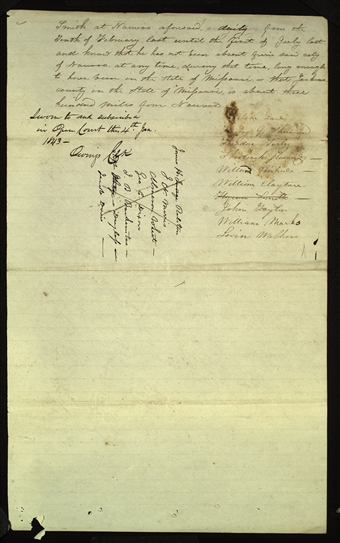 Smith at aforesaid.
every day
<​daily​> from the Tenth of February last until the first of July last and know that he has not been absent from said city of . at any time, during that time, long enough to have been in the State of .— that in the State of , is about three hundred miles from
—
—
—
Sworn to and subscribed in Open Court this 4
th.
Jan. 1843—
Clk
—
—
—
— [
19 lines blank
] [p. [30]]
Smith at aforesaid. daily from the Tenth of February last until the first of July last and know that he has not been absent from said city of . at any time, during that time, long enough to have been in the State of .— that in the State of , is about three hundred miles from
—
—
—
Sworn to and subscribed in Open Court this 4th. Jan. 1843—
Clk
—
—
—
— [
19 lines blank
] [p. [30]]