Home

>
Deed from Ethan Kimball, 20 June 1842
Source Note

, agent, on behalf of Ethan Kimball, Deed for property in , IL, to JS, 20 June 1842. Featured version copied 27 June 1842 in Hancock Co., IL, Deed Records, vol. K, pp. 329–330; unidentified handwriting; Hancock County Recorder's Office, Carthage, IL; microfilm at Family History Library.

The deed was recorded in Hancock County Deed Book K, the original physical dimensions of which are unknown. The volume contained 294 leaves (588 pages) and endpaper, now measuring 16⅜ × 10½ inches (42 × 27 cm). Nothing is known of the original binding, but by 1974 the volume was rebound and covered in white canvas, with "DEED RECORD | K | HANCOCK COUNTY" stamped in ink on the spine. A twenty-four-leaf (forty-eight-page) index in an unknown hand was inserted in the front of the volume, presumably around the same time. At an unknown time, the text block and index were cut from the new binding, inserted into individual Mylar sleeves, and placed in a metal-and-board binder with a red exterior. The binder measures 18½ × 13 × 3¾ inches (47 × 33 × 10 cm). The volume contains handwritten deeds recorded 11 December 1841 to 2 June 1842.

The volume has remained in the continuous custody of the , Illinois, recorder since its creation.

Footnotes

1

Hancock Co., IL, Deed Records, 1817–1917, vol. K, 1841–1842, microfilm 954,599, U.S. and Canada Record Collection, FHL.  

U.S. and Canada Record Collection. FHL.

Historical Introduction

On 20 June 1842, JS received a deed completing a land transaction with Ethan Kimball—a resident who speculated in land—for 480 acres approximately four miles east of , Illinois. Six days earlier, JS had traveled with to the property, which included what he and others commonly called "the mound," to assess the land. As part of this transaction, JS purchased three quarter-sections of land east of Nauvoo for $1,500. The purchase extended JS's landholdings of the prairie land near Nauvoo, allowing him to provide land to the growing number of Latter-day Saints to the area while at the same time giving him an opportunity to potentially profit from the resale of the property.

In 1838 Ethan Kimball had granted power of attorney over "all the real estate of which [he] possessed or own[ed]" in and to his brother , who was an influential resident of . Acting as Ethan's financial , Hiram likely prepared the deed and signed it on his brother's behalf in the presence of , who acted as witness. Justice of the peace certified the document the next day. On the same day the deed was created, JS provided Kimball with three promissory notes totaling $1,500 for the property's purchase; only

one

of the three notes is apparently still extant. This extant note stipulated that JS would pay Kimball $500, plus six percent interest, within one year. Notations on the extant promissory note indicate that JS made an initial payment of $320.90 to Hiram Kimball for the property on 27 June 1842, the same day the deed was copied into the recorder's deed book. While the deed is representative of JS's many land transactions during the summer of 1842, this deed is somewhat unique in that it represents JS purchasing the land privately and not on behalf of the as trustee-in-trust.

Footnotes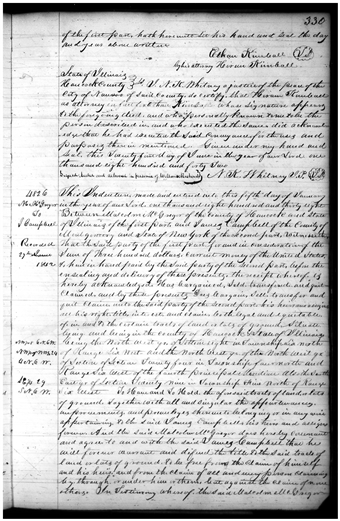 of the first part, hath hereunto sit his hand and seal the day and year above written
Ethan Kimball L.S.
by his attorney
I, a justice of the peace of the City of of said , do certify, that as attorney in fact for Ethan Kimball whose signature appears to the foregoing deed, and who <​is​> personally known to me to be the person described in, and who executed the same, did acknowledge that he had executed the said conveyance, for the uses and purposes therein mentioned. Given under my hand and seal, this Twenty first day of June in the year of our Lord, one thousand eight hundred and forty Two
J.P. LS
<​Signed, sealed and delivered in presence of ​> [p. 330]
of the first part, hath hereunto sit his hand and seal the day and year above written
Ethan Kimball L.S.
by his attorney
I, a justice of the peace of the City of of said , do certify, that as attorney in fact for Ethan Kimball whose signature appears to the foregoing deed, and who is personally known to me to be the person described in, and who executed the same, did acknowledge that he had executed the said conveyance, for the uses and purposes therein mentioned. Given under my hand and seal, this Twenty first day of June in the year of our Lord, one thousand eight hundred and forty Two
J.P. LS
Signed, sealed and delivered in presence of [p. 330]