Home

>
History, circa 1841, draft [Draft 3]
Source Note

JS, History, [ca. 1841], draft; handwriting of ; 102 pages and one attached slip; CHL.

The draft copy contains twenty-five bifolia (making one hundred pages) and a final loose leaf. Pages 1–92 measure from 12½ to 12⅝ inches high and 7⅝ inches across (32 × 19 cm); pages 93–102 measure 12 × 7⅝ inches (30 × 19 cm). The larger pages are lined with between thirty-four and thirty-eight blue horizontal lines, and the shorter pages contain thirty-eight blue horizontal lines; most of the ruling throughout the manuscript is now faint or completely faded. Page numbering appears at the top center of each page. Embossed in the upper left corner of the first recto side of many bifolia is a decorative star and "D & J. Ames Springfield", the insignia of a Springfield, Massachusetts, paper mill firm established by brothers David and John Ames in 1828.

The draft was inscribed in ink that is now brown. It includes several graphite insertions in 's handwriting. Quill and steel pens were used interchangeably for inscription. The paper is cream colored and yellowed at the edges, with some foxing. The first page and last page of the draft exhibit moderate wear. Ink was spilled on the gutter edge of the stacked manuscript, slightly staining many bifolia. At one time the manuscript was sewn together, as evidenced by a single needle hole in the upper left corner of each bifolium. A slip of paper containing a handwritten insertion was pinned to page 36. The lower left corner of the final leaf (page 101) was torn off, and it was subsequently reattached to the page with a straight pin.

The draft copy was created from both dictation and copying. Evidence of dictation, including absence or excess of punctuation as originally inscribed (the latter possibly signaling pauses by the speaker) and misspellings indicative of misheard phonemes, is found on manuscript pages 1–8, 17–22, 27–28, 57–58, and 77–78. At other points in the manuscript, faithfully reproduced paragraph breaks and end-of-sentence blank spaces occurring in the large history volume (his source for the draft), suggesting that these portions of the draft were copied rather than dictated. Where the blank spaces signal breaks in the narrative, they have been transcribed herein as paragraph breaks.

Footnotes

Historical Introduction

, a recent convert to Mormonism from Perry, Illinois, met JS while visiting in April 1840. In his autobiography, written in the early 1880s, Coray recalled the clerical work he undertook after meeting JS:

The Prophet, after looking at me a little and asking me some questions, wished to know whether it would be convenient for me to come to , and assist, or rather clerk for him. As this was what I desired, I engaged at once to do so; and, in about 2 weeks thereafter, I was busily employed in his office, copying a huge pile of letters into a book—correspondence with the Elders as well as other persons, that had been accumulating for some time. [. . .]

I finished the job of copying letters. I was then requested by bro. Joseph to undertake, in connection with , the compilation of the Church History. This I felt to decline, as writing books was something, in which I had had no experience. But bro. Joseph insisted on my undertaking it, saying, if I would do so, it would prove a blessing to me as long as I should live. His persuasive arguments prevailed; and accordingly in a short time, bro. Woolley and myself, were busily engaged in compiling the church history. The Prophet was to furnish all the materials; and our business, was not only to combine, and arrange in cronological order, but to spread out or amplify not a little, in as good historical style as may be. Bro. Woolley's education, not being equal to mine, he was to get the matter furnished him in as good shape as he could; and my part was to go after him, and fix his up as well as I could, making such improvement and such corrections in his grammar and style as I might deem necessary. On seeing his work, I at once discovered, that I had no small job on my hands, as he knew nothing whatever of grammar; however, I concluded to make the best I could of a bad job, and thus went to work upsetting and recasting; as well a[s] casting out not a little. Seeing how his work was handled, he became considerably discouraged; and rather took offence at the way and manner in which I was doing things, and consequently soon withdrew from the business.

Immediately after left, I succeeded in obtaining the services of Dr. Miller, who had written for the press, and was considerably accustomed to this kind of business. Now I got on much better. I continued until we used up all the historical matter furnished us by the Prophet. And, as peculiar circumstances prevented his giving attention to his part of the business we of necessity discontinued our labors, and never resumed this kind of business again.

Footnotes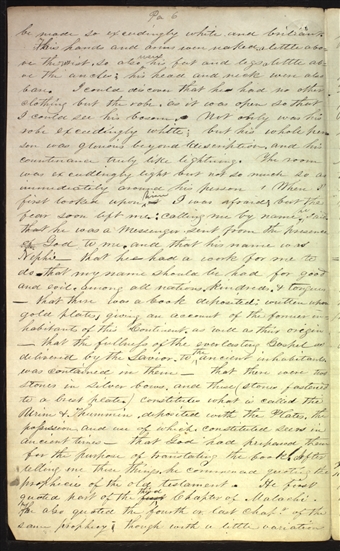 be made so exceedingly white. and briliant.
His hands and arms were naked. alittle above the wrist. so also <​were​> his feet and legs alittle ab[o]ve the ancles; his head and neck were also bare. I could discover that he had no other clothing but the robe. as it was open so that I could see his bosom. Not only was his robe exceedingly white; but his whole person was glorious beyond
◊
discription. and his countenance truly like lightning. The room was exceedingly light but not so much so as immediately around his person When I first looked upon <​him​>
it
I was afraid; but the fear soon left me: calling me by name, <​he​> said.
that
he was a messenger. sent from the presence of God to me. and that his name was Nephi.— that he had a work for me to do that my name should be had for good and evil. among all nations. kindreds. & tongues— that there was a book deposited: written upon gold plates, giving an account of the former inhabitants of this Continent. as well as their origin— that the fullness of the everlasting Gospel as delivered by the Savior. to <​the​> ancient inhabitants. was contained in them— that there were two stones in silver bows. and these (stones fastened to a brest plate.) constitutes what is called the Urim & Thummin. deposited with the Plates. the possession. and use of which. constituted seers in ancient times— that God had prepared them for the purpose of translating the book! After telling me these things. he commenced quoting the prophecies of the old testament. He first quoted part of the
first
<​third​> Chapter of Malachi. He also quoted the fourth or last chap
r.
of the same prophecy; though with a little variation [p. 6]
be made so exceedingly white. and briliant.
His hands and arms were naked. alittle above the wrist. so also were his feet and legs alittle above the ancles; his head and neck were also bare. I could discover that he had no other clothing but the robe. as it was open so that I could see his bosom. Not only was his robe exceedingly white; but his whole person was glorious beyond discription. and his countenance truly like lightning. The room was exceedingly light but not so much so as immediately around his person When I first looked upon him I was afraid; but the fear soon left me: calling me by name, he said. he was a messenger. sent from the presence of God to me. and that his name was Nephi.— that he had a work for me to do that my name should be had for good and evil. among all nations. kindreds. & tongues— that there was a book deposited: written upon gold plates, giving an account of the former inhabitants of this Continent. as well as their origin— that the fullness of the everlasting Gospel as delivered by the Savior. to the ancient inhabitants. was contained in them— that there were two stones in silver bows. and these (stones fastened to a brest plate.) constitutes what is called the Urim & Thummin. deposited with the Plates. the possession. and use of which. constituted seers in ancient times— that God had prepared them for the purpose of translating the book! After telling me these things. he commenced quoting the prophecies of the old testament. He first quoted part of the third Chapter of Malachi. He also quoted the fourth or last chapr. of the same prophecy; though with a little variation [p. 6]