Home

>
History, circa 1841, fair copy
Source Note

JS, History, [ca. 1841], fair copy; handwriting of ; 100 pages; CHL.

See also source note for JS History, circa 1841,

draft

.

Historical Introduction

was a recent convert to Mormonism when he visited in 1840. There he was immediately engaged by JS as a clerk at his office. Coray later reminisced in his autobiography that after he completed his initial assignment, JS requested that he "undertake, in connection with , the compilation of the Church History."

Meanwhile, JS assigned and to draft additional historical material, using sources JS provided. Woolley eventually withdrew from the project and was replaced by a "Dr. Miller," who remains unidentified. Their work evidently resulted in two different kinds of drafts. According to Coray's later reminiscences, the first grew out of instructions "not only to combine, and arrange in cronological order, but to spread out or amplify not a little, in as good historical style as may be." No manuscript matching this description has survived, but their work may have provided the basis for material subsequently copied into the history by other scribes.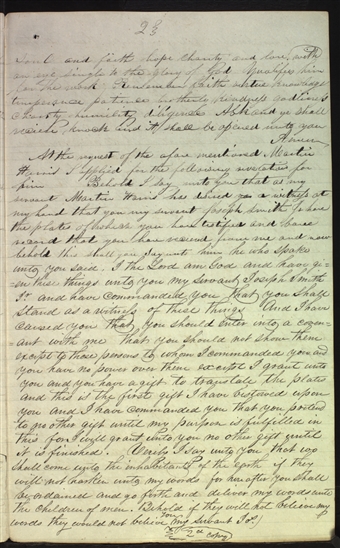 Soul and faith hope charity and love, with an eye single to the glory of God qualifies him for the work Remember faith virtue knowledge temperance patience brotherly kindness godliness charity humility diligence Ask and ye shall recieve, knock and it shall be opened unto you
Amen
At the request of the afore mentioned I applied for the following revelation for him
Behold I say unto you that as my servant has desired
yo
a witness at my hand that you my servant Joseph Smith Jr have the plates of which you have testified and bare record that you have recievd from me and now behold this shall you Say unto him he who spake unto you said, I the Lord am God and have gi[v]en these things unto you my servant Joseph Smith J
r.
and have commanded you that you Shall Stand as a witness of these things And I have caused you that you should enter into a covenant with me that you should not show them except to those persons to whom I commanded you and you have no power over them except I grant unto you and you have a gift to translate the plates and this is the first gift I have bestowed upon you and I have commanded you that you pretend to no other gift until my purpose is fulfilled in this for I will grant unto you no other gift until it is finished. Verily I say unto you that wo Shall come unto the inhabitants of the earth if they will not harken unto my words for hereafter you shall be ordained and go forth and deliver my words unto the children of men. Behold if they will not believe my words they would not believe <​you​> (my Servant Jo
s.
) [p. 23]
Soul and faith hope charity and love, with an eye single to the glory of God qualifies him for the work Remember faith virtue knowledge temperance patience brotherly kindness godliness charity humility diligence Ask and ye shall recieve, knock and it shall be opened unto you
Amen
At the request of the afore mentioned I applied for the following revelation for him
Behold I say unto you that as my servant has desired a witness at my hand that you my servant Joseph Smith Jr have the plates of which you have testified and bare record that you have recievd from me and now behold this shall you Say unto him he who spake unto you said, I the Lord am God and have gi[v]en these things unto you my servant Joseph Smith Jr. and have commanded you that you Shall Stand as a witness of these things And I have caused you that you should enter into a covenant with me that you should not show them except to those persons to whom I commanded you and you have no power over them except I grant unto you and you have a gift to translate the plates and this is the first gift I have bestowed upon you and I have commanded you that you pretend to no other gift until my purpose is fulfilled in this for I will grant unto you no other gift until it is finished. Verily I say unto you that wo Shall come unto the inhabitants of the earth if they will not harken unto my words for hereafter you shall be ordained and go forth and deliver my words unto the children of men. Behold if they will not believe my words they would not believe you (my Servant Jos.) [p. 23]