Home

>
History, circa 1841, fair copy
Source Note

JS, History, [ca. 1841], fair copy; handwriting of ; 100 pages; CHL.

See also source note for JS History, circa 1841,

draft

.

Historical Introduction

was a recent convert to Mormonism when he visited in 1840. There he was immediately engaged by JS as a clerk at his office. Coray later reminisced in his autobiography that after he completed his initial assignment, JS requested that he "undertake, in connection with , the compilation of the Church History."

Meanwhile, JS assigned and to draft additional historical material, using sources JS provided. Woolley eventually withdrew from the project and was replaced by a "Dr. Miller," who remains unidentified. Their work evidently resulted in two different kinds of drafts. According to Coray's later reminiscences, the first grew out of instructions "not only to combine, and arrange in cronological order, but to spread out or amplify not a little, in as good historical style as may be." No manuscript matching this description has survived, but their work may have provided the basis for material subsequently copied into the history by other scribes.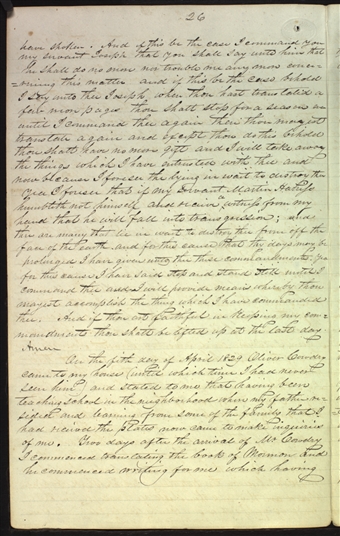 have spoken. And if this be the case I command you my servant Joseph that you shall say unto him that he shall do no more nor trouble me any more concerning this matter and if this be the case behold I say unto thee Joseph when thou hast translated a few more pages thou shalt stop for a season even until I command thee again then thou mayest translate again and except thou do this behold thou shalt have no more gift and I will take away the things which I have entrusted with thee and now because I foresee the lying in wait to destroy thee yea I foresee that if my servant humbleth not himself and receive <​a​> witness from my hand that he will fall into transgression; and th[e]re are many that lie in wait to destroy thee from off the face of the earth, and for this cause that thy days may be prolonged I have given unto thee these commandments. Yea for this cause I have said stop and stand still until I command thee and I will provide means whereby thou mayest accomplish the thing which I have commanded thee. And if thou art faithful in keeping my commandments thou shalt be lifted up at the last day. Amen
On the fi[f]th day of April 1829 came to my house (until which time I had never seen him) and stated to me that having been teaching school in the neighborhood where my resided and learning from some of the family that I had receivd the plates now came to make inquiries of me. Two days after the arrival of I commenced translating the book of Mormon and he commenced writing for me which having [p. 26]
have spoken. And if this be the case I command you my servant Joseph that you shall say unto him that he shall do no more nor trouble me any more concerning this matter and if this be the case behold I say unto thee Joseph when thou hast translated a few more pages thou shalt stop for a season even until I command thee again then thou mayest translate again and except thou do this behold thou shalt have no more gift and I will take away the things which I have entrusted with thee and now because I foresee the lying in wait to destroy thee yea I foresee that if my servant humbleth not himself and receive a witness from my hand that he will fall into transgression; and there are many that lie in wait to destroy thee from off the face of the earth, and for this cause that thy days may be prolonged I have given unto thee these commandments. Yea for this cause I have said stop and stand still until I command thee and I will provide means whereby thou mayest accomplish the thing which I have commanded thee. And if thou art faithful in keeping my commandments thou shalt be lifted up at the last day. Amen
On the fifth day of April 1829 came to my house (until which time I had never seen him) and stated to me that having been teaching school in the neighborhood where my resided and learning from some of the family that I had receivd the plates now came to make inquiries of me. Two days after the arrival of I commenced translating the book of Mormon and he commenced writing for me which having [p. 26]