History, circa 1841, fair copy
Source Note

JS, History, [ca. 1841], fair copy; handwriting of ; 100 pages; CHL.

See also source note for JS History, circa 1841,

draft

.

Historical Introduction

was a recent convert to Mormonism when he visited in 1840. There he was immediately engaged by JS as a clerk at his office. Coray later reminisced in his autobiography that after he completed his initial assignment, JS requested that he "undertake, in connection with , the compilation of the Church History."

Meanwhile, JS assigned and to draft additional historical material, using sources JS provided. Woolley eventually withdrew from the project and was replaced by a "Dr. Miller," who remains unidentified. Their work evidently resulted in two different kinds of drafts. According to Coray's later reminiscences, the first grew out of instructions "not only to combine, and arrange in cronological order, but to spread out or amplify not a little, in as good historical style as may be." No manuscript matching this description has survived, but their work may have provided the basis for material subsequently copied into the history by other scribes.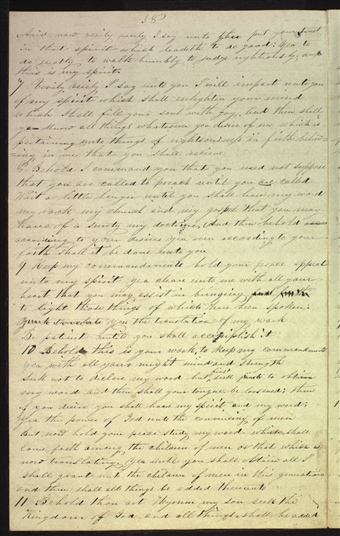 [6] And now verily verily I say unto
you
thee put your trust in that spirit which leadeth to do good: Yea to do justly to walk humbly to judge righteously. and this is my spirit.
7 Verily verily I say unto you I will impart unto you of my spirit which shall enlighten your mind which shall fill your soul with joy. And then shall
you
ye know all things whatsoever you desire of me which is pertaining unto things of righteousness in faith believing in me that you shall recieve
8 Behold I command you that you need not suppose that you are called to preach until you
are
called Wait a little longer until you shall have my word my rock my church and my gospel that you may have of a surety my doctrine. And then behold
accor
according to your desires yea even according to your faith shall it be done unto you
9 Keep my commandments hold your peace appeal unto my spirit yea cleave unto me with all your heart that you may assist in bringing
fort
forth
to light those things of which have been spoken:
yea
to
translate
yea the translation of my work Be patient until you shall accomplish it
10 Behold this is your work to keep my commandments yea with all your might mind and strength seek not to declare my word but <​first​> seek
first
to obtain my word and then shall your tongue be loosened; then if you desire you shall have my spirit and my word; Yea the power of God unto the convincing of men But now hold your peace study my word, which shall come forth among the children of men or that which is now translating. Yea until you shall obtain all I shall grant unto the children of men in this generation and then shall all things be added thereunto
11 Behold thou art my son seek the Kingdom of God and all things shall be added [p. 38]
[6] And now verily verily I say unto thee put your trust in that spirit which leadeth to do good: Yea to do justly to walk humbly to judge righteously. and this is my spirit.
7 Verily verily I say unto you I will impart unto you of my spirit which shall enlighten your mind which shall fill your soul with joy. And then shall ye know all things whatsoever you desire of me which is pertaining unto things of righteousness in faith believing in me that you shall recieve
8 Behold I command you that you need not suppose that you are called to preach until you
are
called Wait a little longer until you shall have my word my rock my church and my gospel that you may have of a surety my doctrine. And then behold according to your desires yea even according to your faith shall it be done unto you
9 Keep my commandments hold your peace appeal unto my spirit yea cleave unto me with all your heart that you may assist in bringing to light those things of which have been spoken: yea the translation of my work Be patient until you shall accomplish it
10 Behold this is your work to keep my commandments yea with all your might mind and strength seek not to declare my word but first seek to obtain my word and then shall your tongue be loosened; then if you desire you shall have my spirit and my word; Yea the power of God unto the convincing of men But now hold your peace study my word, which shall come forth among the children of men or that which is now translating. Yea until you shall obtain all I shall grant unto the children of men in this generation and then shall all things be added thereunto
11 Behold thou art my son seek the Kingdom of God and all things shall be added [p. 38]