History, circa 1841, fair copy
Source Note

JS, History, [ca. 1841], fair copy; handwriting of ; 100 pages; CHL.

See also source note for JS History, circa 1841,

draft

.

Historical Introduction

was a recent convert to Mormonism when he visited in 1840. There he was immediately engaged by JS as a clerk at his office. Coray later reminisced in his autobiography that after he completed his initial assignment, JS requested that he "undertake, in connection with , the compilation of the Church History."

Meanwhile, JS assigned and to draft additional historical material, using sources JS provided. Woolley eventually withdrew from the project and was replaced by a "Dr. Miller," who remains unidentified. Their work evidently resulted in two different kinds of drafts. According to Coray's later reminiscences, the first grew out of instructions "not only to combine, and arrange in cronological order, but to spread out or amplify not a little, in as good historical style as may be." No manuscript matching this description has survived, but their work may have provided the basis for material subsequently copied into the history by other scribes.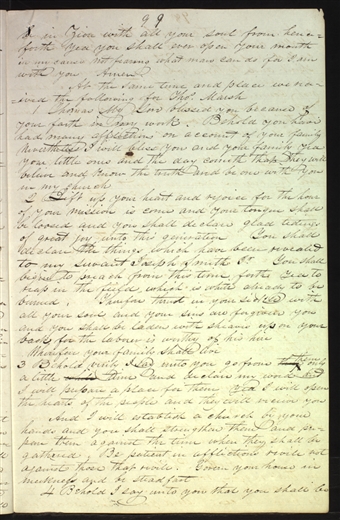 be in Zion with all your soul from henceforth yea you shall ever open your mouth in my cause not fearing what man can do for I am with you Amen.
At the same time and place we received the following for
1 My Son blessed [are] you because of your faith in my work. Behold you have had many afflictions on account of your family nevertheless I will bless you and your family yea your little ones and the day cometh that they will believe and know the truth and be one with you in my church
2 Lift up your heart and rejoice for the hour of your mission is come and your tongue shall be loosed and you shall declare glad tidings of great joy unto this generation You shall declare the things which have been revealed to my servant Joseph Smith J
r.
You shall begin to preach from this time forth yea to reap in the field, which is white already to be burned, Therefore thrust in your sickle with all your soul and your sins are forgiven you and you shall be laden with sheaves upon your back for the laborer is worthy of his hire
Wherefore your family shall live
3 Behold verily I say unto you go from
there
<​them​> only a little
while
time and declare my word and I will prepare a place for them yea I will open the hearts of the people and they will receive you
And I will establish a church by your hands and you shall strengthen them and prepare them against the time when they shall be gathered. Be patient in afflictions revile not against those that revile. Govern your house in meekness and be steadfast
4 Behold I say unto you that you shall be [p. 99]
be in Zion with all your soul from henceforth yea you shall ever open your mouth in my cause not fearing what man can do for I am with you Amen.
At the same time and place we received the following for
1 My Son blessed are you because of your faith in my work. Behold you have had many afflictions on account of your family nevertheless I will bless you and your family yea your little ones and the day cometh that they will believe and know the truth and be one with you in my church
2 Lift up your heart and rejoice for the hour of your mission is come and your tongue shall be loosed and you shall declare glad tidings of great joy unto this generation You shall declare the things which have been revealed to my servant Joseph Smith Jr. You shall begin to preach from this time forth yea to reap in the field, which is white already to be burned, Therefore thrust in your sickle with all your soul and your sins are forgiven you and you shall be laden with sheaves upon your back for the laborer is worthy of his hire
Wherefore your family shall live
3 Behold verily I say unto you go from them only a little time and declare my word and I will prepare a place for them yea I will open the hearts of the people and they will receive you
And I will establish a church by your hands and you shall strengthen them and prepare them against the time when they shall be gathered. Be patient in afflictions revile not against those that revile. Govern your house in meekness and be steadfast
4 Behold I say unto you that you shall be [p. 99]