Home

>
Letter from Eli Maginn, 1 and 3 May 1842
Source Note

, Letter, , Hillsborough Co., NH, to JS, , Hancock Co., IL, 1 and 3 May 1842; handwriting of ; notations in handwriting of ; dockets in handwriting of and ; four pages; JS Collection, CHL.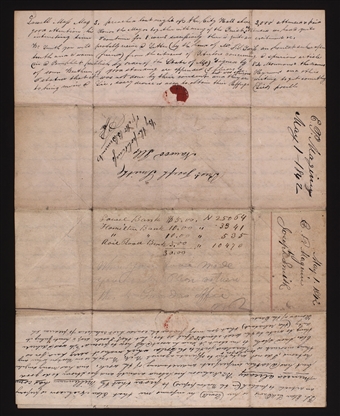 Lowell Mass May 3, preached last night at the City Hall ab[o]ve 2,000 attended & paid good attention his Honor the Mayor together with many of the Priests <​&c​> attended we had a quite interesting time I continue for 8. even[ing]
s.
successively there is quite an excitement &c. B
r.
Smith you will probably receive a Letter (by the hand of Mr. J. S. Twiss an honest seeker after truth and a warm friend) from the citizens of concerning a spurious article (in a Pamphlet publish by order of the State of ) "signed by 84 Mormons" the names of some Brethren of good standing are appended (I believe) Br. and others I stated that it was not done by their consent <​but was spurious​> and they are writing to get something to bring me in a Lie, every device is used to obtain their Reffuge (Lies) posible
P.S. Elder L[ysander] M. Davis is here (
Lowell
) he informs me that Elder is preparing an article to publish (in the papers) to
prove
that
the
Millennum
has
commenced
already
has labored ardently and has strove to do good but has a rather imperfect understanding of the work, and has many singular notions, I do not write this to opperate against But as he is in where any thing incorrect is <​sought for &​> heralded forth to the World, which makes it verry hard for us spoke to me about it "said he was at a loss how to proceed" "it was a dilicate thing to write to the west about" it" I feel so too. but tho
t.
I would drop a hint feeling it duty (tho. reluctant) that you may pursue the course best calculated to preserve the Honor of the Cause
By the politeness of M
r.
B. Bement
<​Lowel Bank​>
<​$ 5,00,​>
<​N​>
<​250 64​>
<​Hamilton Bank​>
<​10,00​>
<​"​>
<​33 41​>
<​" "​>
<​10,00​>
<​"​>
<​5 35​>
<​Rail Road Bank​>
<​

5,00

​>
<​"​>
<​104 70​>
<​30.00​>
<​When you have made your entry Please return this to Recorders office ​>
<​​>
<​May 1— 1842​> [p. [4]]
Lowell Mass May 3, preached last night at the City Hall above 2,000 attended & paid good attention his Honor the Mayor together with many of the Priests &c attended we had a quite interesting time I continue for 8. evenings. successively there is quite an excitement &c. Br. Smith you will probably receive a Letter (by the hand of Mr. J. S. Twiss an honest seeker after truth and a warm friend) from the citizens of concerning a spurious article (in a Pamphlet publish by order of the State of ) "signed by 84 Mormons" the names of some Brethren of good standing are appended (I believe) Br. and others I stated that it was not done by their consent but was spurious and they are writing to get something to bring me in a Lie, every device is used to obtain their Reffuge (Lies) posible
P.S. Elder Lysander M. Davis is here (
Lowell
) he informs me that Elder is preparing an article to publish (in the papers) to
prove
that
the
Millennum
has
commenced
already
has labored ardently and has strove to do good but has a rather imperfect understanding of the work, and has many singular notions, I do not write this to opperate against But as he is in where any thing incorrect is sought for & heralded forth to the World, which makes it verry hard for us spoke to me about it "said he was at a loss how to proceed" "it was a dilicate thing to write to the west about" it" I feel so too. but thot. I would drop a hint feeling it duty (tho. reluctant) that you may pursue the course best calculated to preserve the Honor of the Cause
Prest. Joseph Smith
Ill's
By the politeness of Mr. B. Bement
| | | | |
| --- | --- | --- | --- |
| Lowel Bank | $ 5,00, | N | 250 64 |
| Hamilton Bank | 10,00 | " | 33 41 |
| " " | 10,00 | " | 5 35 |
| Rail Road Bank | 5,00 | " | 104 70 |
| | 30.00 | | |
When you have made your entry Please return this to Recorders office
May 1— 1842 [p. [4]]