Letter from Unknown Author, 23 September 1843
Source Note

Unknown author, Cahaba, Dallas Co., AL, to JS, , Hancock Co., IL, 23 Sept. 1843; unidentified handwriting; docket in handwriting of ; two pages; Helen Vilate Bourne Fleming, Collection, CHL. Includes postal markings.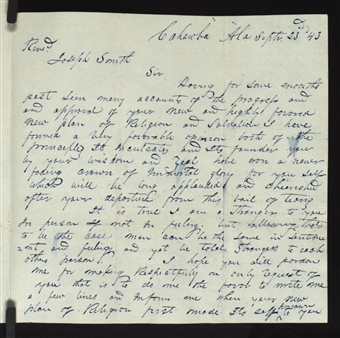 Cahawba Ala Septr. 23
rd
'43
Joseph Smith
Sir
Having for some months past seen many accounts of the progress and and approval of your New and highly favored New plan of Religion and Salvation I have formed a very favorable opinion both of
il
the princeples It Inculcates and Its founder you by your wisdom and
zea
Zeal have won a never fading crown of Immortal glory for you self which will be long applauded and cherished after your departure from this vail of tears
It is true I am a Stranger to you In person If not in feeling. but allowing that to be
c
the case men can be the same in sentiment and feelings and yet be total Strangers to each others person. [
blank
] I hope you will pardon me for making Respectfully an only request of you that is to do me the favor to write me a few lines and inform me when your new plan of Religion first made Its self <​known​> to you [p. [1]]
Cahawba Ala Septr. 23rd'43
Reved.
Joseph Smith
Sir
Having for some months past seen many accounts of the progress and and approval of your New and highly favored New plan of Religion and Salvation I have formed a very favorable opinion both of the princeples It Inculcates and Its founder you by your wisdom and Zeal have won a never fading crown of Immortal glory for you self which will be long applauded and cherished after your departure from this vail of tears
It is true I am a Stranger to you In person If not in feeling. but allowing that to be the case men can be the same in sentiment and feelings and yet be total Strangers to each others person. [
blank
] I hope you will pardon me for making Respectfully an only request of you that is to do me the favor to write me a few lines and inform me when your new plan of Religion first made Its self known to you [p. [1]]