Letter to Thomas Ford, 16 October 1843
Source Note

JS, Letter, , Hancock Co., IL, to , , Sangamon Co., IL, 16 Oct. 1843; handwriting of ; dockets in handwriting of and ; one page; JS Collection, CHL.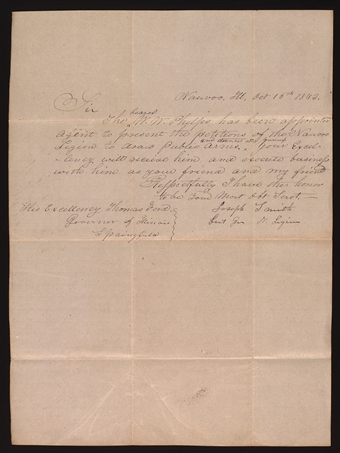 Sir
The <​bearer​> has been appointed Agent to present the petitions of the Nauvoo Legion to draw public arms. <​and tranast [transact] other business​> Your will receive him and execute business with him, as your friend and my friend
Respectfully I have this honor to be Your Most obt Servt.—
Joseph Smith
Liet Gen N. Ligion
His Excellency .)
Governor of )
) [p. [1]]
, Ill, Oct 16th 1843.
Sir
The bearer has been appointed Agent to present the petitions of the Nauvoo Legion to draw public arms. and tranast transact other business Your will receive him and execute business with him, as your friend and my friend
Respectfully I have this honor to be Your Most obt Servt.—
Joseph Smith
Liet Gen N. Ligion
His Excellency .)
Governor of )
) [p. [1]]