Home

>
Letter to Thomas Ford, 16 October 1843
Source Note

JS, Letter, , Hancock Co., IL, to , , Sangamon Co., IL, 16 Oct. 1843; handwriting of ; dockets in handwriting of and ; one page; JS Collection, CHL.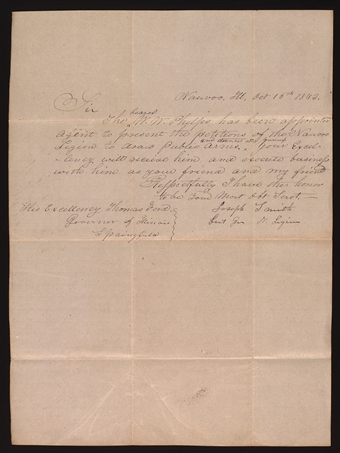 Sir
The <​bearer​> has been appointed Agent to present the petitions of the to draw public arms. <​and tranast [transact] other business​> Your will receive him and execute business with him, as your friend and my friend
Respectfully I have this honor to be Your Most obt Servt.—
Joseph Smith
Liet Gen
His Excellency .)
Governor of )
) [
1/2 page blank
] [p. [1]]
, Ill, Oct 16th 1843.
Sir
The bearer has been appointed Agent to present the petitions of the to draw public arms. and tranast [transact] other business Your will receive him and execute business with him, as your friend and my friend
Respectfully I have this honor to be Your Most obt Servt.—
Joseph Smith
Liet Gen
His Excellency .)
Governor of )
) [
1/2 page blank
] [p. [1]]