Letters from Newton French and James H. Seymour, 27 December 1843
Source Note

Newton French and , Letters, Lenox Township, Ashtabula Co., OH, to JS, , Hancock Co., IL, 27 Dec. 1843; handwriting of Newton French and ; docket in handwriting of ; three pages; JS Collection, CHL.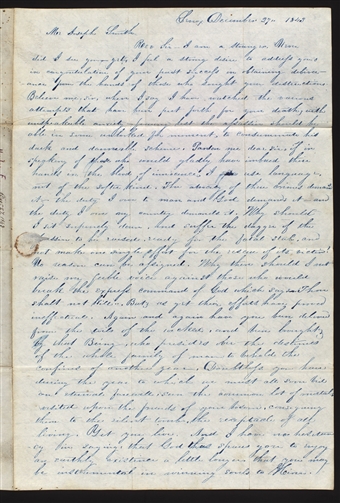 Lenox December 27
[th].
1843
Mr Joseph Smith
Rev Sir— I am a stranger. Never did I see you— yet, I feel a strong desire to address you
◊
in congratulation of your past success in obtaining deliverance from the hands of those who sought your destruction. Believe me, sir, when I say I have watched the various attempts that have been put forth for your death, with unspeakable anxiety— fearing lest the assassin should be able in some unlooked for moment, to consummate his dark and damnable scheme. Pardon me dear sir, if in speaking of those who would gladly have imbued their hands in the blood of innocence, I
sp

◊◊
use language, not of the softer kind. The atrocity of there crimes demands it— the duty I owe to man and God demands it— and the duty I owe to my country demands it. Why should I sit supinely down, and suffer the dagger of the [a]ssassin to be raised, ready for the fatal stab, and not make one single effort for the rescue of its victim? No reason can be assigned. Why then should I not raise my feeble voice against those who would break the express command of God which says
. .
. Thou shalt not kill . . . But, as yet their efforts have proved ineffectual. Again and again have you been delivered from the toils of the wicked, and been brought, by that Being, who presides over the destinies of the whole family of man, to behold the confines of another year. Doubtless you have during the year to which we must all soon bid an eternal farewell, seen the common lot of mortals, visited upon the friends of your bosom, consigning them to the silent tomb, the receptacle of all living. Yet you live. And I have no hesitancy in saying, that God
has
thus spares you to enjoy an earthly existince a little longer, that you may be instrumental in winning souls to Him. [p. [1]]
Lenox December 27[th]. 1843
Mr Joseph Smith
Rev Sir— I am a stranger. Never did I see you— yet, I feel a strong desire to address you in congratulation of your past success in obtaining deliverance from the hands of those who sought your destruction. Believe me, sir, when I say I have watched the various attempts that have been put forth for your death, with unspeakable anxiety— fearing lest the assassin should be able in some unlooked for moment, to consummate his dark and damnable scheme. Pardon me dear sir, if in speaking of those who would gladly have imbued their hands in the blood of innocence, I use language, not of the softer kind. The atrocity of there crimes demands it— the duty I owe to man and God demands it— and the duty I owe to my country demands it. Why should I sit supinely down, and suffer the dagger of the assassin to be raised, ready for the fatal stab, and not make one single effort for the rescue of its victim? No reason can be assigned. Why then should I not raise my feeble voice against those who would break the express command of God which says . Thou shalt not kill . . . But, as yet their efforts have proved ineffectual. Again and again have you been delivered from the toils of the wicked, and been brought, by that Being, who presides over the destinies of the whole family of man, to behold the confines of another year. Doubtless you have during the year to which we must all soon bid an eternal farewell, seen the common lot of mortals, visited upon the friends of your bosom, consigning them to the silent tomb, the receptacle of all living. Yet you live. And I have no hesitancy in saying, that God thus spares you to enjoy an earthly existince a little longer, that you may be instrumental in winning souls to Him. [p. [1]]