Home

>
Minute Book 1
Source Note

Minute Book 1, [ca. 3 Dec. 1832–30 Nov. 1837]; handwriting of , , , Marcellus F. Cowdery, , , and ; 259 pages; CHL. Includes dockets, redactions, copy notes, use marks, and archival stamping and marking.

Medium-size blank book. The paper, which is ruled with thirty-four blue-green horizontal lines (now faded), measures 12 × 7½ inches (30 × 19 cm). The book originally contained 149 leaves (now 143 leaves), consisting of twelve gatherings of twelve leaves each, two front flyleaves, and three back flyleaves. The text block is sewn all along over recessed cords. The front and back covers of the volume are pasteboard. The book has a tight-back case binding with a brown calfskin quarter-leather binding, the bound volume measuring 12⅜ × 7¾ × 1 inches (31 × 20 × 3 cm). The outside covers are adorned with shell marbled paper, with a red, green, and black body and veins of black. The back pastedown bears the inscriptions "c", "c/i", and "pep"—possibly original merchandising notes.

A single leaf—the conjugate of the leaf bearing pages 15 and 16—was removed from the first gathering of the book, but this occurred before the adjacent leaves were inscribed or paginated. Page 1 is the first lined page. Minutes were inscribed in the book on pages 1–219 and 226–265. Pages 220–225 were left blank, except for their page numbers. Following page 265, the remaining twenty-one pages and the three back flyleaves were left blank. At some point, began a table of contents, which was continued by but never completed; this table of contents is inscribed on all four pages of the two front flyleaves. The minute book was kept with quill pens. The entries and pagination were inscribed in ink that is now brown. Pages 39–55 include entry-dividing lines inscribed in red ink. There is also residue from an adhesive wafer on pages 156 and 157, indicating a sheet of paper was attached there at one time.

At some point, probably in the early 1840s, the front cover of the volume was labeled "Conference | A" in black ink. The "A" is written in a formal style that matches the covers of other early manuscript books in the Church History Library's holdings. Copy notes and use marks, in¬scribed in graphite, were made by later scribes who used the minute book when compiling JS's 1838–1856 history. At some point, probably in Utah, a white paper label was pasted on the spine; the label is now only partially extant, with the remaining inscription illegible. Another white paper label, also only partially extant, was pasted over this. It reads: "Kirtland Coun". The rest of the label, which would have included approximately two more words, is missing. The pastedown on the inside of the book's front cover bears an archival identification number inscribed in black ink and a more recent Historian's Office library sticker. The spine also bears a more recent sticker with an identification number. Ink has bled through on several of the pages. The book has also suffered some wear and staining in the front and back.

The volume is listed in the 1846 Historian's Office inventory as "Book of Conference A" and referred to as a high council record in subsequent Historian's Office inventories from the 1850s. In 1988, the Church History Department transferred Minute Book 1 to the First Presidency's Office. The minute book was transferred to the Church History Library in 2009. Archival records and the markings mentioned above indicate continuous institutional custody.

Sixteen different clerks took down the original minutes that were later copied into Minute Book 1, which was begun as part of a new effort in more permanent church record keeping. It appears that the book was begun in early December 1832, about two weeks after JS began his own personal journal and apparently began keeping a letterbook in which to copy outgoing correspondence. Frederick G. Williams began the minute book, which was later continued by Warren A. Cowdery and others in Ohio. Entries in the minute book are occasionally out of chronological order. The entries for October 1832–January 1833 were inscribed by Williams. None of these were inscribed before 3 December 1832, the date of the first entry in the book. However, the uneven copying style of the early entries suggests that the book was an active register beginning in early December, with original minutes being regularly copied into the book as they came to hand. In addition to minutes, the volume also contains scattered notes on matters related to the church affairs addressed in the minutes.

Historical Introduction

In the texts of the various minute entries, and occasionally in separate entries accompanying them, the register records ordinations, blessings, disciplinary councils, testimonies, Pentecostal outpourings, callings and releases, missionary appointments, and fund-raising activities. Thus, Minute Book 1 provides a rich survey of JS's interactions with associates and others during many dramatic, and often challenging, episodes beginning in October 1832 and concluding in November 1837. Sixteen different clerks took original minutes that were later copied into the volume by , , , , Marcellus Cowdery, , , and .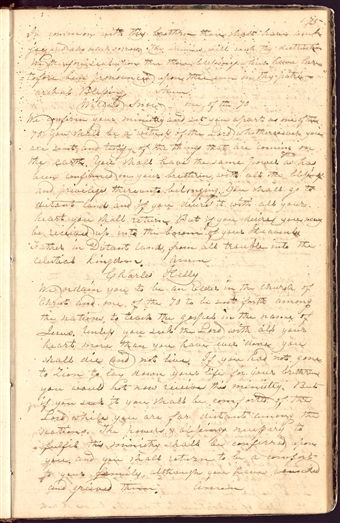 In common with thy brethren thou shalt have much joy and also much sorrow. Thy enemies will seek thy destruction We therefore seal upon thee those blessings which have heretofore been pronounced upon thee even in thy patriarchal Blessing. Amen.
— one of the 70
We confirm your ministry and set you apart as one of the 70. You shall be a witness of the Lord whithersoever you are sent, and testify of the things that are coming on the earth. You shall have the same power as has been confirmed on your brethren, with all the blessings and privileges thereunto belonging. You shall go to distant lands and if you desire it with all your heart you shall return. But if you desire you may be received up into the bosom of your Heavenly Father in Distant lands, from all trouble into the celestial kingdom. Amen
Charles Kelly
We ordain you to be an Elder in the church of Christ and one of the 70 to be sent forth among the nations, to teach the gospel in the name of Jesus. Unless you seek the Lord with all your heart more than you have ever done, you shall die and not live. If you had not gone to Zion to lay down your life for your brethren you would not now receive this ministry. But if you seek it you shall be comforted of the Lord while you are far distant among the nations. The powers & blessings necessary to fulfil this ministry shall be conferred upon you, and you shall return to be a comfort to your family, although you have wounded and grieved them. Amen [p. 175]
In common with thy brethren thou shalt have much joy and also much sorrow. Thy enemies will seek thy destruction We therefore seal upon thee those blessings which have heretofore been pronounced upon thee even in thy patriarchal Blessing. Amen.
— one of the 70
We confirm your ministry and set you apart as one of the 70. You shall be a witness of the Lord whithersoever you are sent, and testify of the things that are coming on the earth. You shall have the same power as has been confirmed on your brethren, with all the blessings and privileges thereunto belonging. You shall go to distant lands and if you desire it with all your heart you shall return. But if you desire you may be received up into the bosom of your Heavenly Father in Distant lands, from all trouble into the celestial kingdom. Amen
Charles Kelly
We ordain you to be an Elder in the church of Christ and one of the 70 to be sent forth among the nations, to teach the gospel in the name of Jesus. Unless you seek the Lord with all your heart more than you have ever done, you shall die and not live. If you had not gone to Zion to lay down your life for your brethren you would not now receive this ministry. But if you seek it you shall be comforted of the Lord while you are far distant among the nations. The powers & blessings necessary to fulfil this ministry shall be conferred upon you, and you shall return to be a comfort to your family, although you have wounded and grieved them. Amen [p. 175]