Agreement, 4 January 1838
Source Note

Agreement, JS, , OH, 4 Jan. 1838; unidentified handwriting; one page; CHL. Includes endorsement.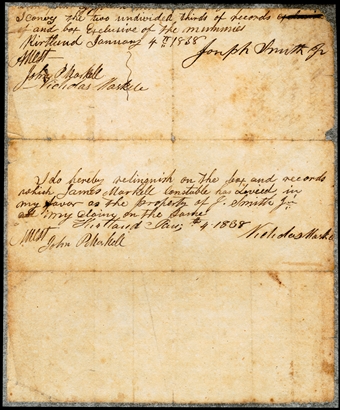 [
Portion of page missing
]
I conv[e]y the two undivided thirds of records
exclusive
of
and box Exclusive of the mummies
John P Markell
Nicholas Markell
I do hereby relinquish on the box and records which James Markell Constable has Levied in my favor as the property of J. Smith J
r

.
and my claim on the same
Nicholas Marke[ll]
Attest
John P Markell [p. [1]]
[
Portion of page missing
]
I convey the two undivided thirds of records and box Exclusive of the mummies
John P Markell
Nicholas Markell
I do hereby relinquish on the box and records which James Markell Constable has Levied in my favor as the property of J. Smith J
r
. and my claim on the same
Jan; the th4 1838
Nicholas Markell
Attest
John P Markell [p. [1]]