Home

>
Discourse, 8 April 1844, as Reported by Thomas Bullock
Source Note

JS, Discourse, , Hancock Co., IL, 8 Apr. 1844; handwriting of ; one page; General Church Minutes, CHL.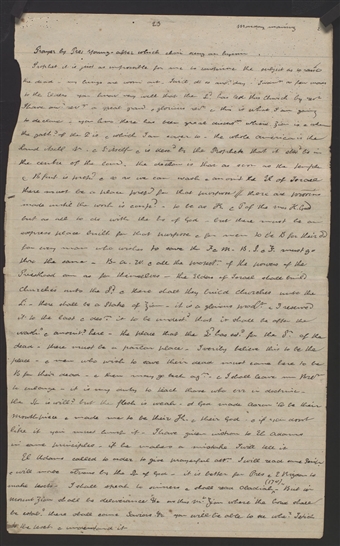 it is just as impossible for me to continue the subject as to raise the dead— my lungs are worn out— I will do so ano[the]
r.
day— I want a few words to the Elders you know very well that the L[or]
d.
has led this Church by rev[elatio]
n
I have an[othe]
r.
rev
n.
a great grand & glorious rev
n.
& this is what I am going to declare— you kno there has been great discus[sio]
n.
where Zion is & when the gath[erin]
g.
of the D is & which I am ea[g]er to— the whole America is the Land itself N[orth] & S[outh] itself & is desc[ribe]
d.
by the Prophets that it sho[ul]
d.
be in the centre of the land. the declar[ation] is that as soon as the & B[aptismal] font is prep[are]
d.
& so as we can wash & anoint the El[ders] of Israel there must be a place prep
d
for that purpose //— There are provi[sio]ns made until the work is comp[lete]
d.
— to be as K[ings] & P[riests] of the mos[t] H[igh] God but as all to do with the — but there must be an express place built for that purpose & for men to be B[aptized] for their d[ea]d for every man who wishes to save th[eir] F[ather] & M[other]— B[rothers] S[isters] & F[riends] must go thru the same— B[aptism]— A[nointing] W[ashing] & all the protect[io]
n.
of the powers of the Priesthood sam[e] as for themselves— the Elders of Israel shall build Churches unto the L
d.
& there shall they build Churches unto the L
r.
[Lord]— there shall be a Stake of Zion— it is a glorious procl[amatio]
n.
& I reserved it to the last & des[ig]
n.
it to be undest
d.
[understood] that it shall be after the wash
d.
& anoint
g.
here— the place that the L
d.
has est[ablishe]
d.
for the S[alvatio]
n.
of the dead— there must be a par[ticu]lar place— I verily believe this to be the place— & men who wish to save their dead must come here to be B for their dead— & then may go back ag[ai]
n.
— & I shall leave m[y] Bre[thre]
n
to enlarge— it is my duty to teach those who err in doctrine— the Sp[irit] is will[in]
g.
but the flesh is weak—
it
God made Aaron to be their mouthpiece & made me to be their K. & their God— & if you dont like it you must lump it— I have given instr[ucti]on to in some principles— if he makes a mistake I will tell it [p. 23]
it is just as impossible for me to continue the subject as to raise the dead— my lungs are worn out— I will do so another. day— I want a few words to the Elders you know very well that the Lord. has led this Church by revelation I have another. revn. a great grand & glorious revn. & this is what I am going to declare— you kno there has been great discussion. where Zion is & when the gathering. of the D is & which I am eager to— the whole America is the Land itself North & South itself & is described. by the Prophets that it should. be in the centre of the land. the declaration is that as soon as the & Baptismal font is prepared. & so as we can wash & anoint the Elders of Israel there must be a place prepd for that purpose //— There are provisions made until the work is completed.— to be as Kings & Priests of the most High God but as all to do with the — but there must be an express place built for that purpose & for men to be Baptized for their dead for every man who wishes to save their Father & Mother— Brothers Sisters & Friends must go thru the same— Baptism— Anointing Washing & all the protection. of the powers of the Priesthood same as for themselves— the Elders of Israel shall build Churches unto the Ld. & there shall they build Churches unto the Lr. Lord— there shall be a Stake of Zion— it is a glorious proclamation. & I reserved it to the last & design. it to be undestd. [understood] that it shall be after the washd. & anointg. here— the place that the Ld. has established. for the Salvation. of the dead— there must be a particular place— I verily believe this to be the place— & men who wish to save their dead must come here to be B for their dead— & then may go back again.— & I shall leave my Brethren to enlarge— it is my duty to teach those who err in doctrine— the Spirit is willing. but the flesh is weak— God made Aaron to be their mouthpiece & made me to be their K. & their God— & if you dont like it you must lump it— I have given instruction to in some principles— if he makes a mistake I will tell it [p. 23]