Home

>
Discourse, 9 May 1841, as Reported by Julius Alexander Reed
Source Note

JS, Discourse, , Lee Co., Iowa Territory, 9 May 1841. Featured version reported by Julius Alexander Reed; handwriting of Julius Alexander Reed; two pages, Julius Alexander Reed, Papers, Special Collections, State Historical Society of Iowa, Des Moines. Includes docket.

Historical Introduction

On 9 May 1841, JS delivered a discourse at , Iowa Territory, addressing the Latter-day Saints' efforts to build a city in and complaints made by British members of the . Two years earlier, in mid-1839, church and had purchased from nearly 18,000 acres in what was known as the "" in , Iowa Territory. In early March 1841, JS dictated a

revelation

directing the Saints in Iowa Territory to in in Lee County or in other appointed gathering sites. Two months later, in his 9 May discourse, JS discussed some of the circumstances in Lee County as well as some of the challenges the Saints faced there.

JS also responded to complaints from certain British converts who had immigrated to the area. In July 1838 the had been directed to "go over the great waters" and proselytize in the British Isles. Those apostles who went arrived in early 1840 and continued their work into April 1841. Through their efforts, thousands in converted to the Latter-day Saint faith, and by 1841 those converts were steadily streaming into . In May 1841, the

Warsaw Signal

reported that "great dissatisfaction exists at Nauvoo, amongst those who have lately arrived from England," and that "some have left both the City and the Church— not believing, on the one hand, in the mission of the Prophet, and on the other, dissatisfied with the temporal government which is exercised over them." In June 1841, the

Times and Seasons

responded to this report stating that "there may be individuals who feel dissatisfied, but it is far from being general." The newspaper further cautioned that "those who have come expecting to find gold in our streets, and all the luxuries of an old country, will find themselves disappointed, but those who have maturely considered the advantages and disadvantages, are perfectly satisfied and contented." In his discourse, JS reportedly encouraged dissatisfied immigrants to leave, saying that he no longer wanted to hear their complaints.

Julius Alexander Reed, a Congregationalist minister living in , apparently heard JS speak on 9 May and made notes on what he said. Reed seems to have interspersed some related personal notes among his notes of JS's discourse, and his account of the sermon seems to move between the first and third person in reference to JS.

Footnotes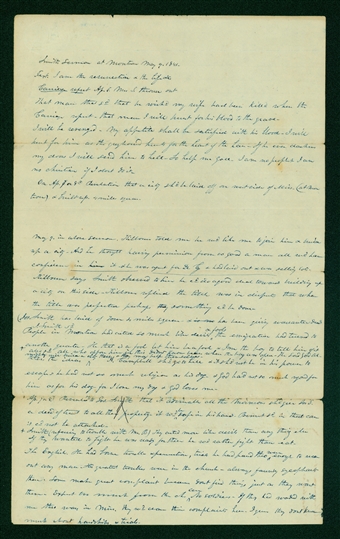 Text. I am the resurrection & the life &c.
Carriage
upset
Ap[ril] 6. Mrs S. [Emma Smith] thrown out
That man that s[ai]
d
that he wish
d
my had been kill
d
when the Carriage upset— that man I will hunt for his blood to the grave— I will be revenged— My appetite shall be satisfied with his blood— I will hunt for him as the greyhound hunts for the heart of the hare— If he ever darkens my doors I will send him to hell— So help me God— I am no prophet I am no christian if I dont do it—
On Ap.
6
<​7​>. or 8
th
Revelation that a city sh[oul]
d
be laid off on west side of — (at ) & built up— 4 miles square—
May 9. in above sermon. Kilbourn told me he w[oul]
d
like me to join him & build up a city— And he thought having permission from so good a man all w
d
have confiden[c]e
in

him

it— & he was
agent for & had laid out & was
selling lots— Kilbourn says Smith stressed to him he c[oul]
d
do a good deal towards building up a city on this side— Kilbourn replied the titlle was in dispute that when
the title was
perfected perhaps
they
something c
d
be done—
(Jos. Smith has laid of[f] Town 4 miles square— &
is no
has been giving warrantee deeds <​J. Smith s
d
​> People in had acted so much like devils <​& fools​> the emigration had turned to another quarter— He that is a fool let him be a fool & Im the boy to tell him of it that is the idea. <​also s
d
all who oppose him in this didnt know beans when the bag was open— The Lord God Almighty will build a city there & they may help themselves—​> sh
d
go to hell & it sh
d
not be in his power to escape— he had not so much religion as his dog— & God had not so much regard for him as for his dog— for I love my dog & God loves me—
Ap. 7 or 8. Revealed to Jos. Smith that it advisable all the Mormons sh
d
give Jos S[mith] a deed of trust to all their property— it w
d
<​be​> safe in his hands— s
d
in that case it c
d
not be attacked—
Smith (referring to trouble with Mr. B.) They acted more like devils than any thing else If they wanted to fight he was ready for them he w
d
rather fight than eat—
The English. He had borne trouble & persecution, trials he had pas[s]ed thro[ugh] <​were​> enough to wear out any man— His greatest troubles were in the — always fawning sycophants there. Some make great complaint because dont find things just as they want them— Expect too much from the ch[urch] <​are​> No soldiers— If they had waded with me this way in they w
d
clear their complaints here— I guess they dont know much about hardships & trials— [p. [1]]
Text. I am the resurrection & the life &c.
Carriage
upset
April 6. Mrs S. Emma Smith thrown out
That man that sai
d
that he wish
d
my had been kill
d
when the Carriage upset— that man I will hunt for his blood to the grave— I will be revenged— My appetite shall be satisfied with his blood— I will hunt for him as the greyhound hunts for the heart of the hare— If he ever darkens my doors I will send him to hell— So help me God— I am no prophet I am no christian if I dont do it—
On Ap. 7. or 8
th
Revelation that a city shoul
d
be laid off on west side of — (at ) & built up— 4 miles square—
May 9. in above sermon. Kilbourn told me he woul
d
like me to join him & build up a city— And he thought having permission from so good a man all w
d
have confidence
in it— & he was
agent for & had laid out & was
selling lots— Kilbourn says Smith stressed to him he coul
d
do a good deal towards building up a city on this side— Kilbourn replied the titlle was in dispute that when
the title was
perfected perhaps something c
d
be done—
(Jos. Smith has laid off Town 4 miles square— & has been giving warrantee deeds J. Smith s
d
People in had acted so much like devils & fools the emigration had turned to another quarter— He that is a fool let him be a fool & Im the boy to tell him of it that is the idea. also s
d
all who oppose him in this didnt know beans when the bag was open— The Lord God Almighty will build a city there & they may help themselves— sh
d
go to hell & it sh
d
not be in his power to escape— he had not so much religion as his dog— & God had not so much regard for him as for his dog— for I love my dog & God loves me—
Ap. 7 or 8. Revealed to Jos. Smith that it advisable all the Mormons sh
d
give Jos Smith a deed of trust to all their property— it w
d
be safe in his hands— s
d
in that case it c
d
not be attacked—
Smith (referring to trouble with Mr. B.) They acted more like devils than any thing else If they wanted to fight he was ready for them he w
d
rather fight than eat—
The English. He had borne trouble & persecution, trials he had passed through were enough to wear out any man— His greatest troubles were in the — always fawning sycophants there. Some make great complaint because dont find things just as they want them— Expect too much from the church are No soldiers— If they had waded with me this way in they w
d
clear their complaints here— I guess they dont know much about hardships & trials— [p. [1]]