Home

>
History, 1834–1836
Source Note

JS, History, [Dec. 1834–May 1836?]; handwriting of , , , and ; includes genealogical and financial tables; 154 pages; verso of JS History, 1838–1856,

vol. A-1

, CHL. Includes redactions, use marks, and archival marking.

Large blank book composed of ruled paper printed with forty horizontal lines in (now faint) blue ink. The text block includes thirty gatherings of various sizes, each about a dozen leaves per gathering, and originally had 384 interior leaves cut to measure 13⅝ x 9 inches (35 x 23 cm). The text block, which was conserved in the late twentieth century, was probably originally sewn on recessed cords and was apparently also glued on leather tapes. The binding features false bands. The endpapers were single-sided marbled leaves featuring a traditional Spanish pattern with slate blue body and black and red veins. The block was bound to pasteboard covers, probably with a hollow-back ledger binding, making a book measuring 14¼ x 9½ x 2½ inches (36 x 24 x 6 cm). The boards were bound in brown suede calfskin. At some point, blind-tooled decorations were made around the outside border and along the board edges and the turned-in edges of the inside covers.

began the text of the document on the thirteenth page of the text block, numbering it as page 9. Cowdery set aside pages 9–16 for genealogical tables for the members of the church presidency. He inscribed the page numbers, table headings, and column and row ruling for the tables in red ink with a quill pen. The content of the tables was inscribed in ink that is now brown with a quill pen, as was the rest of the history. Cowdery inscribed journal-like entries for 5 and 6 December 1834 on pages 17–20. Pages 21–45 are blank except for page numbering. and copied Cowdery's 1834–1835 historical articles, published serially in the

Latter Day Saints' Messenger and Advocate,

onto pages 46–103. A passage that Parrish missed while copying the first installment of the Cowdery history is supplied on a slip of paper attached to page 50 with adhesive wafers. On pages 103–104, Parrish copied part of a JS letter, also published in the church newspaper. On pages 105–187, Parrish and wrote historical entries based on the entries in JS's 1835–1836 journal. The genealogical table headings written by Oliver Cowdery, the letter headings and closings written by Williams and Parrish, and the datelines written by Parrish and Warren Cowdery are slightly larger than the ordinary script of these individuals. Parrish's datelines also feature a vertical stress that contrasts with the oblique stress of his entry inscriptions. In their copying from the

Messenger and Advocate,

Frederick G. Williams and Warren Parrish often used a slightly larger script for words that appear in small caps in the printed version. Although pagination for the 1834–1836 history was inscribed up to page 241, the actual chronicle reaches only to page 187. Oliver Cowdery numbered pages 9–21, Frederick G. Williams numbered pages 22–58, Warren Parrish numbered pages 59–111, and Warren Cowdery numbered pages 112–241. Sometime later, inscribed year and month-and-year headings in black ink on pages 17–20, 46–47, 105–173, and 176–187. Various pages also bear redactions in unidentified handwriting in black and blue pencil.

In 1839, the book was repurposed for the inscription of a new history. The book was turned over so that the back cover became the front and the last leaf became the first. From this new front of the book, JS's scribes began writing what became the first volume of JS's multivolume manuscript history (the first 61 pages of which are transcribed as "

Draft 2

"). That later history filled most of the remaining leaves of the book, running well into the blank pages that were numbered for the 1834–1836 history and up to within five pages of the inscribed entries in the earlier history. However, only numbering on pages 235–241 of the 1834–1836 history were erased (by knife eraser). With the later history's side of the book upward, the spine of the book was labeled as volume "A | 1" of the multivolume history. Archival stickers were also added at some point to the spine and the inside front cover. Two interior leaves are now missing from the initial gathering of the volume and one leaf is missing from the final gathering. The flyleaves and pastedowns were also lost or removed from the book. The volume shows moderate wear, browning, water staining, and brittleness. It has been resewn, rebound, and otherwise conserved.

While the 1834–1836 history was being created, the volume was apparently kept in the homes of JS's scribes. In 1839, scribe converted the book into the first volume of JS's multivolume manuscript history. In 1842, the church newspaper in , Illinois, began publishing this later history. JS maintained custody of the volume through his later life, as indicated by a note he inscribed memorializing his deceased brother , which was attached to the verso of the flyleaf preceding the later history. The volume is listed in the first extant Historian's Office inventory, made in Nauvoo in February 1846 by clerk , and it is listed in inventories of church records made in Salt Lake City in the second half of the nineteenth century. These and later archival records, as well as archival marking on the volume, indicate continuous institutional custody.

Footnotes

Historical Introduction

Further information about the different sections of the 1834–1836 history may be found in intratextual notes preceding each section.

Footnotes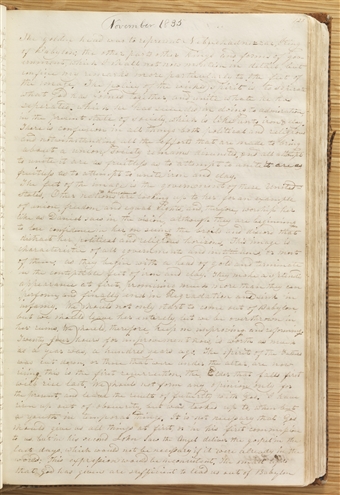 The golden head was to represent Nebuchadnezzar, King of Babylon; the other parts other kings and forms of government, which I shall not now mention in detail, but confine my remarks more particularly to the feet of the image. The policy of the wicked spirit is to seperate what God has joined together, and unite what he has seperated, which he has succeded in doing to admiration, in the present state of society, which is like unto iron & clay. There is confusion in all things both political and religious and notwithstanding all the efforts that are made to bring about a union, society remains disunited, and all attempts to unite it are as fruitless as to attempt to unite
it are as
<​it are as​> fruitless as to attempt to unite iron and clay.
The feet of the image is the government of these . Other nations <​& kingdoms​> are looking up to her for an example of union, freedom and equal rights, and, therefore, worship her like as Daniel saw in the vision, although they are beginning to lose confidence in her, on seeing the broils and discord that distract her political and religious horizons. This image is characteristic of all governments and institutions, or most of them; as they begin with a head of gold and terminate in the conte[m]ptible feet of iron and clay. They make a splendid appearance at first, promising much more than they can perform, and finally end in degradation and sink in infamy. We should not only start to come out of Babylon, but we should leave her entirely, lest we be overthrown in her ruins. We should, therefore, keep on improving and reforming. Twenty four hours for improvement now, is worth as much as a year was, a hundred years ago. The spirit of the Fathers was cut down, or those that were under the altar, are now rising, this is the first resurrection. the Elder that falls first will rise last. We should not form any opinion only for the present, and leave the result of futurity with God. I have risen up out of obscurity, but was looked up to, when but a youth in temporal things. It is not necessary that God should give us all things at first, or in his first commission to us, but in his second John Saw the Angel deliver the gospel in the last days, which would not be necessary if it were already in the world: This expression would be inconsistent, The small lights that God has given are sufficient to lead us out of Babylon [p. 123]
The golden head was to represent Nebuchadnezzar, King of Babylon; the other parts other kings and forms of government, which I shall not now mention in detail, but confine my remarks more particularly to the feet of the image. The policy of the wicked spirit is to seperate what God has joined together, and unite what he has seperated, which he has succeded in doing to admiration, in the present state of society, which is like unto iron & clay. There is confusion in all things both political and religious and notwithstanding all the efforts that are made to bring about a union, society remains disunited, and all attempts to unite it are as fruitless as to attempt to unite it are as fruitless as to attempt to unite iron and clay.
The feet of the image is the government of these . Other nations & kingdoms are looking up to her for an example of union, freedom and equal rights, and, therefore, worship her like as Daniel saw in the vision, although they are beginning to lose confidence in her, on seeing the broils and discord that distract her political and religious horizons. This image is characteristic of all governments and institutions, or most of them; as they begin with a head of gold and terminate in the contemptible feet of iron and clay. They make a splendid appearance at first, promising much more than they can perform, and finally end in degradation and sink in infamy. We should not only start to come out of Babylon, but we should leave her entirely, lest we be overthrown in her ruins. We should, therefore, keep on improving and reforming. Twenty four hours for improvement now, is worth as much as a year was, a hundred years ago. The spirit of the Fathers was cut down, or those that were under the altar, are now rising, this is the first resurrection. the Elder that falls first will rise last. We should not form any opinion only for the present, and leave the result of futurity with God. I have risen up out of obscurity, but was looked up to, when but a youth in temporal things. It is not necessary that God should give us all things at first, or in his first commission to us, but in his second John Saw the Angel deliver the gospel in the last days, which would not be necessary if it were already in the world: This expression would be inconsistent, The small lights that God has given are sufficient to lead us out of Babylon [p. 123]