Letter from Brigham Young, 23 October 1843
Source Note

, Letter, , Hancock Co., IL, to JS, [, Hancock Co., IL], 23 Oct. 1843; handwriting of one page; JS Papers, Abraham Lincoln Presidential Library, Springfield, IL.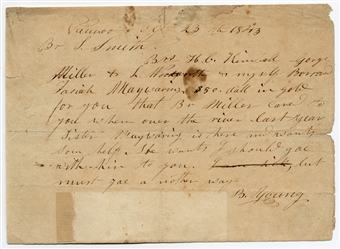 Oct 23 th 1843
Br J. Smith,
B
rs
& & Borrowed Josiah Maywaring [Mainwaring] $50. dall in gold for you that car[ri]ed to you when over the last year
Sister Maywaring [Mainwaring] is here and wants Som help. She wants I should gae with him to you.
I am sick,
but must gae a nother way
[p. [1]]
Oct 23 th 1843
Br J. Smith,
B
rs
& & Borrowed Josiah Maywaring [Mainwaring] $50. dall in gold for you that carried to you when over the last year
Sister Maywaring [Mainwaring] is here and wants Som help. She wants I should gae with him to you. but must gae a nother way
[p. [1]]