Letter from George Gee, 30 December 1841
Source Note

, Letter, , PA, to and the First Presidency, , IL, 30 Dec. 1841; presumably handwriting of ; three pages; Sidney Rigdon, Collection, CHL.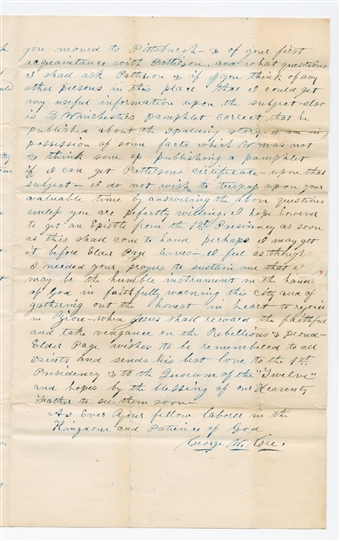 you moved to — & of your first acquaintance with Patterson, and what questions I shall ask Patterson & if
I
you think of any other persons in this place that I could get any useful information upon the subject— also is s pamphlet correct that he published about the Spalding story. I am in possession of some facts which was not & think some of publishing a pamphlet if I can get Pattersons cirtificate— upon that subject— I do not wish to trespass upon your valuable time by answering the above questions unless you are perfectly willing. I hope however to get an Epistle from the 1
st

.
Presidency as soon as this shall come to hand perhaps I may get it before leaves— I feel as though I needed your prayers to sustain me that I may be the humble instrument in the hand of God in faithfully warning this and of gathering out the honest in heart to rejoice in — when Jesus shall reward the faithful and take veng[e]ance on the Rebellious & proud— wishes to be remembered to all Saints and sends his best love to the 1
st

.
Presidency & to the Quorum of the "Twelve" and hopes by the blessing of our Heavenly Father to see them soon—
As Ever Your fellow laborer in the Kingdom and Patience of God
[
1/4 page blank
] [p. [3]]
you moved to — & of your first acquaintance with Patterson, and what questions I shall ask Patterson & if you think of any other persons in this place that I could get any useful information upon the subject— also is s pamphlet correct that he published about the Spalding story. I am in possession of some facts which was not & think some of publishing a pamphlet if I can get Pattersons cirtificate— upon that subject— I do not wish to trespass upon your valuable time by answering the above questions unless you are perfectly willing. I hope however to get an Epistle from the 1
st
. Presidency as soon as this shall come to hand perhaps I may get it before leaves— I feel as though I needed your prayers to sustain me that I may be the humble instrument in the hand of God in faithfully warning this and of gathering out the honest in heart to rejoice in — when Jesus shall reward the faithful and take vengeance on the Rebellious & proud— wishes to be remembered to all Saints and sends his best love to the 1
st
. Presidency & to the Quorum of the "Twelve" and hopes by the blessing of our Heavenly Father to see them soon—
As Ever Your fellow laborer in the Kingdom and Patience of God
[
1/4 page blank
] [p. [3]]