Home

>
Letter to Emma Smith and the Relief Society, 31 March 1842
Source Note

JS and , Letter, [, Hancock Co., IL], to [and the ], [, Hancock Co., IL, 31 Mar. 1842]; handwriting of ; four pages; JS Collection, CHL. Includes dockets.

Bifolium measuring 9¾ × 7⅞ inches (25 × 20 cm). The letter was inscribed on all four pages and then trifolded. The document was docketed by , who served as JS's scribe from 1843 to 1844 and as clerk to the church historian and recorder from 1845 to 1865; the docket reads "Female Relief Society". A second docket, in unidentified handwriting, incorporates the first, reading: "To [Female Relief Society] from President Jo

s

Smith." A third docket, "supposed 1842 or 3", was likely written by , who served as a clerk in the Church Historian's Office (later Church Historical Department) from 1853 to 1859. The document was likely the 1842 letter addressed to the Relief Society listed in an inventory that was produced by the Church Historian's Office in 1904. By 1973 the document had been included in the JS Collection at the Church Historical Department (now CHL). The document's early dockets and inclusion in the JS Collection by 1973 suggest continuous institutional custody.

Footnotes

Historical Introduction

On 31 March 1842 JS directed a letter to and the newly established . The letter warned the society's members to be wary of nefarious men claiming that JS or other leaders sanctioned sexual intimacy outside of marriage, and it encouraged them to denounce and shun any man engaging in such behavior. During the society's inaugural meeting on 17 March 1842, JS suggested that the members "provoke the brethren to good works in looking to the wants of the poor" and assist church leaders by "correcting the morals and strengthening the virtues of the female community." Leaders of the Relief Society promptly made efforts to regulate the morality of 's women. At the group's second meeting, Emma Smith read aloud a complaint about Clarissa Marvel, a young woman who allegedly spread "scandalous falsehoods on the character of Joseph Smith." Authorized by JS, the complaint evidently related to rumors then circulating in Nauvoo about JS's relationship with , the widow of JS's deceased brother . JS had likely married Agnes as a plural wife in early January 1842. After reading the complaint about Marvel, Emma Smith urged the women to "adopt some plan to bring her to repentance."

JS began practicing plural marriage in around April 1841. Aside from a select group of individuals, however, members of the church were not privy to the doctrine or to the fact that JS was married, or , to several women. One man who may have had some knowledge of the practice was , a member of the and the mayor of Nauvoo. While living in Nauvoo, Bennett reportedly used his influence and the perception that he was a confidant of JS to solicit sex from several women. According to an account JS wrote in June 1842, Bennett taught the women that "promiscuous intercourse between the sexes, was a doctrine believed in by the Latter-Day Saints, and that there was no harm in it." When this approach failed, JS recounted, Bennett began to "persuade them that myself and others of the authorities of the church not only sanctioned, but practiced the same wicked acts." Bennett's ruse was apparently adopted by other men during the winter and early spring of 1842; several women later reported that they had sexual relationships with male church members after being convinced that church leaders approved of such behavior.

The letter to and the Relief Society appears to be an early response to the actions of and others who were seducing women in by misrepresenting the not yet publicly announced doctrine of plural marriage. Although the letter, which brought to light the actions and justifications of these men, is undated, JS's journal indicates that it was written in Nauvoo on 31 March 1842. The confidential correspondence was dictated to , who signed the message on behalf of JS and , president of the . The letter was apparently delivered to Emma Smith the same day. In the afternoon, JS spoke to the Relief Society about limiting prospective members to a "select Society of the virtuous." He then withdrew from the meeting so that the society could conduct their business. Emma Smith then told those gathered that she "had an Article to read which would test the ability of the members in keeping secrets; as it was for the benefit of the Society, and that alone." She then read the letter aloud and "gave strictures on female propriety and dignity."

The featured text is the earliest extant version of the letter and may have been either an early draft of the letter or the actual correspondence delivered to and the Relief Society. Sometime after September 1842, Relief Society secretary copied the letter into the organization's

minute book

, including minor changes in punctuation and grammar as well as one significant omission; noteworthy differences in the text are highlighted in the footnotes below.

Less than two weeks after read the letter to the Relief Society, JS preached a sermon in which he condemned those who used his name to commit adultery and fornication. A few women later testified that they resisted the sexual advances of and others after learning that church leaders did not, in fact, sanction their behavior.

Footnotes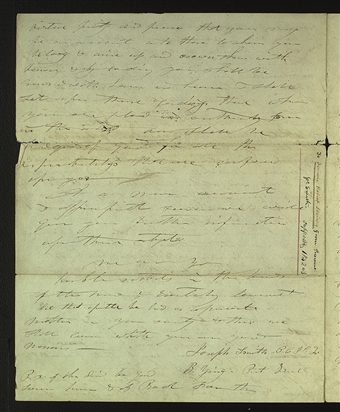 virtue piety and peace that you may be an ornament unto those to whom you belong & arise up and crown them with power & by so doing you shall be crowned with honor in heaven & shall sit upon throne jud[g]ing them whom you are placed in authority
of
over in the world and shall be judged of God for all the responsbilitys that are conferred upon you
At a more convenient & appropriate season we will give you further information upon this subject
We are your humble servants in the bonds of the
Let that epistle be had as a private matter in your society & then we shall learn whether you are good masons—
Joseph Smith P. C. J. C. L.
Prst .
P.S. if the Lord be God serve him & if Baal
[2 words illegible]
[p. [4]]
virtue piety and peace that you may be an ornament unto those to whom you belong & arise up and crown them with power & by so doing you shall be crowned with honor in heaven & shall sit upon throne judging them whom you are placed in authority over in the world and shall be judged of God for all the responsbilitys that are conferred upon you
At a more convenient & appropriate season we will give you further information upon this subject
We are your humble servants in the bonds of the
Let that epistle be had as a private matter in your society & then we shall learn whether you are good masons—
Joseph Smith P. C. J. C. L.
Prst .
P.S. if the Lord be God serve him & if Baal [p. [4]]