Letter to Jesse B. Thomas, 27 November 1843
Source Note

JS and , Letter, , Hancock Co., IL, to , , Sangamon Co., IL, 27 Nov. 1843; handwriting of John A. Forgeus; dockets in handwriting of and ; one page; JS Collection, CHL.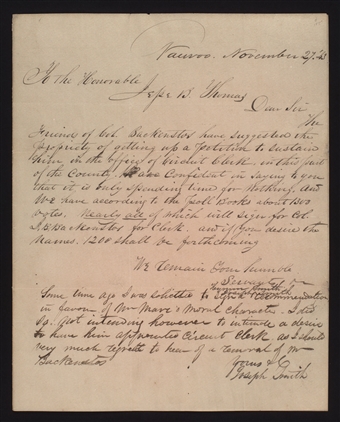 . November 27. '43
To the Honorable
Dear Sir
The Friends of have suggested the propriety of getting up a petition to sustain him in the office of Circuit Clerk, in this part of the .
I am
<​We are​> Confident in saying to you that it is only spending time for nothing, and We have according to the poll Books about 1300 votes,
nearly
all
of which will sign for Col. for Clerk. and if you desire the names, 1200 shall be forthcoming
We remain Your humble Servants &c
<​​>
<​Joseph Smith​>
Some time ago I was solicited to sign a recommendation in favor of 's Moral character. I did so, not intending however to intimate a desire to have him appointed Circuit Clerk as I should very much regrett to hear of a removal of
Yours &C
Joseph Smith [p. [1]]
. November 27. '43
To the Honorable
Dear Sir
The Friends of have suggested the propriety of getting up a petition to sustain him in the office of Circuit Clerk, in this part of the . We are Confident in saying to you that it is only spending time for nothing, and We have according to the poll Books about 1300 votes,
nearly
all
of which will sign for Col. for Clerk. and if you desire the names, 1200 shall be forthcoming
We remain Your humble Servants &c
Joseph Smith
Some time ago I was solicited to sign a recommendation in favor of 's Moral character. I did so, not intending however to intimate a desire to have him appointed Circuit Clerk as I should very much regrett to hear of a removal of
Yours &C
Joseph Smith [p. [1]]