Home

>
Sidney Rigdon, Appeal to the American People, 1840, Second Edition
Source Note

[],

An Appeal to the American People: Being an Account of the Persecutions of the Church of Latter Day Saints; and of the Barbarities Inflicted on Them by the Inhabitants of the State of Missouri,

second edition; i-vi, 7–60 pp.; Cincinnati, OH: Shepard and Stearns, 1840. The copy used herein is held at CHL.

Historical Introduction

A manuscript draft of this pamphlet, simply titled "

To the Publick

" was presented to a conference of church members at , Illinois, on 1 November 1839. The conference voted to approve the manuscript and authorized its publication on behalf of the church. The pamphlet, when published, carried the endorsement of JS, , and as "Presidents of said Church."

and collaborated on the publication of the text, which was available in print by May 1840. Though no author is named on the title page, was acknowledged as author in an 1840

Times and Seasons

newspaper article, and when the pamphlet was advertised in that church periodical in 1841. JS and held some expectation that funds from the sale of

An Appeal

would eventually help defray costs of their late-1839 trip to .

By July 1840, and had been authorized to produce a second, revised edition to be published by Shepard & Stearns in . Page related some of the circumstances surrounding its publication and circulation in a letter sent to JS, ". . . at [Ohio] we parted for a few days . . . Elder Hyde went to Cincinnati where in my absince he published a second Edition of the 'Apeal to the American people' (2000 copies)[.] when I arrived the work was about completed[.] after disposing of as many of them as posible and suplying the market about cincinnati and the adjacient country he left me with some fourteen or fifteen hundred on hand, to dispose of" (

John E. Page, Philadelphia, PA, to JS et al., Nauvoo, IL, 1 Sept. 1841

, JS Collection, CHL). Funds from this printing were to be for the express purpose of subsidizing Hyde and Page's imminent mission to in Palestine.

The second edition was essentially a lightly edited reprint of the first, with a four-page "Publisher's Preface" added. In the preface, and noted the purpose of the publication, explained the severe hardships imposed by the persecutions upon Page's own family, provided a detailed account of a vision experienced by Hyde, and expressed enthusiasm about the prospects of the mission. The preface also contained a copy of an official letter of appointment and commendation for Hyde and Page from an April 1840 church conference at , Illinois, signed by JS, and a letter of reference from , governor of .

Although many of the events reported in both editions of 's pamphlet can be corroborated from other sources, his chronology of events is often inaccurate. However, Rigdon's account does contain the texts of several significant documents. Among these are JS's September 1838 affidavit concerning the 7 August 1838 visit to and those of and regarding the massacre. Consequently, though in many respects Rigdon's document from a historical perspective is more advocacy than history, it offers access to some important material not readily found elsewhere.

Footnotes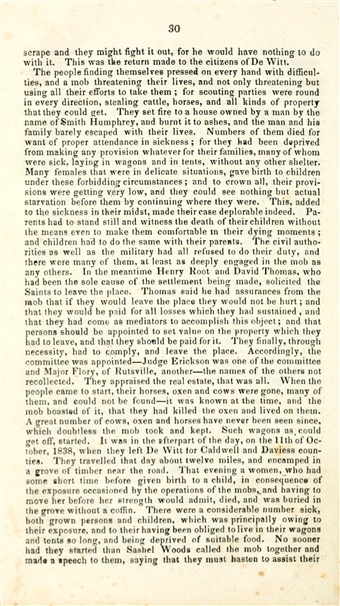 scrape and they might fight it out, for he would have nothing to do with it. This was the return made to the citizens of .
The people finding themselves pressed on every hand with difficulties, and a mob threatening their lives, and not only threatening but using all their efforts to take them; for scouting parties were round in every dirction, stealing cattle, horses, and all kinds of property that they could get. They set fire to a house owned by a man by the name of , and burnt it to ashes, and the man and his family barely escaped with their lives. Numbers of them died for want of proper attendance in sickness; for they had been deprived from making any provision whatever for their families, many of whom were sick, laying in wagons and in tents, without any other shelter. Many females that were in delicate situations, gave birth to children under these forbidding circumstances; and to crown all, their provisions were getting very low, and they could see nothing but actual starvation before them by continuing where they were. This, added to the sickness in their midst, made their case deplorable indeed. Parents had to stand still and witness the death of their children without the means even to make them comforable in their dying moments; and children had to do the same with their parents. The civil authorities as well as the military had all refused to do their duty, and there were many of them, at least as deeply engaged in the mob as any others. In the meantime and , who had been the sole cause of the settlement being made, solicited the Saints to leave the place. said he had assurances from the mob that if they would leave the place they would not be hurt; and that they would be paid for all losses which they had sustained, and that they had come as mediators to accomplish this object; and that persons would be appointed to set value on the property which they had to leave, and that they should be paid for it. They finally, through necessity, had to comply, and leave the place. Accordingly, the committee was appointed—Judge Erickson was one of the committee and Major Flory, of Rutsville, another—the names of the others not recollected. They appraised the real estate, that was all. When the people came to start, their horses, oxen and cows were gone, many of them, and could not be found—it was known at the time, and the mob boasted of it, that they had killed the oxen and lived on them. A great number of cows, oxen and horses have never been seen since, which doubtless the mob took and kept. Such wagons as could get off, started. It was in the afterpart of the day, on the 11th of October, 1838, when they left for and counties. They travelled that day about twelve miles, and encamped in a grove of timber near the road. That evening a women, who had some short time before given birth to a child, in consequence of the exposure occasioned by the operations of the mobs, and having to move her before her strength would admit, died, and was buried in the grove without a coffin. There were a considerable number sick, both grown persons and children, which was principally owing to their exposure, and to their having been obliged to live in their wagons and tents so long, and being deprived of suitable food. No sooner had they started than called the mob together and made a speech to them, saying that they must hasten to assist their [p. 30]
scrape and they might fight it out, for he would have nothing to do with it. This was the return made to the citizens of .
The people finding themselves pressed on every hand with difficulties, and a mob threatening their lives, and not only threatening but using all their efforts to take them; for scouting parties were round in every dirction, stealing cattle, horses, and all kinds of property that they could get. They set fire to a house owned by a man by the name of , and burnt it to ashes, and the man and his family barely escaped with their lives. Numbers of them died for want of proper attendance in sickness; for they had been deprived from making any provision whatever for their families, many of whom were sick, laying in wagons and in tents, without any other shelter. Many females that were in delicate situations, gave birth to children under these forbidding circumstances; and to crown all, their provisions were getting very low, and they could see nothing but actual starvation before them by continuing where they were. This, added to the sickness in their midst, made their case deplorable indeed. Parents had to stand still and witness the death of their children without the means even to make them comforable in their dying moments; and children had to do the same with their parents. The civil authorities as well as the military had all refused to do their duty, and there were many of them, at least as deeply engaged in the mob as any others. In the meantime and , who had been the sole cause of the settlement being made, solicited the Saints to leave the place. said he had assurances from the mob that if they would leave the place they would not be hurt; and that they would be paid for all losses which they had sustained, and that they had come as mediators to accomplish this object; and that persons would be appointed to set value on the property which they had to leave, and that they should be paid for it. They finally, through necessity, had to comply, and leave the place. Accordingly, the committee was appointed—Judge Erickson was one of the committee and Major Flory, of Rutsville, another—the names of the others not recollected. They appraised the real estate, that was all. When the people came to start, their horses, oxen and cows were gone, many of them, and could not be found—it was known at the time, and the mob boasted of it, that they had killed the oxen and lived on them. A great number of cows, oxen and horses have never been seen since, which doubtless the mob took and kept. Such wagons as could get off, started. It was in the afterpart of the day, on the 11th of October, 1838, when they left for and counties. They travelled that day about twelve miles, and encamped in a grove of timber near the road. That evening a women, who had some short time before given birth to a child, in consequence of the exposure occasioned by the operations of the mobs, and having to move her before her strength would admit, died, and was buried in the grove without a coffin. There were a considerable number sick, both grown persons and children, which was principally owing to their exposure, and to their having been obliged to live in their wagons and tents so long, and being deprived of suitable food. No sooner had they started than called the mob together and made a speech to them, saying that they must hasten to assist their [p. 30]