Home

>
Discourse, 7 April 1844, as Reported by Thomas Bullock
Source Note

JS, Discourse, , IL, 7 Apr. 1844; handwriting of ; nine pages; General Church Minutes, CHL.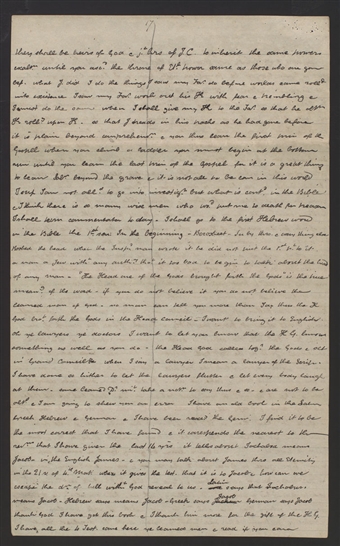 they shall be heirs of God & j[oin]
t.
h[ei]rs of J. C. to inherit the same powers exalt[atio]
n.
until you asc[en]
d.
the throne of Et
l.
power same as those who are gone bef[ore] what J. did I do the things I saw my Fa
r.
do before worlds came roll[e]d nto existence I saw my Fa
r.
work out his K[ingdom] with fear & trembling & I must do the same when I shall give my K to the Fa
r.
so that he obt[ai]
ns
K roll[in]
g.
upon K. so that J treads in his tracks as he had gone before it is plain beyond comprehens[io]
n.
& you thus learn the first prin[ciples] of th[e] Gospel when you climb a ladder you must begin at the bottom run[g] until you learn the last prin[ciple] of the Gospel for it is a great thing to learn Sal[vatio]
n.
beyond the grave & it is not all to be com[prehended] in this world I sup[pose] I am not all[owe]
d.
to go into investig
n.
but what is cont[aine]
d.
in the Bible & I think there is so many wise men who wo
d.
put me to death for treason I shall turn commentator to day— I shall go to the first Hebrew word in the Bible the 1
st

.
sen[tence]: In the beginning— Berosheet— In by thro[ugh] & every thing else Roshed the head when the Insp
d.
man wrote it he did not put the 1
st.
p
t.
to it a man a Jew with[ou]
t.
any auth
y.
tho[ugh]
t.
it too bad to begin to talk about the head of any man— "The Head one of the Gods brought forth the Gods" is the true mean[in]
g.
of the word— if you do not believe it you do not believe the learned man of God— no man can tell you more than I do thus the H[ead] God bro[ugh]
t.
forth the Gods in the Head council— I want to bring it to English Oh ye lawyers ye doctors I want to let you know that the H G. [Holy Ghost] knows something as well as you do— the Head God called tog
r.
the Gods & set in Grand Council &c when I say a lawyer I mean a lawyer of the Scrip[ture] I have done so hither to let the lawyers flutter & let every body laugh at them— some learned D[octo]
r.
mi[gh]
t.
take a not[io]
n.
to say thus & so— & are not to be alt[ere]
d.
& I am going to shew you an error I have an old book in the Latin Greek Hebrew & German & I have been read[in]
g.
the Germ[an]: I find it to be the most corect that I have found & it corespends the nearest to the rev[elatio]
ns.
that I have given the last 14 y[ea]rs it tells about Iachaboa means Jacob— in the English James— & you may talk about James thro all Eternity in the 21 v[erse] of 4
th.
Mat[thew]: where it gives the test. that it is to Jacob— & how can we escape the d[amnatio]
n.
of hell with
t.
God reveal to us.
one
<​Latin​> says that Iachobus. means Jacob— Hebrew says means Jacob— Greek says
Jachem
<​Jacob​> German says Jacob thank God I have got this book & I thank him more for the gift of the H G. I have all the 4 Test[aments] come here ye learned men & read if you can [p. 17]
they shall be heirs of God & joint. heirs of J. C. to inherit the same powers exaltation. until you ascend. the throne of Etl. power same as those who are gone before what J. did I do the things I saw my Far. do before worlds came rolled nto existence I saw my Far. work out his Kingdom with fear & trembling & I must do the same when I shall give my K to the Far. so that he obtains K rolling. upon K. so that J treads in his tracks as he had gone before it is plain beyond comprehension. & you thus learn the first principles of the Gospel when you climb a ladder you must begin at the bottom rung until you learn the last principle of the Gospel for it is a great thing to learn Salvation. beyond the grave & it is not all to be comprehended in this world I suppose I am not allowed. to go into investign. but what is contained. in the Bible & I think there is so many wise men who wod. put me to death for treason I shall turn commentator to day— I shall go to the first Hebrew word in the Bible the 1
st
. sentence: In the beginning— Berosheet— In by through & every thing else Roshed the head when the Inspd. man wrote it he did not put the 1st. pt. to it a man a Jew without. any authy. thought. it too bad to begin to talk about the head of any man— "The Head one of the Gods brought forth the Gods" is the true meaning. of the word— if you do not believe it you do not believe the learned man of God— no man can tell you more than I do thus the Head God brought. forth the Gods in the Head council— I want to bring it to English Oh ye lawyers ye doctors I want to let you know that the H G. [Holy Ghost] knows something as well as you do— the Head God called togr. the Gods & set in Grand Council &c when I say a lawyer I mean a lawyer of the Scripture I have done so hither to let the lawyers flutter & let every body laugh at them— some learned Doctor. might. take a notion. to say thus & so— & are not to be altered. & I am going to shew you an error I have an old book in the Latin Greek Hebrew & German & I have been reading. the German: I find it to be the most corect that I have found & it corespends the nearest to the revelations. that I have given the last 14 years it tells about Iachaboa means Jacob— in the English James— & you may talk about James thro all Eternity in the 21 verse of 4th. Matthew: where it gives the test. that it is to Jacob— & how can we escape the damnation. of hell witht. God reveal to us. Latin says that Iachobus. means Jacob— Hebrew says means Jacob— Greek says Jacob German says Jacob thank God I have got this book & I thank him more for the gift of the H G. I have all the 4 Testaments come here ye learned men & read if you can [p. 17]