Home

>
Discourse, 7 April 1844, as Reported by Thomas Bullock
Source Note

JS, Discourse, , IL, 7 Apr. 1844; handwriting of ; nine pages; General Church Minutes, CHL.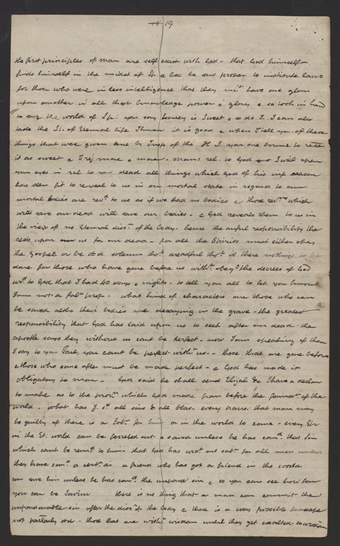 the first principles of Man are self exist with God— that God himself finds himself in the midst of Sp[irits] & bec he saw proper to institute laws for those who were in less intelligence that they mi
t.
have one glory upon another in all that knowledge power & glory & so took in hand to save the world of Sp: you say honey is Sweet & so do I. I can also taste the Sp of Eternal life I know it is good & when I tell you— of these things that we[r]e given me by Insp[iration] of the H S. you are bound to rece[ive] it as sweet & I rej[oice] more & more— Mans rel[ation] to God
& s
I will open your eyes in rel to your dead all things which God of his inf[inite] reason has seen fit to reveal to us in our mortal state in regard to our mortal bodies are rev[eale]
d.
to us as if we had no bodies & those rev
ns.
which will save our dead will save our bodies— & God reveals them to us in the view of no Eternal diss[olutio]
n.
of the body— hence the awful responsibility tha[t] rests upon
our
us for our dead— for all the Spirits must either obey the Gospel or be d
——
d [damned] solemn tho
t.
dreadful tho
t.
is there nothing to be done for those who have gone before us with
t.
obey[in]
g
the decrees of God wo
d.
to God that I had 40 days & nights— to tell you all to let you know I am not a fal[le]
n
prop[het]— what kind of characters are those who can be saved altho their bodies are decaying in the grave— the greatest responsibility that God has laid upon us to seek after our dead— the apostle says they without us cant be perfect— now I am speaking of them I say to you Paul, you cant be perfect with
t.
us.— those that are gone before & those who came after must be made perfect— & God has made it obligatory to man— God said he shall send Elijah &c I have a decla[ratio]n to make as to the prov[isio]
n.
which God made from before the found[atio]
n.
of the world. what has J. s
d.
all sins & all blas[phemies] every trans[gression]: that man may be guilty of there is a Sal
n.
for him or in the world to come— every Sp in the Et[ernal]: world can be ferreted out & saved unless he has com[mitte]
d.
that Sin which cant be rem[itte]
d

.
to him— that God has wro[ugh]
t.
out sal
n.
for all men unless they have com
d.
a cert
n.
sin a friend who has got a friend in the world can save him unless he has com
d.
the unpard[onable] sin & so you can see how far you can be Savior [
blank
]there is no thing that a man can commit the unpardonable sin after the diss
n
of the body & there is a way possible for escape not partarly d
——
d— those that are with
t.
wisdom until they get exalted to wisdom [p. 19]
the first principles of Man are self exist with God— that God himself finds himself in the midst of Spirits & bec he saw proper to institute laws for those who were in less intelligence that they mit. have one glory upon another in all that knowledge power & glory & so took in hand to save the world of Sp: you say honey is Sweet & so do I. I can also taste the Sp of Eternal life I know it is good & when I tell you— of these things that were given me by Inspiration of the H S. you are bound to receive it as sweet & I rejoice more & more— Mans relation to God I will open your eyes in rel to your dead all things which God of his infinite reason has seen fit to reveal to us in our mortal state in regard to our mortal bodies are revealed. to us as if we had no bodies & those revns. which will save our dead will save our bodies— & God reveals them to us in the view of no Eternal dissolution. of the body— hence the awful responsibility that rests upon us for our dead— for all the Spirits must either obey the Gospel or be d
——
d damned solemn thot. dreadful thot. is there nothing to be done for those who have gone before us witht. obeying the decrees of God wod. to God that I had 40 days & nights— to tell you all to let you know I am not a fallen prophet— what kind of characters are those who can be saved altho their bodies are decaying in the grave— the greatest responsibility that God has laid upon us to seek after our dead— the apostle says they without us cant be perfect— now I am speaking of them I say to you Paul, you cant be perfect witht. us.— those that are gone before & those who came after must be made perfect— & God has made it obligatory to man— God said he shall send Elijah &c I have a declaration to make as to the provision. which God made from before the foundation. of the world. what has J. sd. all sins & all blasphemies every transgression: that man may be guilty of there is a Saln. for him or in the world to come— every Sp in the Eternal: world can be ferreted out & saved unless he has committed. that Sin which cant be remitte
d
. to him— that God has wrought. out saln. for all men unless they have comd. a certn. sin a friend who has got a friend in the world can save him unless he has comd. the unpardonable sin & so you can see how far you can be Savior [
blank
]there is no thing that a man can commit the unpardonable sin after the dissn of the body & there is a way possible for escape not partarly d
——
d— those that are witht. wisdom until they get exalted to wisdom [p. 19]